Haters gonna hate, but Trader Joe's frozen mac n' cheese is pretty great.
It's been the official frozen mac n' cheese of HuffPost Taste ever since it cleaned up at a Taste Test back in March of 2013. It's simply the closest you can get to restaurant-quality mac n' cheese from a freezer. If you want to spend $2.99 and almost no time at all on dinner or a comfort food side dish, you could do a lot worse.
That said, you can also do better. A lot better, actually -- and with just a tiny bit of effort. You just have to use Trader Joe's mac n' cheese as a platform for other, more exciting ingredients. I've come up with four easy ways to upgrade Trader Joe's from serviceable to legitimately amazing. So good that you wouldn't be embarrassed to serve any of the resulting mac n' cheeses at a dinner party, and you wouldn't blink if you were served them in a high-end restaurant.
I've arranged from easiest and most basic to most difficult and unusual; each is labeled with a corresponding Beyonce song. But they all start the same way: by cooking the Trader Joe's mac n' cheese as per the instructions on the back of the box -- five-to-six minutes in the microwave, then a minute of rest. Here's what you'll get after you do that: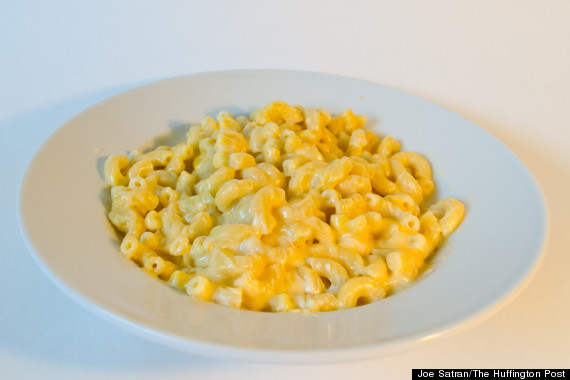 That's fine! I wouldn't blame you if you stopped there and just ate that. But you won't regret venturing on -- I promise. One last thing: If for some weird reason you prefer a different kind of mac n' cheese, feel free to upgrade it with any of these methods, as long as you realize you'll be moving into uncharted territory.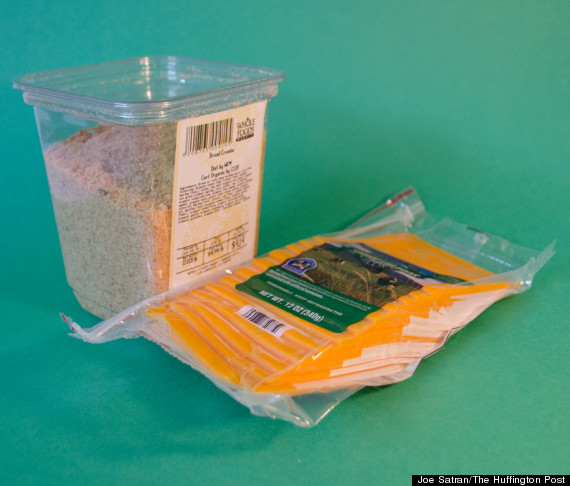 Why? A crust of browned cheddar and breadcrumbs elevates Trader Joe's mac n' cheese from decent to exquisite and indulgent.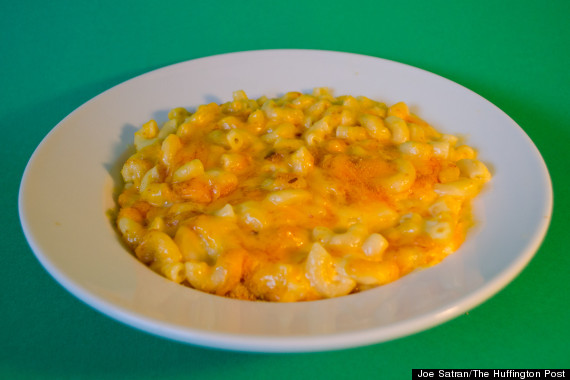 How? Transfer the cooked mac n' cheese to a small baking dish. Cover completely with sliced cheddar. Sprinkle breadcrumbs on top. Broil in your oven until the cheese is completely melted and just starting to brown -- around five minutes.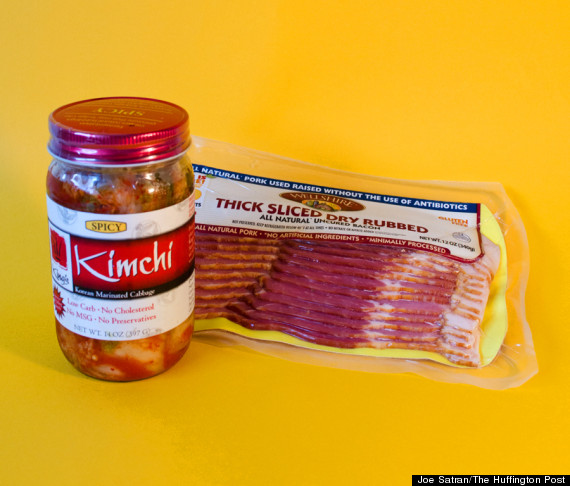 Why? The spicy, acidic funk of kimchi and the greasy crunch of diced bacon make basic mac n' cheese into something miraculous: a hipster stereotype, the ultimate stoner food and, quite possibly, the most delicious dish you can make in seven minutes using three ingredients.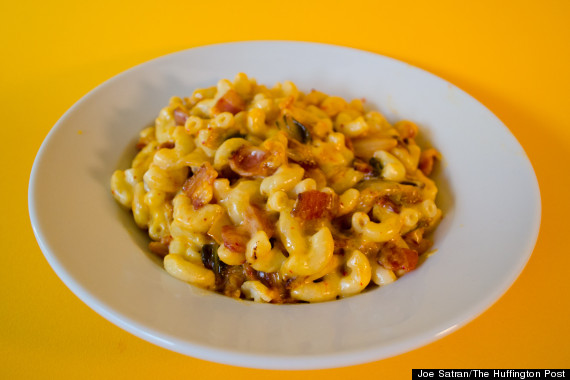 How? Roughly chop a half-cup of kimchi and set aside. Cut four slices of bacon (or three, if they're extra-thick) into 1/4" squares -- maybe with a pair of kitchen shears. Sauté the bacon in a medium-sized pan until cooked, then add the chopped kimchi and cook until the kimchi has lost its crispness. Stir the kimchi-bacon mixture into the cooked mac n' cheese in a bowl.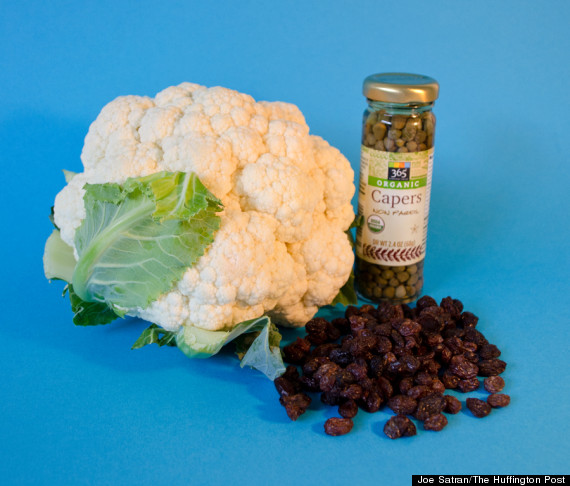 Why? Legendary chef Jean-Georges Vongerichten created an instant classic when he added sauteed scallops with cauliflower emulsion, capers and raisins to the menu of his four-star restaurant Jean Georges back in 1997. And we might as well follow his lead.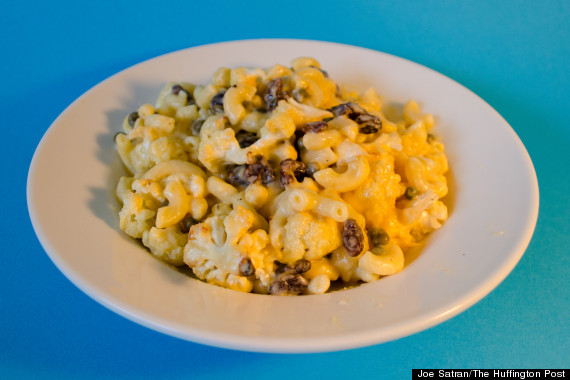 How? Roast small pieces of cauliflower with a little oil and some salt in a 375 degree oven for about 20 minutes, until they're nicely browned. Mix the cooked mac n' cheese with a cup of the roasted cauliflower and a scant handful each of capers and raisins.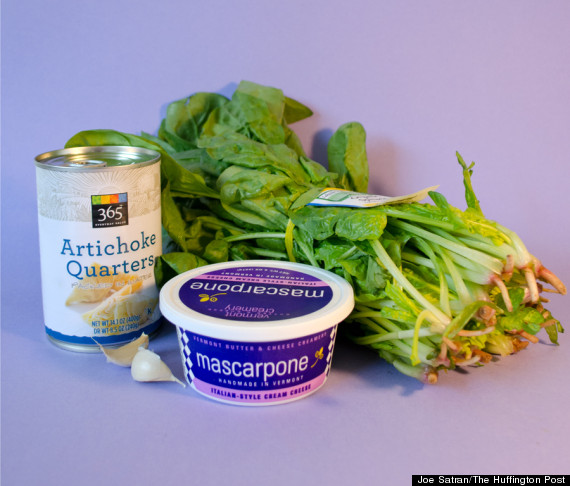 Why? Spinach-artichoke dip and mac n' cheese are two of the greatest uses of melted cheese in the world. They belong together.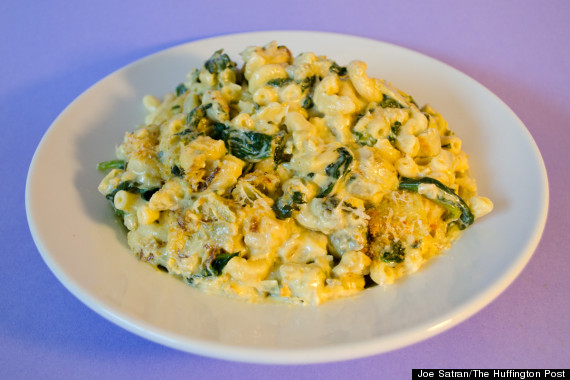 How? Roughly chop a can of artichokes and two cups of fresh spinach, then set them aside. Mince two cloves of garlic and sauté them in a bit of olive oil on medium heat. When the garlic is nice and fragrant, add the chopped artichokes and sauté for five minutes. Then add the spinach and cook until the spinach is soft and dark. Stir the spinach-artichoke mixture, along with a quarter-cup of mascarpone, into the cooked mac n' cheese. Transfer the mixture to a baking dish, top it with a dusting of grated parmesan cheese and breadcrumbs, and broil it for two minutes.
Caprese Mac & Cheese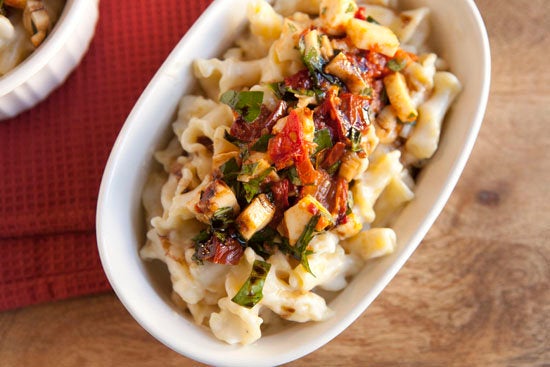 Emma's Favorite Baked Macaroni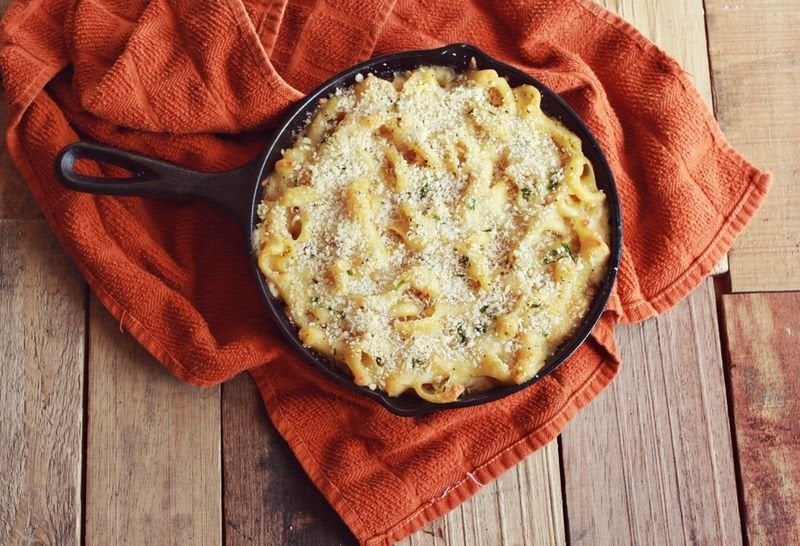 Crab Mac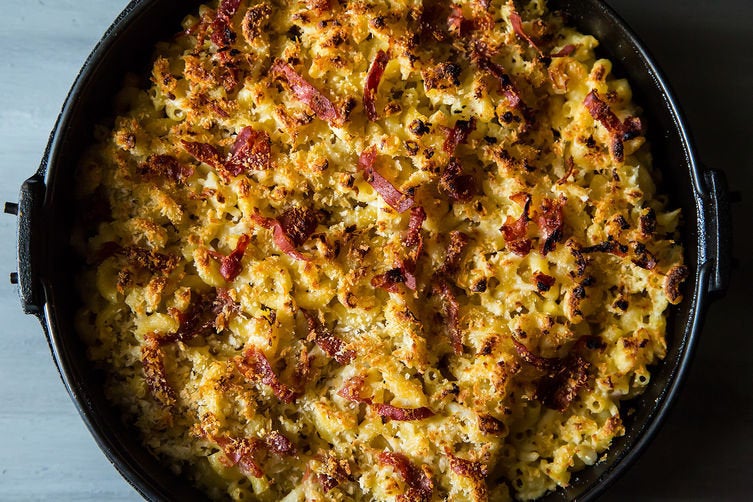 Roasted Brussels Sprouts, Bacon & Pepperjack Macaroni & Cheese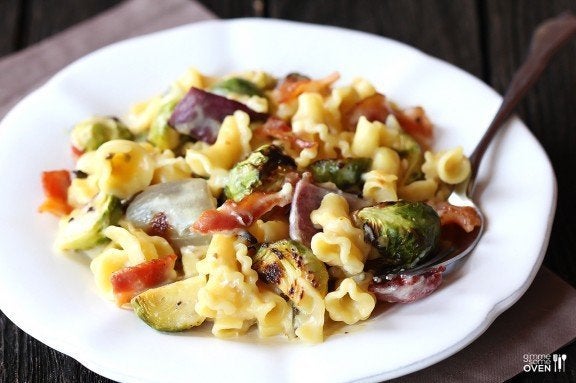 Civil War Macaroni And Cheese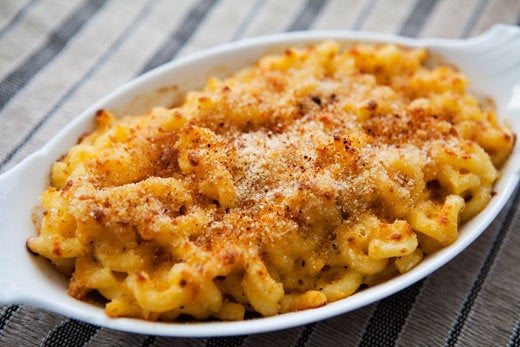 Breakfast Mac And Cheese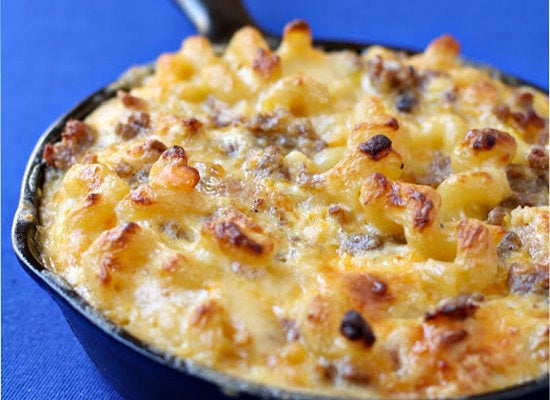 Chorizo Mac And Cheese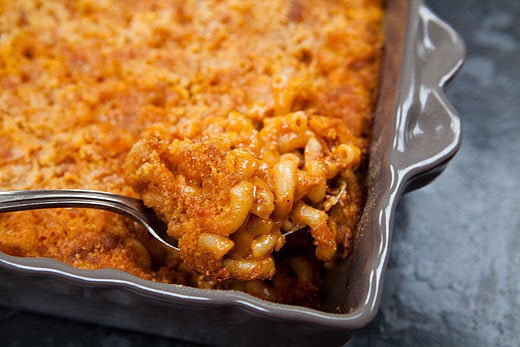 Roasted Garlic Mac And Cheese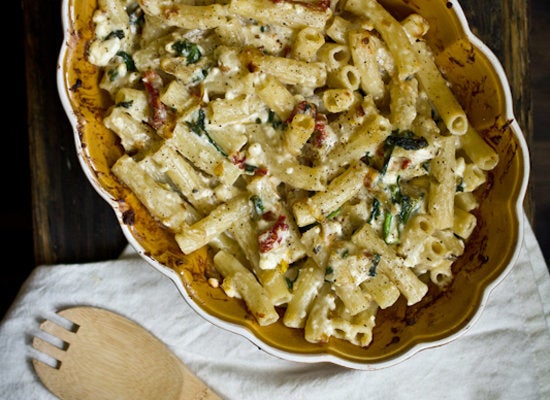 Greek-Style Mac And Cheese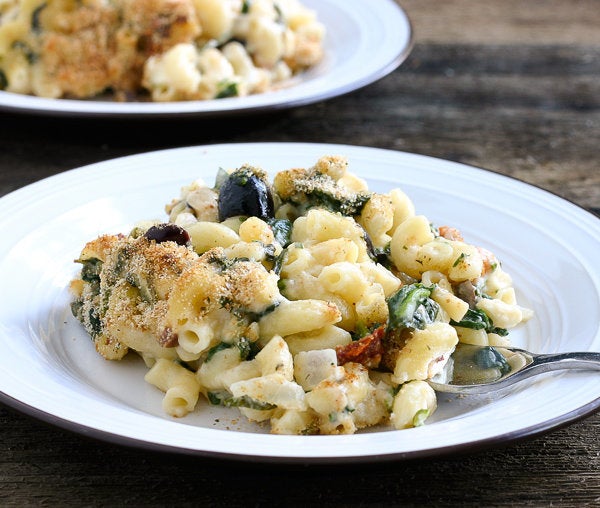 Creamy Stovetop Mac & Cheese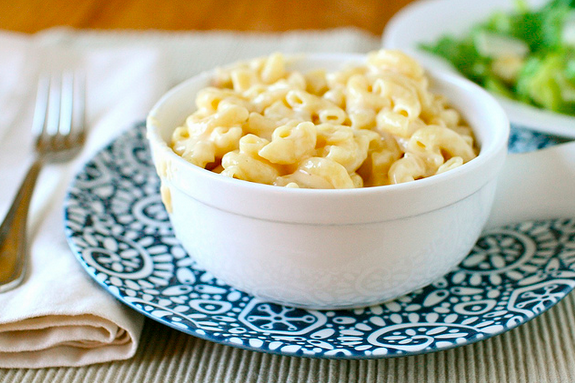 Butternut Squash Mac And Cheese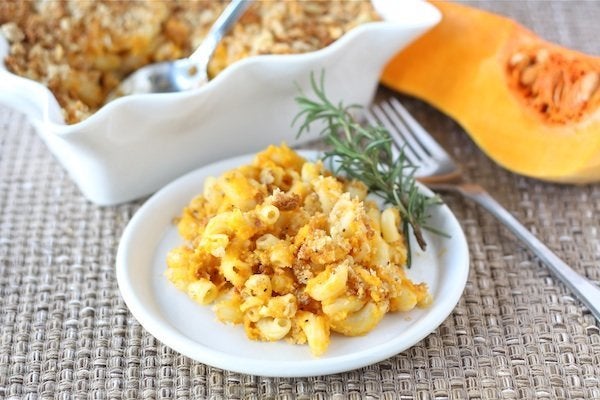 Spinach And Artichoke Mac And Cheese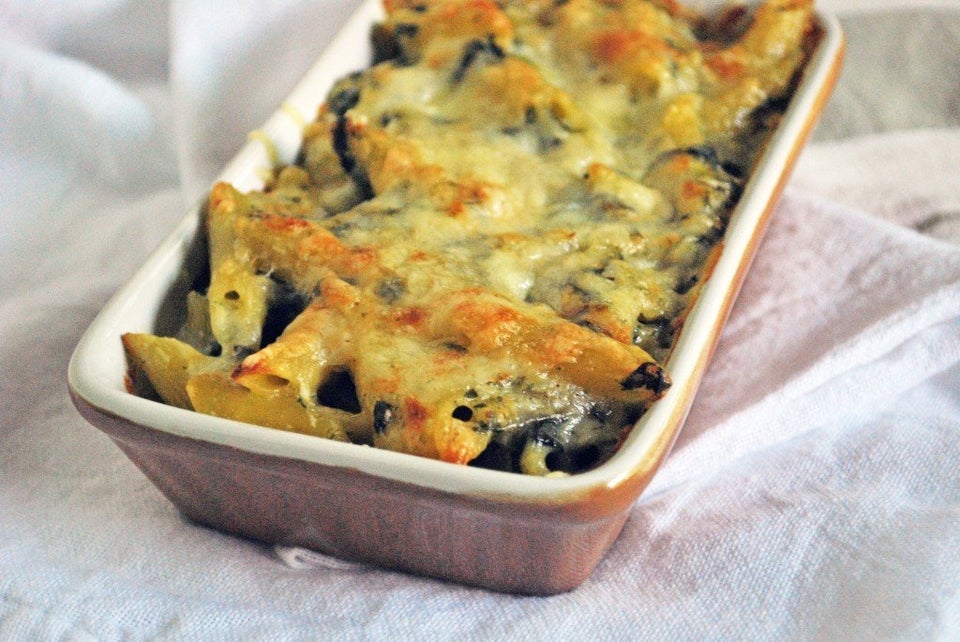 Mediterranean Mac And Cheese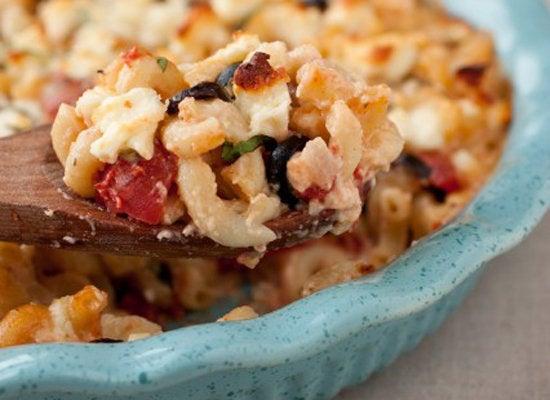 Pepperoni Pizza Mac And Cheese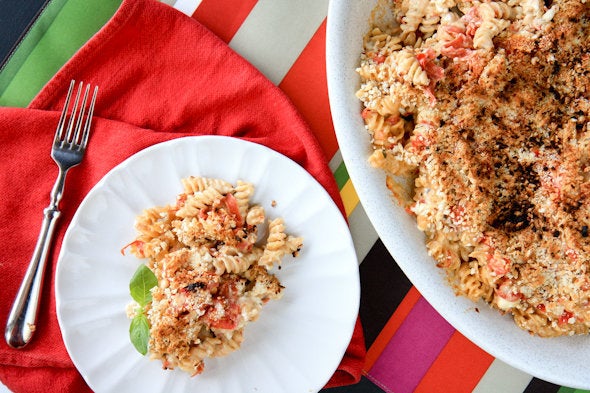 Buffalo Chicken Mac N Cheese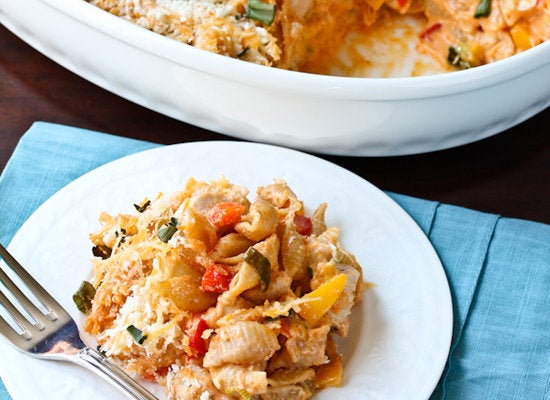 Bacon Mac & Cheese With Wisconsin Gruyère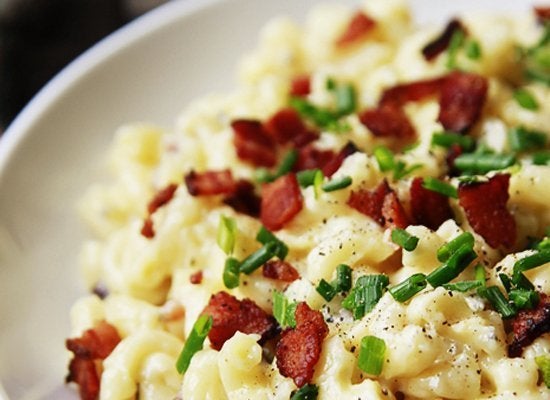 Five Cheese Mac And Cheese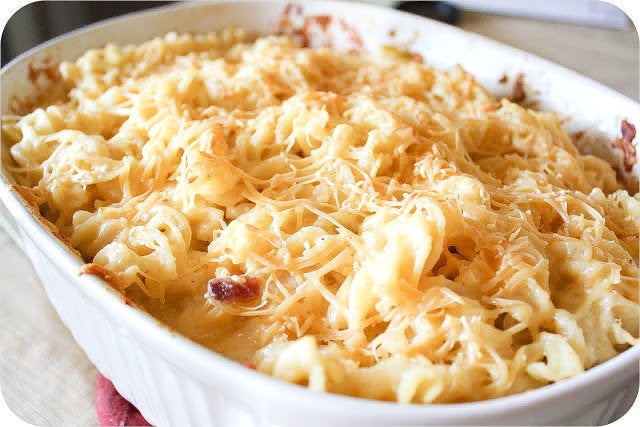 Muenster Mac & Cheese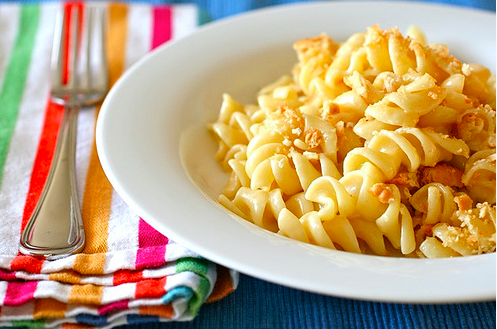 Perfect Mac-N-Cheese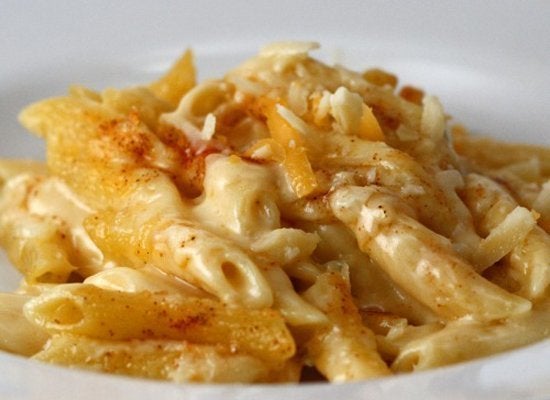 Chicken Fajita Mac & Cheese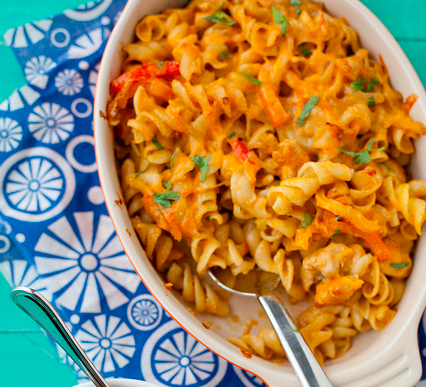 Basic Macaroni Cheese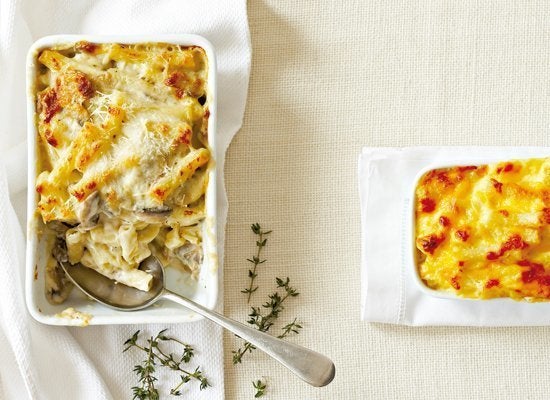 Carrot Macaroni And Cheese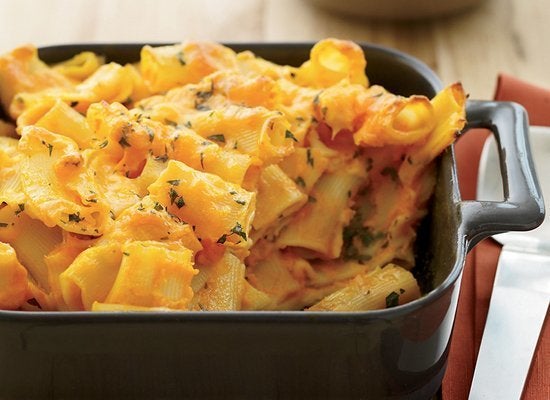 Mexican Mac And Cheese Cups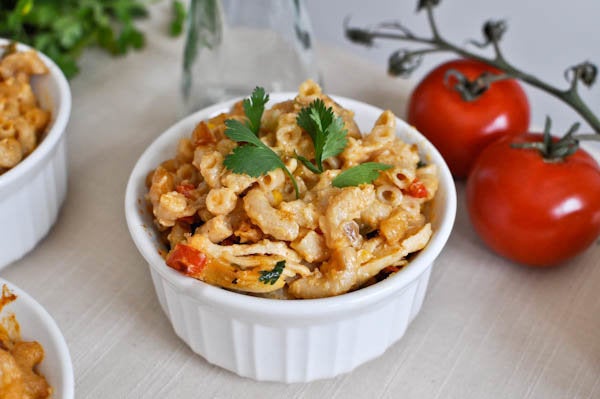 Spicy Macaroni Cheese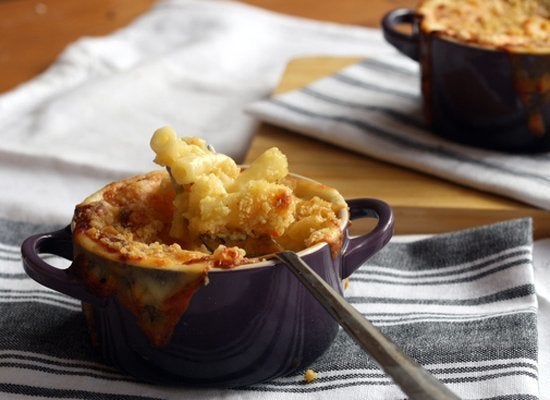 Mac And Cheese With Braised Leek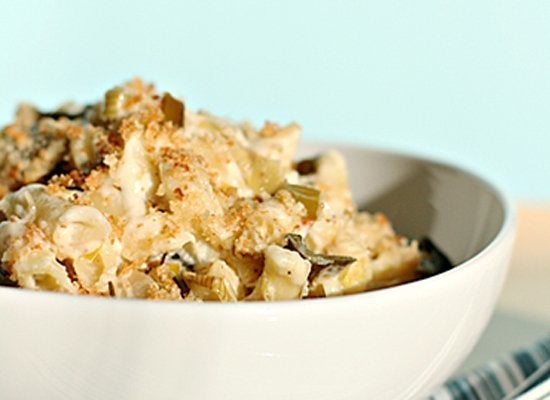 Beer Mac N' Cheese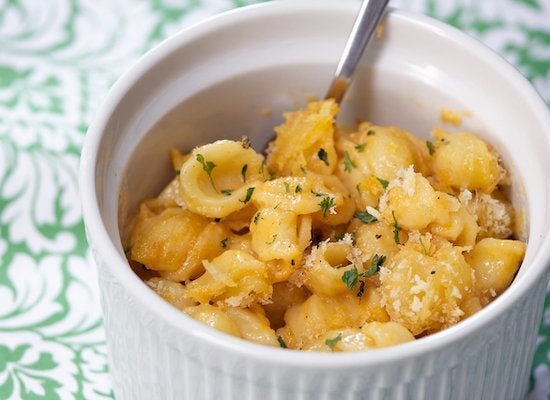 Tex-Mex Macaroni and Cheese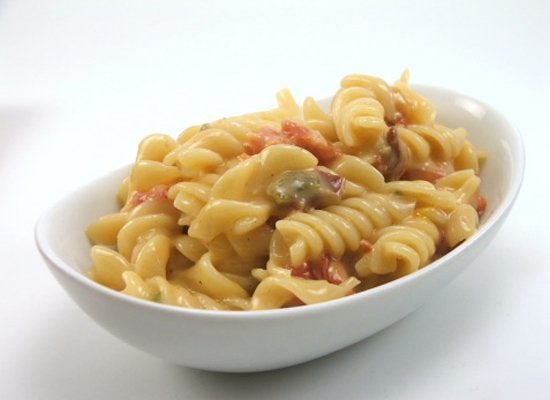 Pumpkin Mac & Cheese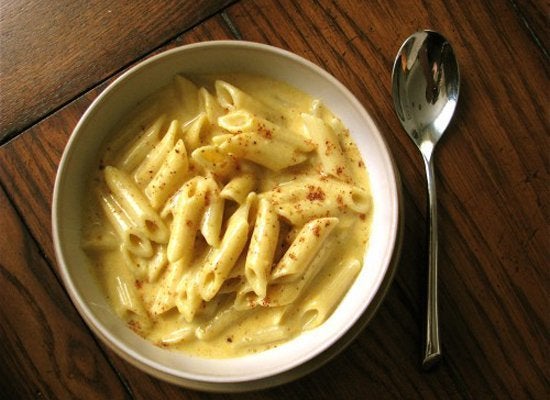 Lobster Mac & Cheese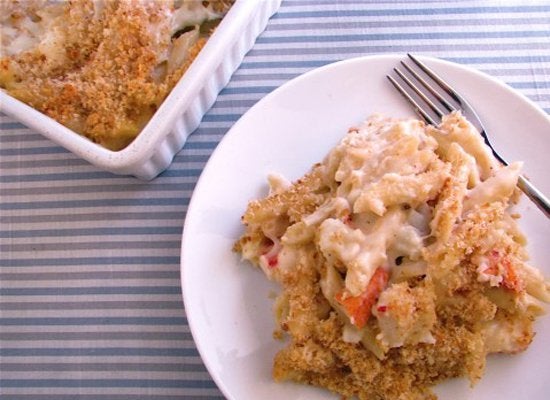 Macaroni And Cheese Alla Carbonara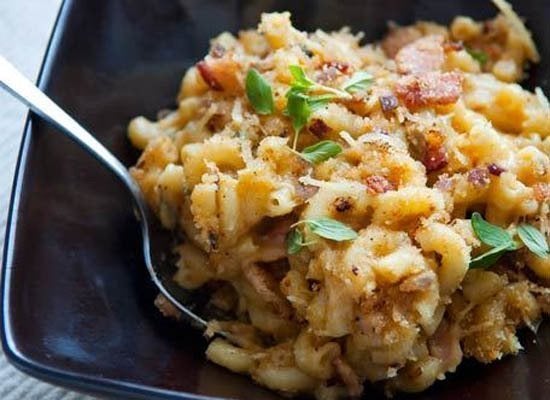 Philly Cheesesteak Macaroni And Cheese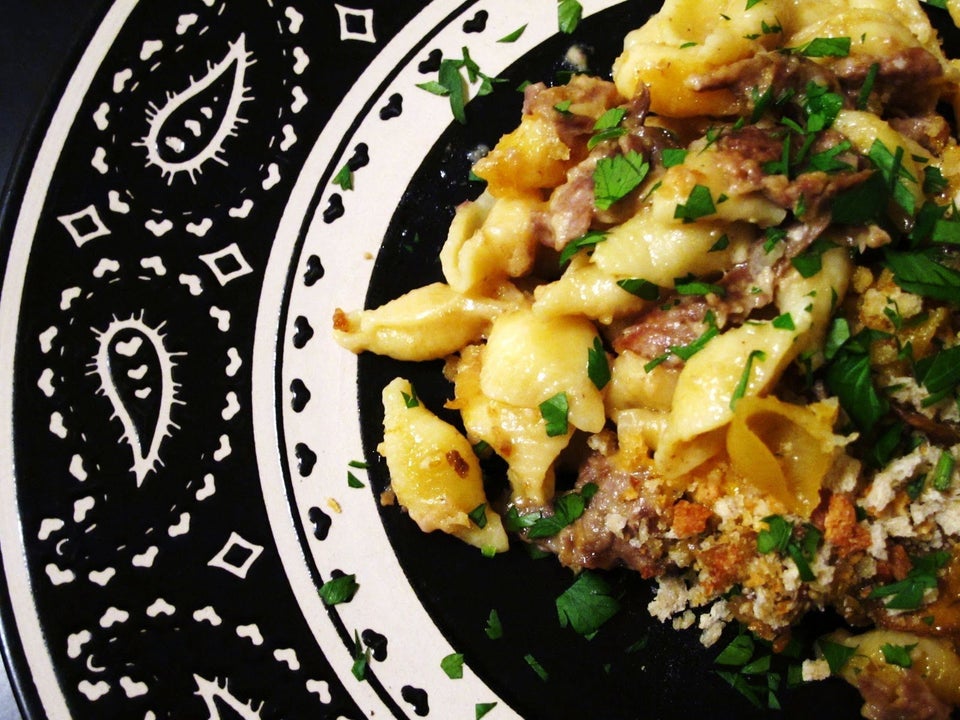 Chili-Cheese Mac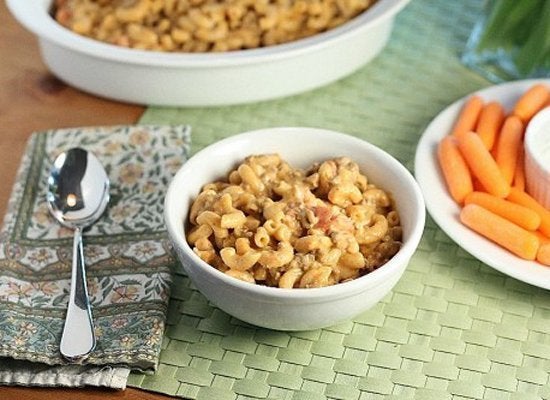 Macaroni And Cheese With Ritz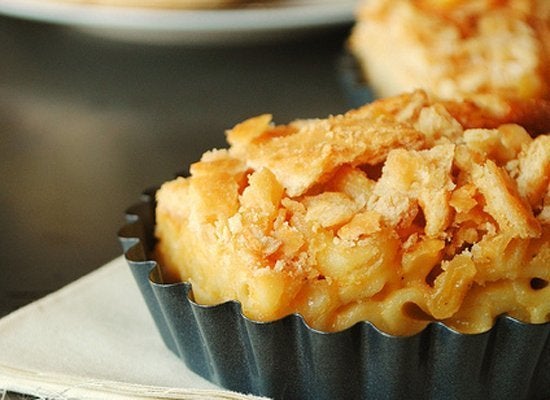 Cauliflower Mac And Cheese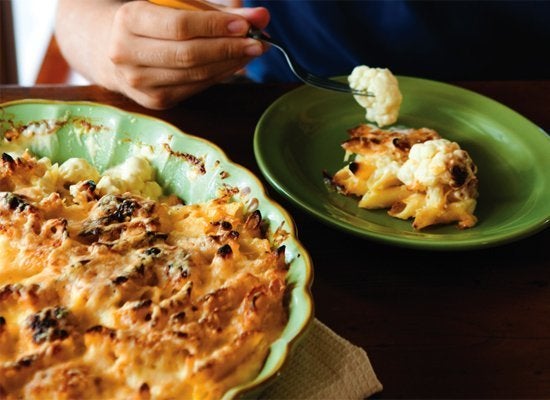 Mac And Cheese With Peas And Bacon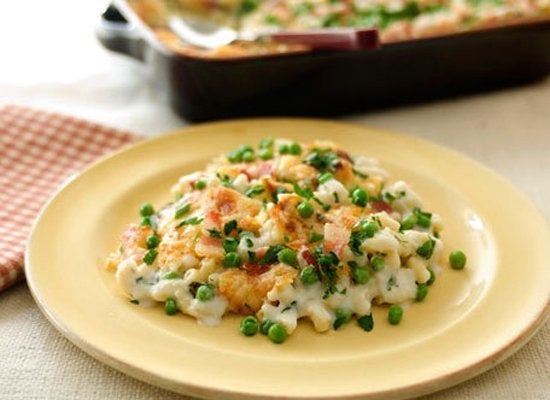 Popular in the Community