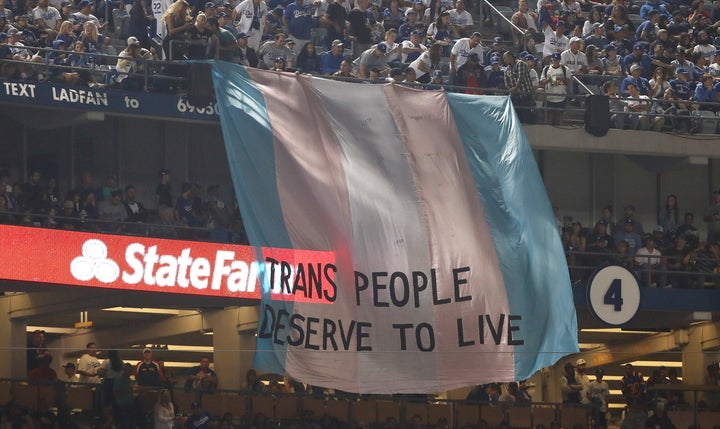 A large banner that read "Trans People Deserve To Live" was unfurled from the Dodger Stadium upper deck during the fifth inning of the World Series game between the Los Angeles Dodgers and the Boston Red Sox. The powerful statement was displayed on a pink, white and blue banner ― colors of the Transgender Pride Flag.
The demonstration was organized by the TransLatin@ Coalition, a Los Angeles-based advocacy organization focused on protecting the trans Latinx community.
"I felt my heart was dropping along with it," the group's president, Bamby Salcedo, who helped unfurl the banner during the game, told the media outlet Into. "I was kind of exploding because of the adrenaline. You don't know what's going to happen with the police and security and all of that."
The flag was not shown on Fox's television broadcast, according to multiple reports. It was displayed in the stadium for only a few minutes before security personnel intervened, removing the banner and escorting the TransLatin@ activists out of the ballpark.
"I hope that this action will motivate members of the trans community, our allies and our comrades to really activate and to really understand that we have power," Salcedo continued. "We can demonstrate our power anywhere and everywhere."
Watch a fan's video, below, of the banner being unfurled.
Thousands of activists have protested the potential move, with some calling it "an attempt to put heartless restraints on the lives of 2 million people." At least 1.4 million Americans identify as transgender or nonbinary, according to The New York Times.
The Trump administration has repeatedly challenged civil rights protections for LGBTQ people, including trying to bar trans people from serving in the military.
Watch the video, posted to TransLatin@ Coalition's Facebook page, of activists displaying the banner and later being escorted out by security.
Popular in the Community