Rep. Trent Franks (R-Ariz.) announced Thursday he is resigning from Congress next year.
Several news outlets reported Franks' impending departure from the House earlier Thursday.
In a statement, Franks said the House Ethics Committee is investigating his "discussion of surrogacy with two previous female subordinates, making each feel uncomfortable."
"I deeply regret that my discussion of this option and process in the workplace caused distress," he said. "In the midst of this current cultural and media climate, I am deeply convinced I would be unable to complete a fair House Ethics investigation before distorted and sensationalized versions of this story would put me, my family, my staff, and my noble colleagues in the House of Representatives through hyperbolized public excoriation."
Franks said he has informed House leadership he will resign effective Jan. 31.
In a separate statement, the House Ethics Committee announced it will investigate Franks to determine whether he "engaged in conduct that constitutes sexual harassment and/or retaliation for opposing sexual harassment."
House Speaker Paul Ryan's (R-Wis.) office said in a statement Thursday that the speaker was briefed on "credible claims of misconduct" last week and then discussed the allegations with Franks, who did not deny them.
"Subsequent conversations took place this week between the speaker and Rep. Franks leading to the congressman's decision to offer his letter of resignation," the statement said.
Franks huddled with colleagues on the House floor late Thursday afternoon. Rep. Andy Biggs (R-Ariz.) had his arm wrapped around Franks, appearing to be consoling him.
According to Roll Call, rumors of inappropriate behavior circulated before Franks' announcement.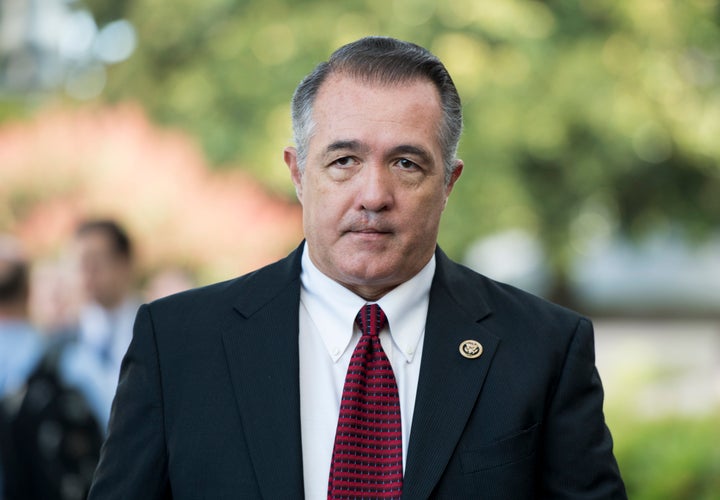 The eight-term congressman is a social conservative and one of the most aggressive anti-abortion legislators in Congress. He has led the charge, year after year, to ban abortion after 20 weeks of pregnancy nationwide and to limit abortion in the District of Columbia. Residents of D.C. protested his efforts in 2012 by lining up outside the Arizona congressman's office with plastic rats and photos of pot holes, suggesting that he try to fix more pressing problems in the city than women having abortions.
Franks also caused an uproar in 2013 when he claimed during an abortion debate that the "incidence of rape resulting in pregnancy are very low," defending his bill's lack of an exception for rape and incest victims.
The congressman is notorious for comparing abortion to slavery and the Holocaust. "What changed peoples mind over slavery?" he asked during a 2013 debate on the D.C. anti-abortion bill. "What changed their minds over the tragedy in Eastern Europe, the horror in Eastern Europe?"
Franks further incensed minority rights groups last year when he introduced legislation to impose criminal penalties on doctors who are suspected of performing abortions based on the race or sex of the fetus, which they warned would codify dangerous stereotypes against women of color.
Laura Bassett contributed reporting.
This is a developing story. Check back for updates.
Popular in the Community