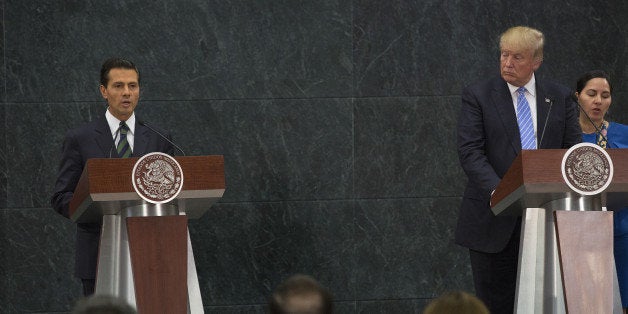 Trump and Mexican President Enrique Peña Nieto are both sinking; meeting won't change that.
When President Peña Nieto welcomes Donald Trump to Mexico, he does so as a desperate politician who is seen by most of his countrymen as a fraud and front man for an ongoing economic and human rights disaster. His approval rating is an abysmal 23 percent.
Despite that, President Peña Nieto invited and hosted Trump, a man who shamelessly used Mexico bashing to launch and fuel his meteoric political career. Peña Nieto compared Trump to Mussolini and Hitler back in March when Trump was still running in the Republican primary. It doesn't make a lot of sense, unless Peña has reached that precarious stage of political decay where any publicity (that is not about your multiple scandals) is good publicity.
Trump, who rocketed off the political launch pad 15 months ago, reached his political zenith last July. He has been falling, Icarus like, ever since.
In retrospect, this trip to Mexico may be seen as the precise moment in which his campaign officially jumped the shark. It may also mark a watershed for Peña Nieto who will have associated himself with a man who is almost universally despised in Mexico.
Conservative Mexican historian and commentator Enrique Krauze expressed his dismay on television this morning saying that unless Trump has come to publicly apologize for his deeply offensive discourse, the visit will damage Mexico's dignity.
Ironically, the final decline of these two unworthy figures may be accelerated by this desperate and unholy embrace.
Popular in the Community