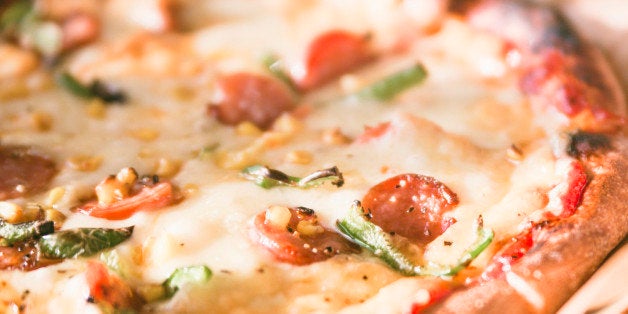 This week I turn 50 and I am ready to embrace everything that comes with it. I think that means more AARP mail and denial about how fast gray hair appears. I handle the latter easily with frequent visits to the salon.

When I say I'm 50, I really do feel like I've reached some kind of milestone. I have lived a full, rich life thus far sprinkled with wonderful adventures and Parmigiano Reggiano. And none of that is about to stop, especially the cheese part.
But I did take a minute to think about this day and I then I thought about my mom, what was she doing when she was 50 and what did we have in common? She celebrated with her best friends in a getaway weekend. They wore T-shirts that read, "I'm a 10... x5." I plan on spending a weekend at the beach in the fall with my group.
Mom also took a trip to Italy a few weeks after her 50th birthday and that is something we very much had in common. I've written about our shared love of Italy on this blog. I lost my mom three years ago, but the stacks of letters and cards from her that I saved are a narrative of personal challenges and triumphs, setbacks and successes, i.e. a life! When I read them, I am so glad that email and texting didn't exist back then. Handwritten letters are priceless.
One letter from her trip may as well have been a roadmap for my trips to Italy. I received it at my dorm at Ohio University during my sophomore year. She had already visited relatives in Grotte, Sicily, her hometown, and was now touring the north. The stationery was from the Hotel Aquila Bianca, Orvieto.
"This little town is so enchanting!" Mom wrote. "I expect Romeo and Juliet to walk down the street -- it's just as you see in the movies! Coincidentally, I learned from my Uncle Mel (in Grotte) that my grandmother eloped at 17 yrs. old. It was a very good marriage. Learned a great deal about our family." Mom's trips kickstarted our family's quest to reconnect with relatives in Sicily.

"Last night, we took an overnight steamer ship to Naples -- left Palermo at 8:30 p.m. arrived in Naples at 6:30 a.m. Not exactly luxurious or romantic as the Love Boat -- but a painless way to travel to northern Italy."
Thirteen years later, I took that same voyage, after spending a month in Grotte. I was on my way back to Bologna. My journal from Feb. 22, 1996 reads: "I'm on the ship on my way to Naples. The sea is not so smooth. I'm glad I'm in 1st class." The cabin was a double and I lucked out, as my cabin mate was a nice girl whose mother was also from Grotte. I wrote that taking the ship was "an adventure. Don't think I'll do it again though."
Mom: "Toured the ruins of Pompeii -- fascinating! I regret I was not interested enough in this at your age. It's been a real chore to do all the traveling but well worth the effort. One cannot undo what has been done (are you laughing?)"
I toured Pompeii and Naples on a vacation in 1994 with my friend Kathy. We stayed with my friend Antonio and his family. And yes -- it is truly a fascinating place.
Mom: "The food has been so great -- the wines so mellow -- and so often -- no pizza yet! (Error! In Rome, pizza rustica! (so reasonable). The best meal was Risotto Farina. The best dessert Cassata alla Siciliana in Palermo. Fresh fish every day! Paradise!"
During my 1996 trip to Naples, Antonio showed me more of the city, including the Sansevero Chapel (my favorite) and I enjoyed not only fresh seafood and the best pizza on the planet, but a wonderful Sunday lunch with his extended family. Mom and I were back there together in 2004.
Mom: "The North is far superior in looks and formality -- the South is casual and its people friendlier. But I do love Italy!"
I observed the same thing in 1996. I guess not too much changes in 13 years:
Me: "There's just something in the air that's different in the south. It's not just the people or the cooking or the climate or the terrain... There's a passion here that's very different from northern Italy. Hard to explain."
Mom's next stops were Florence and Venice. "Hope all is well with you. Such a big world Jan. Hope you get to see it sooner than I did! I love you. Mom."
I'm doing my best to see this big world, but I keep ending up in Italy. I did get to see it sooner than she did, when I was 22, 32, then two years after that and then twice with her and then two more times.
And so I celebrate turning 50 with a trove of memories, wisdom gleaned from experience and an anticipation of what's ahead. I have a feeling I'll be in Italy at some point.
REAL LIFE. REAL NEWS. REAL VOICES.
Help us tell more of the stories that matter from voices that too often remain unheard.