Everyone has a "dream job" lying dormant in their hearts. Unfortunately, it's usually plagued by one negative thought: that it can't become a reality. But many people have turned their dreams into daily realities. How did they get there? What inspires them? Surely they took all the right steps at the exact right time, without suffering any detours. I spoke to a few very successful people working their own "dream jobs" hoping to glean some insight.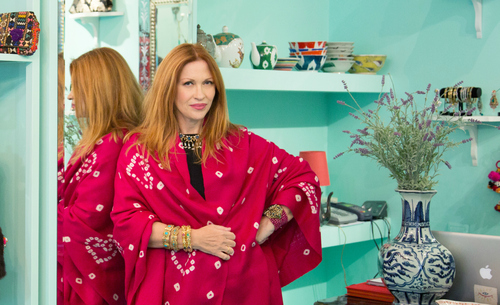 Did you know that the definition of the word "photography" is "to draw with light?" Interestingly, its origins are Greek just like the multitalented photographer, Calliope.
Stepping into Calliope's, light-filled apartment overlooking a beautiful neoclassical boulevard in Athens is like stepping into a showroom boasting exotic merchandise from around the world -- everything looks like it has a story to tell. Not surprising, considering that Calliope herself is a true global citizen.
She spent her childhood in Athens, borrowing her father's Pentax to take photos of her friends and sister. "I'm instinctive, artistic. It happens automatically, like breathing. With the camera there was a natural evolution to my artistic needs of expression." But she took a deviation on her way to becoming a renowned photographer.
After graduating high school, Calliope moved to London to study fashion design. Her innate sense of personal style quickly caught the eye of Milanese influencers, Carla and Franca Sozzani, the sister duo of Italian Vogue and Vogue Bambini who offered her a job. "My greatest school was working for Italian Condé Nast," Calliope says. "Carla and Franca opened the doors for me. They were my mentors." They encouraged her to develop her creativity, talents and constant "bombardment" of creative ideas.
Working in the fashion editorial world was all an incredibly "fun game" to her. "I started working with big photographers, traveling. Then, one day I said, 'I want to take my own pictures.' People laughed." Persistence paid off and finally Carla entrusted her to take six children's outfits with her to London where she was working with photographer, Neil Kirk, on a shoot for Italian Vogue. At the end of the day, Calliope used his studio to shoot the clothes with a 7-year-old model. "I didn't have any assistants. I used natural light, close to the window and made the girl look like an angel. There was feeling in the images. Carla couldn't believe that I took the pictures myself."
A few days later, Calliope's innate talents were put to a true test. Carla wasn't happy with the final photos for Vogue Bambini's big winter issue, so, she charged Calliope to redo them all -- 60 pages plus the cover. "I found snow at a ski resort high in the mountains of Utah; I grabbed an assistant, the clothes, no stylist and no makeup. I did it all myself. I had the best time of my life!"
The issue was such a success her phone started ringing, "like crazy," prompting Calliope to move to New York City, the place she'd always wanted to be. "I worked constantly, traveling as the staff photographer for Vogue Bambini; styling and photographing the shoots myself. I created a 'school of style' for photographing kids which began being copied." Ralph Lauren and Guess campaigns were added to her expanding portfolio which also included editorials for women's magazines such as Mademoiselle and Glamour. "I enjoyed my work very much; it was interesting from all points of view."
I can't help but ask, after finding such success in one of the most competitive industries in NYC, what made her return to Greece? "Although I love my country and enjoyed visiting, returning wasn't my intention. But I found out I was pregnant while here and then was told that I had to stay in bed for 8 months. Then I had the twin girls and I just fell in love with them. I forgot about everything else. So, I kept postponing my return to NYC. I woke up one morning and a year had past."
But her creativity has far from slowed down along with her lifestyle's change of pace. Calliope's photography has since evolved; it still depicts fashion, but of a different kind. Her first book, Traditional Costumes, (2004) was an ode to the customary Greek dresses of her homeland. Her second, Children of the Light, (published by Skira, Jan 2015) is a testimony to, "the Greek spirit; because Greece is light. I wanted to contribute to my country with this book, to give a message of optimism and to show its essence." To note, proceeds from the sale of both books have gone to charities.
But Calliope hasn't forgotten her "other big love": fashion. Queen Calliope is her line of clothing and accessories which she sells at her eponymous store in the upscale Kolonaki area of Athens and soon at Elounda on Crete. All pieces are designed by her and made by Greek artisans. I wasn't surprised when Calliope said that firstly, her designs are made with one customer in mind -- herself! Her globetrotting style is very evident in each tunic's embroidered stitching and the buttery soft fringes of her suede handbags.
"Drawing with light," is what Calliope continues to perfect through the years, but she does so through so many pursued expressions of creativity that to call her simply a "photographer" is misleading. "What drives me every day is my need to seek out truth and beauty. All the good things of life; the manifestation of the human spirit," she says. "We live in such a materialistic society, but the spirit matters more and this is what we have to uplift and hold onto."
After talking to this multitalented woman, I realize that sometimes the pursuit of a dream leads us down many different paths until the dream is finally realized; and yet, sometimes it's the culmination of all those paths that's what the dream is really made out of.
Calling all HuffPost superfans!
Sign up for membership to become a founding member and help shape HuffPost's next chapter