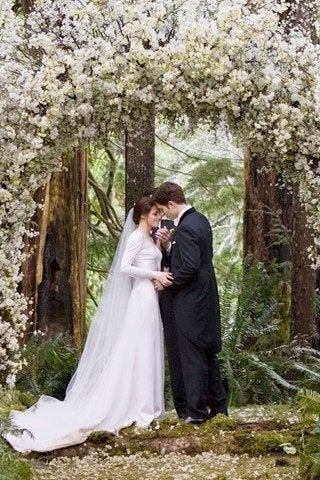 We've seen some pretty extreme examples of "Twilight" fandom, but one couple has taken the term "Twi-hard" to the next level.

Not only did British bride Abigail Kirk and groom Andy Weeks plan a "Breaking Dawn"-themed wedding, the pair legally changed their last names to Cullen.
"It started out as a joke," Kirk told NBC. "I never liked Andy's last name... and wasn't excited about taking it on, but he felt strongly that we share the same last name."
It was the groom's idea to make the change, despite the fact that he had never read the saga. "One evening as we were planning the big day, he said, 'Let's change it to Cullen,' and it sort of stuck," the 30-year-old bride said. "We know plenty of people who have blended their surnames together, and although it's kind of off the wall, it suits us."
In addition to wearing an Alfred Angelo replica of Bella's gown (Kirk nabbed a sample before the gown hit stores, making her the first bride to wear the replica), the couple used music from the "Breaking Dawn" soundtrack at their wedding.
While this couple may have pushed the limits of obsession, they are certainly not the first to devote their Big Day to "Twilight." The wedding in "Breaking Dawn" has inspired countless "Twilight"-themed engagement photoshoots and wedding designs.
Related