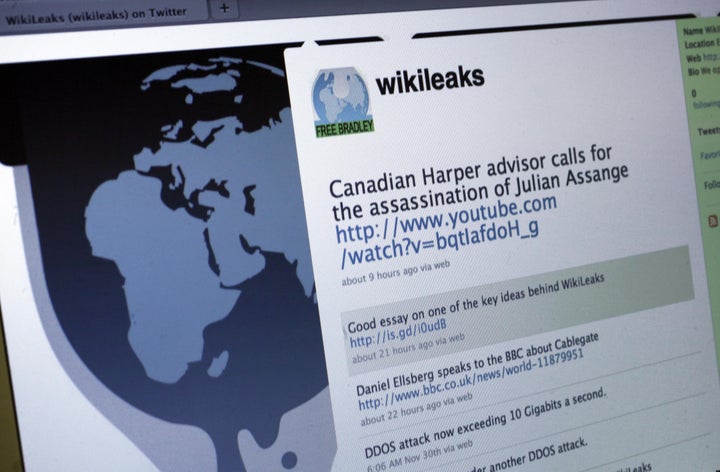 This article is being updated.
Rumors have been circulating that Twitter was blocking WikiLeaks-related terms from becoming trending topics, reports osdir.com, a charge that Twitter flatly denied as some sites braced for cyber-attacks from WikiLeaks supporters. According to PC Magazine:
Twitter on Monday denied that it is censoring WikiLeaks-related terms from its list of trending topics.

"Twitter is not censoring #wikileaks, #cablegate or other related terms from the Trends list of trending topics," the company said in a statement.
"Assange Arrested," a reference to the arrest of WikiLeaks founder Julian Assange, was appearing on the trending topics list on Tuesday. PC Mag quoted Twitter as saying in a statement:
Our Trends list is designed to help people discover the most breaking ... news from across the world, in real-time. The list is generated by an algorithm that identifies topics that are being talked about more right now than they were previously.
The implication is that because the arrest generated a lot of attention in the present, it is trending, whereas WikiLeaks, which has been highly discussed over time, is not.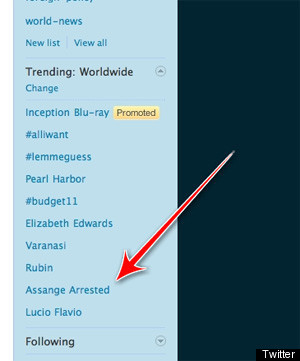 Mastercard.com was brought down Wednesday, allegedly by WikiLeaks supporters who attacked the site for blocking payments to WikiLeaks. The websites of Swedish prosecutors were also attacked, raising fears that more attacks may follow on sites that could be perceived as "enemies" of Julian Assange. Twitter has not removed the account @wikileaks, nor has it announced any plans to do so.
However, a online group called Anonymous that appears to have taken down the Mastercard site released a message saying Twitter would be targeted. According to the Guardian:
The group, which has been targeting commercial sites that have cut their ties with WikiLeaks for some days, has also made threats to other organisations including Twitter, which it says is suppressing the site.

We will fire at anything or anyone that tries to censor WikiLeaks, including multibillion-dollar companies such as PayPal," a statement circulating online, apparently from Operation: Payback, said.

"Twitter, you're next for censoring #WikiLeaks discussion. The major shitstorm has begun," it said.
Operation: Payback is the name Anonymous has given to its series of ongoing cyber-attacks in support of WikiLeaks.
Popular in the Community