The University of California-Berkeley's Cloyne Court, the largest cooperative house in America, is under threat of being completely revamped, and Cal students are fighting to save it.
The suit was filed by the family of former resident John Gibson, who sustained brain injuries from a drug overdose on the premises in 2010. The BSC fears that Cloyne has a perceived drug culture, and is a liability to the public.
"We are at risk of unaffordably high insurance rates or of being uninsurable. ... We need to make a direct response to this settlement to show our efforts to prevent further incidences and liability," BSC President Michelle Nacouzi said in a statement.
Home to 150 Cal students (known as Clones), this mural-covered, historic landmark has remained a site of free-spiritism, creativity and learning for decades. To protect themselves from high insurance rates or being uninsurable if another drug-related incident occurs, the BSC proposed a solution: evict all current house members by the fall term, deem Cloyne a substance free-zone and make it an academic-themed house. In effect, pressing a reset button to Cloyne's culture and community.
The Clones are not happy about that idea to say the least, though the current proposal to evict all the students isn't the first time such a purge took place. But the students living in the co-op claim the proposal -- drafted without input from Clones -- "inadequately, unfairly, and uncooperatively addresses the situation that the BSC is trying to remedy."
Some students are now rallying together in a Save Cloyne campaign, launching a Facebook page to debunk what they argue are misconceptions, especially regarding drug culture, while providing positive testimonials as well as information about the house.
The video above by Steven Fox Nakai, a house member, showcases the co-op as a punk-hippie-fairy tale explosion of a place, and as a vibrant home where people of varying backgrounds, dispositions, passions and academic interests are invited to come together to thrive in a safe environment.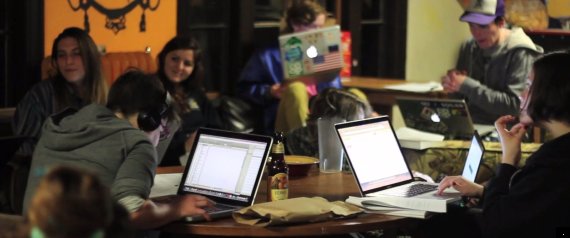 Students seen studying the Cloyne House (Image via Steven Fox Nakai)
Though residents are free to "be," they are also serious students at one of the world's premiere universities, studying a range of subjects from Peace and Conflicts Studies to microbiology to physics. For many, this "LGBTQrstuvwxyz-friendly" house is not only a safe haven for alternative living, but is also a necessity -- Cloyne is one of the cheapest housing options for UC Berkeley students.
"My parents don't have a lot of money. The only reason I'm here is because I was blessed with a scholarship. I was blessed with this place," says student Amber Mullaney in her "Why We Love Cloyne" testimonial. "This place we call Cloyne. This place I call home."
The Cloyne members are offering counter-proposals, which aim to improve Cloyne's public image and address substance abuse problems throughout the university.
"What a progressive organization should do is pick a proposal that's best for its members, not for its insurance companies," said Cloyne's consultant lawyer, Jesse Palmer, at a heated discussion over the future of the house, as reported by The Daily Californian.
Some students point out Gibson's overdose wasn't the first incident to take place there. However, Cloyne Court house manager Mirit Friedman told The Daily Cal she fears making it a substance-free house is simply looking for a "band-aid solution to a larger drug-culture problem" across college campuses and beyond the co-op community. One counter-proposal put forth by students focuses on addressing issues of substance abuse with educational resources and counselors instead of sweeping the issue under the rug.
Clones also complain the BSC has not followed proper protocol, however, claiming the board ignored Cloyne's formally submitted referendum to delay a vote on the house's future by thirty days to allow for more discussion.
The BSC cabinet and representatives from Cloyne will be discussing formal amendments to the offered proposals March 13th, before making a final decision in the coming weeks.
In the meantime, Clones and supporters are spending their energy trying to help start a conversation about the house in an effort to sway the BSC to agree to a solution that works in their favor.
REAL LIFE. REAL NEWS. REAL VOICES.
Help us tell more of the stories that matter from voices that too often remain unheard.
BEFORE YOU GO
PHOTO GALLERY
Best Public Schools 2014