As a sport, dodgeball's appeal has been relegated to playgrounds and gyms, but one man is hoping to help its popularity leap to the ranks of professional sports like basketball, football or baseball -- by using trampolines.
Rick Platt is the creator of Ultimate Trampoline Dodgeball, a variation of the sport where the players play on indoor courts where the floors and walls are covered with, yes, trampolines.
To that end, Platt has invested millions of dollars creating 26 SkyZone trampoline parks in the US and Canada where people can jump around for fun and where serious UTD players can hone their skills in this nascent sport.
Now, he is trying to jump start the sport's popularity by holding its first championship this weekend in Los Angeles, where 21 teams from across the country will compete to win $100,000 in prizes, including $25,000 to the top team.
The rules to trampoline dodgeball are similar to traditional dodgeball, with some slight differences, besides the fact that trampolines allow the players to jump over balls and throw the balls at opponents from up to 10 feet in the air.
Two teams of five players each face off against each other at a time.
Each game is four minutes in length or until one team has all its players knocked out.
If both teams have players at the end of a game, the match goes into sudden death until the first player is knocked out.
The team that wins two out of three games goes to the next round.
Fox Sports Network will air highlights from the event around Christmas and Platt is confident that the sport will become the next big thing, both on the amateur and pro levels for a variety of reasons, not the least of which is that -- unlike traditional dodgeball -- the sport gives talented athletes of all sizes a fighting chance to succeed.
"The trampoline is the equalizer," Platt told The Huffington Post. "Athleticism is important. Throwing the ball is half the game, but if you don't have agility, you're going to be knocked out.
Mental strategy is also important, according to Phillip Middleton, a 21-year-old student at the University of Nevada, who leads Team HAM, an acronym for "Hard Ass Motherf---ers." Some insiders believe he could be the sport's first breakout star.
"This game is 75-percent mental," he told HuffPost. "Most of the time, we're trying to figure out if the other team is afraid; if they move left or right or if they hestitate."
Middleton, a high school quarterback, is known for his trash talking and is responsible for the young sport's most legendary moment thus far: A regional championship game where his six-man team went against a team with eight players.
"It was the last game, and everyone on our team was knocked out except for me," Middleton said. "It was me against their entire team and I got them all out."
Matt DeRouen, who will be competing on the St. Louis Dream Team, said team chemistry has been the key to success.
"The other players know not to stand behind me, because I will move, and we have our best catchers stay in the back to catch balls that haven't hit the players in front," he told HuffPost. "We also do a lot of cross throws. We'll point to one guy and say, 'Throw it at him!' but actually throw it at someone on the opposite side."
DeRouen was playing in a traditional dodgeball league before jumping to the trampoline version. There were some adjustments, he admits.
"You bounce higher and the landings are more forgiving, but throws were harder at first," he said.
DeRouen currently works doing research and development for a tech firm, but admits he'd love to make a living playing trampoline dodgeball full time -- and is hopeful this weekend's tournament will help it bounce to the upper echelon of pro sports -- even if there's a caveat to his optimism.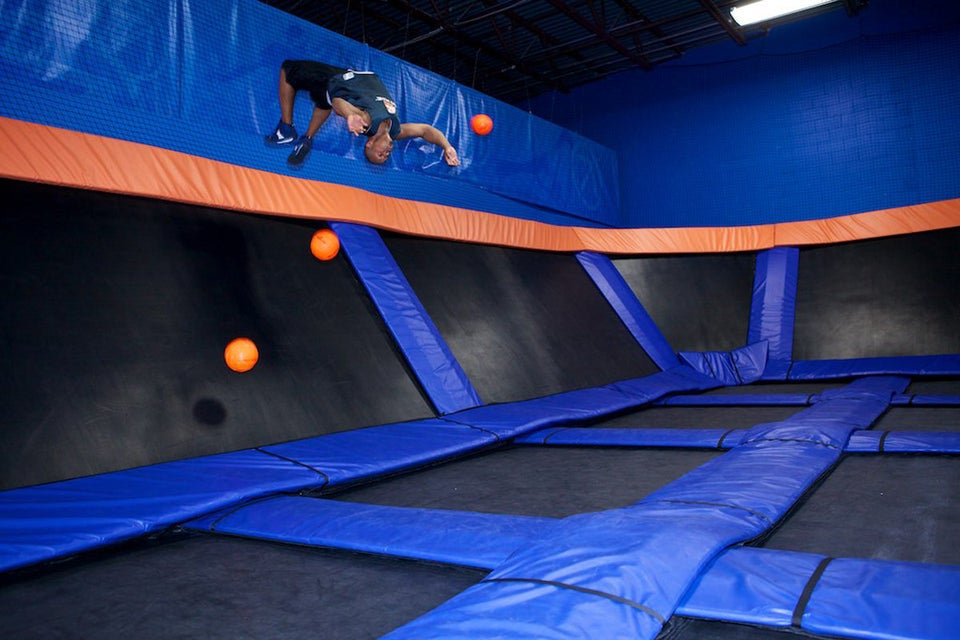 Trampoline Dodgeball Championship
Popular in the Community