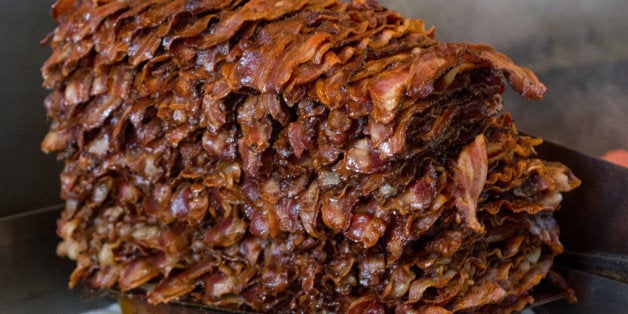 Plenty of people of all stripes have been known to greet bacon with a firm "hallelujah," especially on hungover Sundays. But one group in particular means their praise quite literally: adherents of The United Church of Bacon.
That's right: There's actually an organization dedicated to the worship of cured, smoked pork belly. The church was founded in 2010, by an ex-Marine named John Whiteside, and now claims 4,000 members across the world. It even offers members many of the services you'd expect from a traditional religious organization: weddings, funerals and baptisms. (Though Whiteside told HuffPost that the Church has only performed one funeral service so far, and that no one has yet taken him up on his offer to baptize people or animals "in the name of lard.")
To be clear, the United Church of Bacon does not ascribe any supernatural powers to its titular meat. Quite the opposite. The church is, in fact, a proudly atheistic organization -- one that has, according to its website, "a funny name but a serious mission." Its core tenet is skepticism, and its goal is to win respect and legal equality for those who do not believe in God. The United Church of Bacon does not accept donations for its own activities, but it does encourage members to donate to worthy causes. Whiteside says that they have raised hundreds of thousands of dollars for a host of other altruistic organizations.
It is, overall, a pretty mellow organization.
"We don't mean to offend anyone by saying that bacon is our god," Whiteside said. "It's just meant to bring people together. Everyone loves bacon. Even people who don't eat red meat love vegetarian bacon or turkey bacon."
But according to Whiteside, this organization dedicated to fighting discrimination is now facing discrimination of its own. In April 2014, he says, he went to a branch of Wells Fargo bank near his house in Nevada, where he kept an account of his own, and asked a Wells Fargo notary to authorize a state document to make Las Vegas electrician Chris Dyer (then a Republican candidate for Nevada Lieutenant Governor) a celebrant, allowing him to perform weddings. But the Wells Fargo notary, he says, snickered at the name of his church and refused to comply, despite repeated requests, and despite the fact that other notaries had vouched for similar documents many times before.
The next day, Whiteside complained to the Wells Fargo corporate offices and asked the bank to investigate this notary's actions. He says that Wells Fargo refused, so he contacted the Nevada Equal Rights Commission and asked them to look into the matter. On February 11, the Nevada Equal Rights Commission told him that they had not found sufficient evidence to prove that Wells Fargo had acted illegally, because the notary claimed that she had been unable to verify Whiteside's signing authority for the church. Whiteside appealed the decision, and last week, the Commission denied his appeal. But Whiteside still does not believe their investigation was thorough enough.
"I don't think they even talked to the notary," he says. "It seems like they just talked to Wells Fargo attorneys. The reasoning is just absolutely ridiculous, that she couldn't verify my signing authority for the church. That would be like saying Pope Francis doesn't have signing authority for the Catholic Church."
Contacted by The Huffington Post, Wells Fargo representative Diana Rodriguez affirmed the bank's policy of non-discrimination and disputed Whiteside's account of his interaction with its employee.
"We regret that this organization and Mr. Whiteside have decided to target Wells Fargo as a means to further their agenda," she said in an emailed statement.
"We deny that the interaction with the notary occurred as he describes it, we deny the allegations of his complaint, and we deny that any of it represented discrimination," she continued.
Whiteside, informed of Wells Fargo's statement, was exasperated. "They can't apologize? Seriously? They know it's a mistake, and they won't admit it," he said.
Last week, Whiteside collaborated with several other atheistic organizations to stage protests in Las Vegas against what he describes as Wells Fargo's discriminatory practices. (He says that 50 people showed up one day and between 40 and 45 showed up the next day.) They also started an online petition, asking Wells Fargo to "apologize and reaffirm their policy of non-discrimination against atheists," which had garnered 790 signatures as of press time.
Whether or not Wells Fargo ends up apologizing, the bank employees' refusal to notarize Chris Dyer's application did not stop him from becoming a celebrant. Whiteside went to a different Wells Fargo bank the day after his first refusal and got it notarized without issue, and after undergoing a state background check, he was authorized to perform weddings.
"Since then, I've performed two weddings," Dyer told HuffPost. "They were great, and they were absolutely free."
Related
Before You Go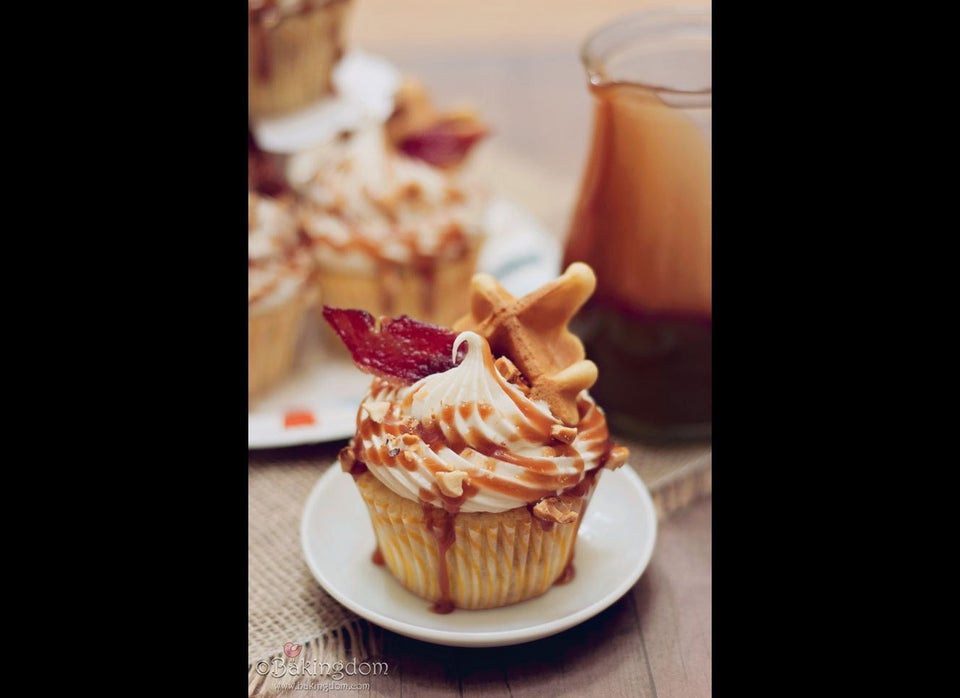 Bacon Creations