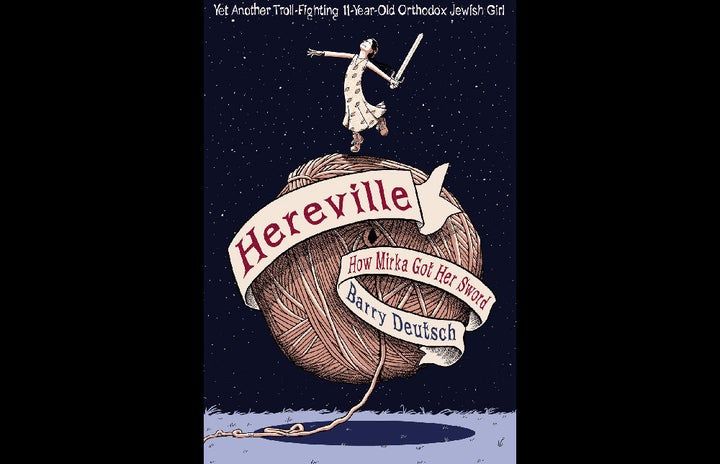 By Bob Smietana
Religion News Service
(RNS) Mirka is just another ordinary 11-year-old Orthodox Jewish girl.

She goes to school and argues with her brother and sisters. She helps her stepmother bake Challah bread and polish candlesticks for Shabbat and learns "womanly arts" like cooking and knitting.

And in her spare time, she fights trolls and a monster pig, outsmarts a witch and dreams of being a dragon slayer.

Mirka is the star of Hereville: How Mirka Got Her Sword, a graphic novel that's equal parts Fiddler on the Roof and Harry Potter by Portland, Ore.-based cartoonist Barry Deutsch.

The book has won rave reviews from critics and recently won the prestigious Sydney Taylor Award for older readers from the Association of Jewish Libraries.

Most of all, it's great fun -- which is what Deutsch had in mind.

He wanted to craft a fairy tale adventure about an Orthodox Jewish girl whose religion was a regular part of her life, without being preachy or writing about serious topic like anti-Semitism.

"I don't see a lot of pop culture out there that's incorporating religion into their characters' backgrounds without wanting to preach to anyone," he said. "And I don't see a lot of Jewish kid books out there that are neither instructive, nor driven by anti-Semitism."

The book was born in 2005 as a web comic for a site called girlamatic.com, which publishes girl-friendly comics, Deutsch said.

He'd thought about drawing a comic about a Jewish dragon fighter before, set in medieval times, when Jews were banned from carrying swords or other weapons. But the idea never took.

This time was different.

"I sat down to think of something and the idea of a little Hasidic girl who wants to be a hero popped into my head," he said.

The story is set in the fictional Hasidic town of Hereville. Mirka, who speaks Yiddish, lives with her family, which includes her stepmother, younger brother, and an older and younger sister.

In the story, Deutsch plays with traditional fairy tale motifs and Jewish themes. Rather than outfight the troll, for example, Mirka outsmarts it -- a traditional idea in Jewish stories about using brains rather than brawn.

Deutsch said he didn't want Mirka to win through violence. But she's not above throwing rocks or picking up a tree branch to ward off a group of boys bullying her younger brother. About midway through the comic, she takes a wild ride on a decidedly non-kosher monster pig that tries to drown Mirka.

"When I talked to kids, the pig is their favorite part," he said.

The story also reflects the rhythms of Orthodox life, especially the Sabbath, which interrupts Mirka's quest for a sword.

"I thought it would be really interesting if the entire plotline of this world stopped at Shabbat," said Deutsch.

Deutsch finished a 57-page web version of Hereville in 2008, then self-published a print version, before landing a contract with Abrams Books for three Mirka graphic novels.

The first has been a hit, earning rave reviews from Kirkus, Publishers Weekly, The Washington Post and others.

"Mirka is the heroine that girlhood dreams are made of ... Hereville is pure enchantment," wrote the School Library Journal.

Ten-year-old Shira Acklin from the Temple, a Reform Jewish congregation in Nashville, agrees. She's a fan of the Harry Potter books, and is also a big fan of Mirka.

"I like that the girl is the star -- her brother is there but he's not the star. She is," Acklin said.

Adventure stories like Mirka's are rare among Jewish kids' books, said Heidi Estrin, library director at Congregation B'nai Israel, in Boca Raton, Fla.

Many Jewish books for kids focus on serious topics, like anti-Semitism, or teaching religious topics. If the books include humor, said Estrin, it's often aimed at parents, not kids.

Not so with Hereville.

"It's lighthearted in a way that kids can relate to," said Estrin, who runs The Book of Life, a podcast about Jewish books. "The plot had nothing to do with prejudice -- it's about a girl who wants to fight dragons."

Even though the story's set in a Jewish community, Estrin says Mirka has enough elements to appeal to Jews and non-Jews alike.

It's the first graphic novel to win the Sydney Taylor award, named in honor of the author of the All-of-a-Kind Family series of books for kids. They were among the first books about Jewish characters produced for a mainstream audience.

Estrin said Hereville fits in the same category. "You don't want just Jewish kids reading the books," she said.

Deutsch, who calls himself culturally Jewish but an atheist, said he wants to entertain people with Hereville, not teach about religion, but also wanted to capture some of the joy of being Jewish.

"I wanted it to feel familiar to people," he said. "To start in a culture that is completely foreign and by the time they reach the end of the book they understand why Mirka loves her life."
Calling all HuffPost superfans!
Sign up for membership to become a founding member and help shape HuffPost's next chapter