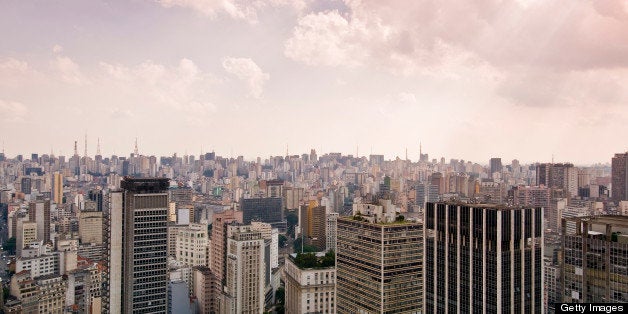 For the first time in human history, over half of the world's population live in urban areas. By 2050, that number is projected to reach 70 percent. And yet, cities face huge problems. They are responsible for almost 80 percent of the world's energy consumption and 67 percent of its greenhouse emissions. In 2005, one in three urban dwellers was living in slum conditions.
Precisely because of the magnitude of the problems they face, cities are increasingly emerging as the most fertile grounds for creating change. They are the laboratories in which many of the world's most intractable challenges -- including the challenge of reinventing the very fabric of our political lives -- will be solved.
Recognizing the fundamental importance of cities and city governments, organizations such as C40, the Global Cities Forum and the Mayor's Conference, have started to connect governmental institutions from large metropolitan centers around the world. Certain corporations have also been quick to understand the growing economic and political importance of cities: IBM, Cisco, GE and Siemens are just a few examples of large multinational companies that have launched Smart Cities initiatives in the last few years.
However, many large-scale organizing groups have not yet acknowledged that the world's power center has shifted to cities. People-powered politics is, in fact, changing the world we live in: groups like Avaaz, GetUp!, AllOut and MoveOn have inserted people-powered politics into national and transnational decision-making processes. These dynamic groups use a combination of online organizing and offline action to very successfully coordinate large numbers of people. They allow people to easily grasp and influence issues that are important to them. Such groups rely on small contributions from their members to operate, and are financially independent. Yet their model has not reached the world's urban centres and the decisions made at that level.
As cities become increasingly high-tech, the question of ethics remains unanswered. What kind of ethical model do we need in order to guide the development and application of such technology?
My hometown, Rio de Janeiro, is the perfect example of a city undergoing massive urban changes. The city is increasingly relying on technology and big data. Yet it is neglecting to include significant portions of its citizens in the decision-making process that will define its future. I co-founded Meu Rio in the belief that citizens need to organize themselves as intelligently, use technology as ubiquitously, and share knowledge as efficiently as the public and private institutions, in order to really participate in the definition of public policy at the city level. Examples of our work include in-person demonstrations at City Hall to prevent sudden, unilateral changes to the city's environmental code; saving a landmark neighborhood school from demolition through 24/7 webcam monitoring; and changing the Constitution to preclude officials convicted of corruption from occupying high-level positions in Rio's administration.
Today, only 18 months after we founded it, Meu Rio is mobilizing almost 100 thousand citizens of Rio -- one in 20 young people aged 20 to 29 is a member. We have brought people-powered politics to many aspects of city life. We have helped provide checks and balances to traditionally unaccountable institutions. We have pooled resources and ideas from citizens to help improve and simplify city life.
Now, I hope that citizens elsewhere will use open-source technology and adapt the Meu Rio model to the realities and challenges of their own cities. We need the C40 of citizens, not just city-governments. Civil society has to tackle the great challenge of developing a multi-metropolitan movement to provide checks and balances to both the private and public sectors.
Ultimately, we need to ensure that cities around the world will be designed and governed to serve the ones who really matter: us.
This post is part of a series produced by The Huffington Post and The New Cities Foundation, to mark the New Cities Summit in São Paolo, June 4-6, 2013. The summit highlights what works to solve the great urban challenges facing all cities. For more information on the New Cities Summit, click here

Popular in the Community