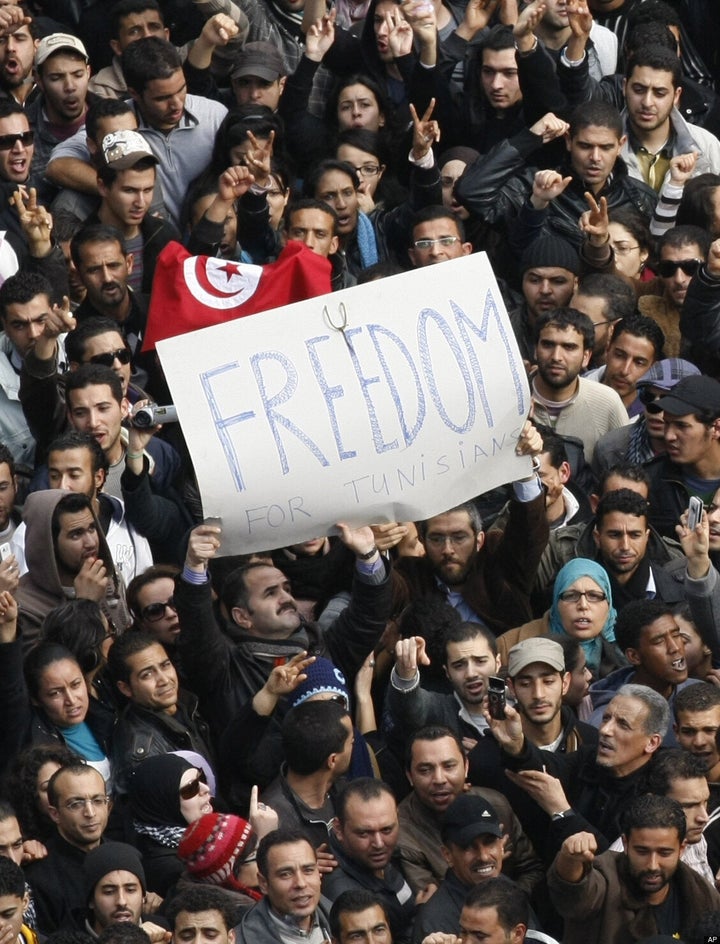 The regime, U.S.-backed Tunisian dictator Zine El Abidine Ben Ali has been the target of a nationwide popular uprising in recent weeks, which neither shooting into crowds of unarmed demonstrators nor promised reforms has thus far quelled. Whether this unarmed revolt results in the regime's downfall remains to be seen. In recent decades, largely nonviolent insurrections such as this have toppled corrupt authoritarian rulers in the Philippines, Serbia, Bolivia, Ukraine, the Maldives, Georgia, Mali, Nepal and scores of other countries and have seriously challenged repressive regimes in Iran, Burma and elsewhere.
On the one hand, the Tunisian opposition seems rather disorganized and the protests largely spontaneous. The lack of a stricter nonviolent discipline at some of the demonstrations, which at times have deteriorated into full-scale riots, has given the regime the political space for increased repression. At the same time, the dissatisfaction with the regime is widespread and growing.
In the course of some civil insurrections, like Iran and Burma, Washington has strongly condemned the regime and provided strong words of encouragement for the pro-democracy activists challenging their repression. In a couple of cases, like Serbia and Ukraine, the United States and other Western countries even provided limited amounts of economic assistance to pro-democracy groups. Most of the time, however, particularly if the dictatorship is a U.S. ally like Tunisia, Washington has either backed the government or largely remained silent.
Indeed, rather than praise Tunisia's largely nonviolent pro-democracy movement and condemn its repressive regime, Secretary of State Hillary Clinton has instead expressed her concern over the impact of the "unrest and instability" on the "very positive aspects of our relationship with Tunisia," insisting that the U.S. is "not taking sides" and that she will "wait and see" before even communicating directly with Ben Ali or his ministers.
In addition, as the popular uprising against the Ben Ali dictatorship commenced last month, Congress weighed in with support of the regime by passing a budget resolution that included $12 million in security assistance to Tunisia, one of only five foreign governments (the others being Israel, Egypt, Jordan and Colombia) provided direct taxpayer-funded military aid.
Along with limited political freedom and government accountability, the poor economic situation in Tunisia has been the major focus of the protests, particularly among unemployed educated youth. Clinton acknowledged this issue in noting that "one of my biggest concerns in this entire region are the many young people without economic opportunities in their home countries." Rather than calling for a more democratic and accountable government in Tunisia, however, her suggestion for resolving the crisis is that the economies of Tunisia and other North African states "need to be more open."
In reality, however, Tunisia -- more than almost any country in the region -- has followed the dictates of Washington and the International Monetary Fund in instituting "structural adjustment programs" in privatizing much of its economy and allowing for an unprecedented level of "free trade." These policies have increased rather than decreased unemployment while enriching relatives and cronies of the country's top ruling families. This has been privately acknowledged by the U.S. embassy in a recently-released Wikileaks cable, which labeled the U.S.-backed regime as a "kleptocracy." The U.S. has also been backing IMF efforts to get the Tunisian government to eliminate the remaining subsidies on fuel and basic food stuffs and fuel and further deregulate its financial sector.
Rather than anti-American extremism in the Arab world being a result of hostility towards "our freedoms," it is such policies backing such corrupt authoritarian regimes as Tunisia which have alienated so many young Arabs from the United States. As John F. Kennedy once warned, "Those who make peaceful evolution impossible make violent revolution inevitable."
Related
Popular in the Community