 UNITED NATIONS, Sept 5 (Reuters) - The United States declared on Thursday that it has given up trying to work with the U.N. Security Council on Syria, accusing Russia of holding the council hostage and allowing Moscow's allies in Syria to deploy poison gas against innocent children.
U.S. Ambassador to the United Nations Samantha Power's remarks left no doubt that Washington would not seek U.N. approval for a military strike on Syria in response to an Aug. 21 chemical attack near Damascus. She said a draft resolution Britain submitted to the five permanent council members last week calling for a response to that attack was effectively dead.
"I was present in the meeting where the UK laid down the resolution, and everything in that meeting, in word and in body language, suggests that that resolution has no prospect of being adopted, by Russia in particular," Power told reporters.
"Our considered view, after months of efforts on chemical weapons and after 2-1/2 years of efforts on Geneva (peace talks), the humanitarian situation is that there is no viable path forward in this Security Council," she said.
After Britain submitted the draft resolution to fellow Security Council veto powers China, France, Russia and the United States, its parliament voted against British participation in planned U.S. military strikes to punish Syria's government for the chemical attack.
Washington, which is seeking U.S. congressional approval for military action, blames the latest poison gas attack on forces loyal to Assad. The United States says that sarin gas attack killed over 1,400 people, many of them children.
Power said the 15-nation council failed to live up to its role as the guardian of international peace and security.
"Unfortunately for the past 2-1/2 years, the system devised in 1945 precisely to deal with threats of this nature did not work as it is supposed to," Power said. "It did not protect peace and security for the hundreds of Syrian children who were gassed to death on Aug. 21."
"The system has protected the prerogatives of Russia, the patron of a regime that would brazenly stage the world's largest chemical weapons attack in a quarter century while chemical weapons inspectors sent by the United Nations were just across town," she said.

SECURITY COUNCIL HELD 'HOSTAGE'
The U.N. chemical investigation team, led by Sweden's Ake Sellstrom, took samples from the site of the Aug. 21 attack in the suburbs of Damascus. The results of their analysis will not be ready for weeks, U.N. diplomats say. The U.N. experts will only say whether toxic chemicals were used, not who deployed them.
Russia, backed by China, has used its veto power three times to block council resolutions condemning Assad's government and threatening it with sanctions. Assad's government, like Russia, blames the rebels for the Aug. 21 attack.
"In the wake of the flagrant shattering of the international norm against chemical weapons use, Russia continues to hold the council hostage and shirk its international responsibilities, including as a party to the chemical weapons convention," Power said.
Power was asked about Russian President Vladimir Putin, who on Wednesday declined to rule out Russian backing for military action against Syria if he was presented with proof of Syrian government involvement in the Aug. 21 attack.
"There is nothing in the pattern of our interactions ... with our Russian colleagues, that would give us any reason to be optimistic," Power said. "Indeed, we have seen nothing in President Putin's comments that suggest that there is an available path forward at the Security Council."
Nevertheless, Power said the U.S. mission briefed U.N. member states on Thursday on Washington's assessments of Aug. 21, "which overwhelmingly point to one stark conclusion - the Assad regime perpetrated a large-scale and indiscriminate attack against its own people using chemical weapons."
Washington also suggested it has shared its intelligence on the use of sarin gas on Aug. 21 with Sellstrom's team.
"As we routinely do, the U.S. is sharing critical information related to this attack with the U.N. and our partners and allies," Power's spokeswoman Erin Pelton.
Earlier this week, U.N. Secretary-General Ban Ki-moon cast doubt on the legality of any military action against Syria that is not in self-defense or lacks Security Council backing.
Power said that sometimes it is necessary to go outside the Security Council when it is deadlocked. She cited the case of the Kosovo war in 1999.
At that time, Washington relied on NATO authorization for its bombing campaign, which forced Serbian troops and militia to pull out of Kosovo.
The United Nations has received at least 14 reports of possible chemical weapons use in Syria. After months of diplomatic wrangling, Sellstrom's team arrived in Syria on Aug. 18 with a 14-day mandate to look for evidence.
The U.N. team was initially going to look into three incidents, but its priority became the Aug. 21 attack. It plans to return to Syria soon to continue its investigation. (Reporting by Louis Charbonneau; Editing by Stacey Joyce)

Related
Before You Go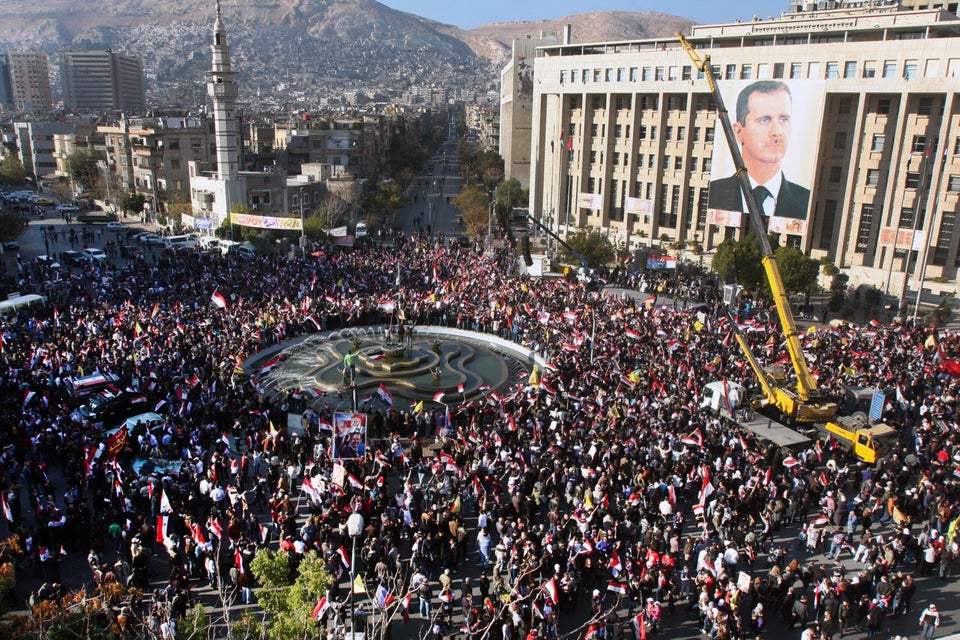 Obama's Turning Points On Syria (Warning: Graphic Images)
Popular in the Community