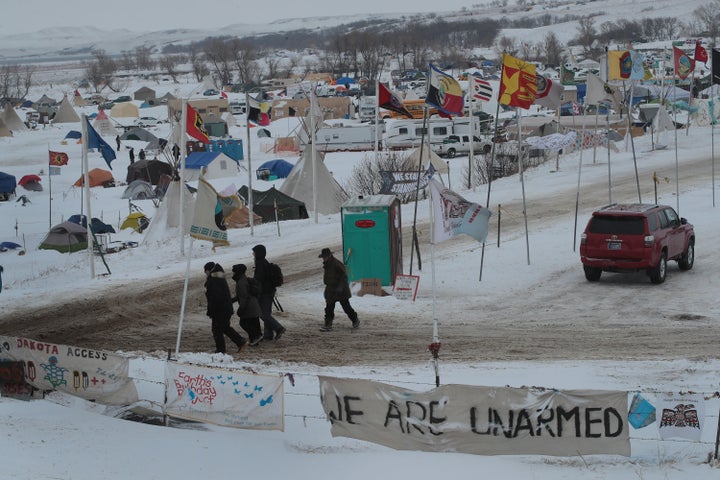 By Terray Sylvester and Alicia Underlee Nelson
CANNON BALL/WEST FARGO, N.D. (Reuters) - U.S. military veterans were arriving on Thursday at a camp to join thousands of activists braving snow and freezing temperatures to protest a pipeline project near a Native American reservation in North Dakota.
However, other veterans in the state took exception to the efforts of the group organizing veterans to act as human shields for the protesters, saying the nature of the protests reflected poorly on the participants.
Protesters have spent months rallying against plans to route the $3.8 billion Dakota Access Pipeline beneath a lake near the Standing Rock Sioux reservation, saying it poses a threat to water resources and sacred Native American sites.
State officials on Monday ordered activists to vacate the Oceti Sakowin camp, located on U.S. Army Corps of Engineers land near Cannon Ball, North Dakota, citing harsh weather conditions. Officials said on Wednesday however that they will not actively enforce the order.
Matthew Crane, a 32-year-old Navy veteran who arrived three days ago, said the veterans joining the protest were "standing on the shoulders of Martin Luther King Jr and Gandhi" with their plans to shield protesters.
"I bought a one-way ticket," he told Reuters as he worked to build a wooden shelter at the main camp. "Hopefully we can shut this down before Christmas."
Meanwhile in West Fargo, North Dakota, several members of the North Dakota VeteransCoordinating Council, which represents five veterans organizations in the state, held a news conference to decry the involvement of veterans in a protest that has damaged property and asked veterans not to participate in the demonstration.
"We agree that it is our constitutional right to assemble and to peacefully protest," council President Russ Stabler told reporters at the West Fargo VFW Post 7564 building. "However, protests over the last 100-plus days in North Dakota have been less than peaceful.
"Participating in this kind of assembly even as a peaceful bystander or participant will only mar the image of the North Dakota veterans and the veterans of our nation," he added as he stood surrounded by about a dozen veterans from the region.
North Dakota Governor Jack Dalrymple on Wednesday told reporters it was "probably not feasible" to reroute the pipeline, but he would try to rebuild a relationship with Standing Rock Sioux leaders.
Dalrymple said state officials never contemplated forcibly removing protesters and his evacuation order was mainly due to concerns about inclement weather endangering people.
The Standing Rock Sioux, in a statement on Wednesday, said that because "the Governor of North Dakota and Sheriff of Morton County are relative newcomers" to the land, "it is understandable they would be concerned about severe winter weather."
They said the camp has adequate shelter to handle the cold weather, adding that the Great Sioux Nation has survived "in this region for millennia without the concerns of state or county governments."
The temperature in Cannon Ball is expected to fall to 6 degrees Fahrenheit (-14 Celsius) by the middle of next week, according to Weather.com forecasts.
Veterans Stand for Standing Rock, a contingent of more than 2,000 U.S. military veterans, intends to reach North Dakota by this weekend and form a human wall in front of police, protest organizers said on a Facebook page.
The commissioner of the state's Department of Veterans Affairs, who appeared at the West Fargo event, said he was worried about the involvement of individuals who have been in war situations.
"We're going to have veterans that we don't know anything about coming to the state, war timeveterans possibly with PTSD and other issues," Lonnie Wangen told Reuters.
"They're going to be standing on the other side of concertina fence looking at our law enforcement and our (National) Guard, many of whom have served in war zones also," he added. "We don't want to see veterans facing down veterans."
The 1,172-mile (1,885 km) pipeline project, owned by Texas-based Energy Transfer Partners LP, is mostly complete, except for a segment planned to run under Lake Oahe, a reservoir formed by a dam on the Missouri River.
Protesters, who refer to themselves as "water protectors," have been gearing up for the winter while they await the Army Corps decision on whether to allow Energy Transfer Partners to tunnel under the river. That decision has been delayed twice by the Army Corps.
(Reporting by Terray Sylvester and Alicia Underlee Nelson; Editing by Meredith Mazzilli)
REAL LIFE. REAL NEWS. REAL VOICES.
Help us tell more of the stories that matter from voices that too often remain unheard.