Vail almost has a strange Stepford wives thing going on. Everyone is fit, outdoorsy, smiles a lot, has amazing skin and seems lit from within. Is this just the altitude (Vail's at 8,150 feet) making my brain fuzzy or is there more to it?
Vail is renowned for its clean living: Locals eat well (and locally), exerciseand drink lots of fresh mountain water. I had the pleasure of experiencing this sparkling new lifestyle on a trip to the mountain resort that was focused on well being.
Anyone looking to plan a healthy sojourn should check out the Vitality Center at the Vail Mountain Lodge, where the staff can coordinate a full wellness schedule, from outdoor pursuits, meeting with an trainer at the athletic club, and spa appointments. My first pursuit was a hike with Ellen Miller, who was the first North American woman to climb Mt. Everest from both the north (Tibet) and south (Nepal) sides (in two years, no less!). She lives most of the year in Vail and offers group classes (through Mountain Divas) and also trains one-on-one with people. Her fitness focus is building the heart muscle and she works with all levels: obese clients, those with clinical depression and clients training for athletic challenges. I can't recommend booking time with Ellen enough--she's easy going but likes to offer clients a challenge.
"If my clients don't see a change, then I'm not doing something right," she says.
The one thing she will not tolerate is a negative attitude or people putting themselves down. She and I climbed up Vail Mountain and I was impressed at how this world-renowned climber never made me feel intimidated or slow. She's there to work with each individual's needs.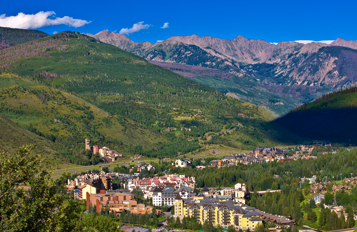 The next morning of the well-being adventure started with a power-walk part up the mountain, followed by an hour of toning with one of the gym's trainers, who used various equipment like TRX bands and battle ropes. Then it was an hour of Vinyassa yoga. At the end of this a.m. sweat session, a much-deserved visit to the spa was in order. I had the 75-minute Dr. Hauschka Facial, which I highly recommend. My aesthetician evaluated my skin's needs, did some extractions, applied a purifying clay mask, followed by a hydrating mask and massaged my shoulders, arms, feet and calves (which was incredibly therapeutic after the hiking, lunging and downward dogging).
The Vail Mountain Lodge staff can help coordinate any kind of outing you prefer--and believe me, Vail has more than enough to offer vacationers. (If you think this is just a ski town, you have another thing to try!) There's stand-up paddle boarding (which I felt I had the hang of after a lesson), rafting, river tubing, tennis, horseback riding, mountain biking and tons more for every activity level. There's also the town of Vail to explore. Make sure to hit the Sunday farmer's market, which has about four or five produce stands, dozens of art stands, and even more food options, from crepes, to gyros, to salads, desserts and giant barbecued turkey legs for $8. One familiar face you may see at the market is Top Chef season 7 contestant, Kelly Liken, who has an eponymous restaurant in town. On Sundays, she creates a set menu made with items she gets at the farmer's market that day. The three-course, $45 menu (with an optional $15 wine pairing) gives locals a chance to eat at the restaurant for a more modest price. Also using local produce is Terra Bistro, frequently named one of Vail's best restos. Chef Kevin Nelson, who worked up the ranks at Terra, creates fresh dishes using local ingredients, with a focus on healthy cuisine from quinoa lettuce cups to fresh, silk-like salmon.
Although Vail draws the most crowds during the winter season, I highly recommend checking it out (alone, as a couple, or with the family) in the off-season. It's a bit more affordable and has more than enough to keep anyone busy. You'll leave this mountain hamlet feeling refreshed and looking a little leaner and younger. What's not to love about that?