Did you recognize the iconic voice behind Ms. Brown, the latest M&M's spokescandy, introduced in Sunday's hugely popular Super Bowl spot? The formidable Chief Chocolate Officer is voiced by none other than industry vet Vanessa Williams. It's a perfect fit, really, considering that Ms. Brown was inspired in part by Wilhelmina Slater, the ruthless publishing executive Williams played on "Ugly Betty."
Williams spoke exclusively to The Huffington Post Canada to find out everything there is to know about Ms. Brown, from her Ivy League credentials to how she gets along with the other spokescandies. We also chatted about what's on deck for Williams after "Desperate Housewives" wraps in April.
How did you become Ms. Brown? What made you say yes to this character?
Well, it was an easy one. When I saw the breakdown, they described her as someone who was like Wilhelmina. I said 'Huh, well I kind of created that character, so I guess it's perfect!' So I signed on and had no idea that the first major rollout would be the Super Bowl ad, which is also fantastic. We were in the top 5 in the USA Today poll!
How did you approach Ms. Brown? Were you channeling Wilhelmina?
She obviously doesn't have a cruel streak or obliterate people like Wilhelmina, was so adept at doing that [Laughs]. So it's certainly different in that way. But I think it's a matter of tone and a matter of portraying someone who's capable and in charge. That's how I approached it, and that's why it works.
What kind of feedback did you get after the commercial aired?
I didn't tell anybody. My youngest daughter knew and that was pretty much it. So after it aired, my phone started blowing up and my Twitter account started going crazy. People were asking 'Is that you, is that you?' It's actually flattering that people recognize my voice!
Do you think you and Ms. Brown share any characteristics?
Well, Ms. Brown graduated from an Ivy League school and majored in business. I graduated from Syracuse and majored in musical theatre! So it's a completely different type of business. She's well-travelled and so am I. She's single and has no kids, so that's another big difference. But she does like to work hard and be in control, and I certainly have a lot to manage in my career.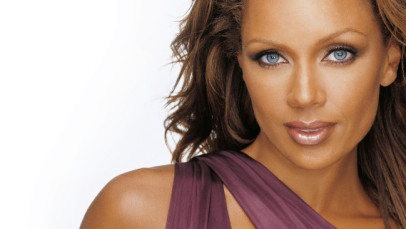 What can we expect to see from future commercials? Will she be interacting with the other spokescandies more? Does she get along with them?
[Laughs] Well, she does. Ms. Brown is definitely the brains behind it all. She's the one who introduced all of the other coloured candies -- it was her idea. Miss Green is the other female gal on the candy crew. She's somewhat witty but she's definitely more flirty. Yellow is a bit naïve and clumsy, but he's charming. Orange is the pretzel that is a mess -- paranoid and always afraid of being eaten. Blue is kind of cool. He's up on his current events. Red is the life of the party and the goofball. He was the one who shared Ms. Brown's Super Bowl commercial, and he's always willing to make a fool of himself. He thinks he's the leader, but Ms. Brown runs it all. They all get along, but they know that Ms. Brown is the boss.
They respect her.
Yes! And she's 70. I think she looks fabulous for 70 years old.
What else do you have on the go?
I have a book that's coming out that I wrote with my mom. It's coming out on April 17, and it's called 'You Have No Idea.' Then when "Desperate" finishes at the end of the season, we'll see what else I have coming up. I've got a holding deal with ABC so we'll see if there's another show that makes sense for me to step into.
Is there anything else you think fans would be interested in knowing about Ms. Brown?
We're opening the Museum of Chocolate today in SoHo. We're doing a brown carpet event tonight and introducing a 300-pound sculpture of Ms. Brown. She's also making an appearance on "Celebrity Apprentice" starting in February. So she's quite busy herself!

Popular in the Community