I'm spending a couple of weeks in the area around Paris to make two TV shows on the great palaces and châteaux of the region. Most of these castles are run like businesses, and need a certain amount of visitors to stay in the black. Versailles is the dominant attraction in the area, drawing a flood of visitors every day while nearby palaces struggle to get a crowd.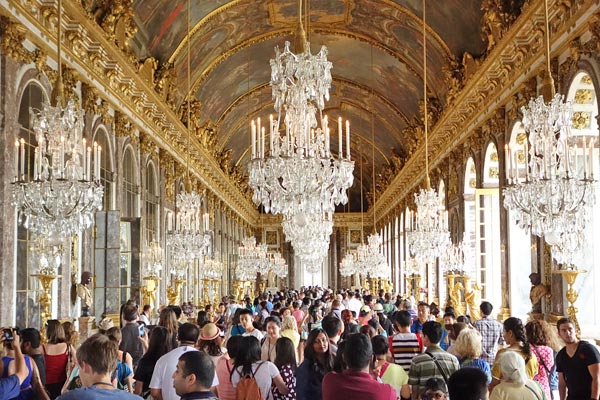 Visiting Versailles on a weekend in midsummer comes with the worst possible crowds. A steady crush of visitors shuffle through the hot and muggy one-way route, as if enduring some horrible punishment. The magnificent Hall of Mirrors is the payoff, and even with a mossy carpet of tourist heads, it's a thrill to see.
Shuffling through Europe's most crowded palace on one of the most crowded days of the year (a Sunday in July), I was struck by the cameras, groups, iPads, humidity, and exhaustion on people's faces. In spite of the crush, you can feel the gasps of excitement when the long train of royal staterooms reaches the Hall of Mirrors. I was moved to struggle upstream. This video clip shares an experience I'll never forget.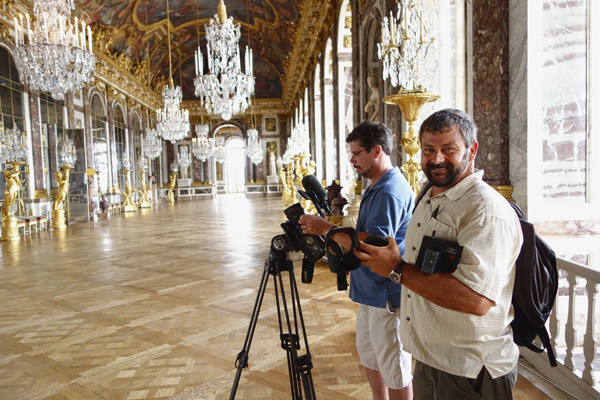 Most great sights in Europe are closed one day a week to the public. But that doesn't mean they take the day off. That's the day the furniture is dusted, paintings are moved around, elite visitors and their entourages are given private tours, and film crews (like us) are busy doing their work. We filmed on Sunday to show the reality -- a palace packed with tourists. And then we came back on Monday (when it's closed) to shoot all the details of the furniture, paintings, and my "on cameras." Being in the Hall of Mirrors with a mob is good. Being there all alone hits you much deeper. Even if you don't have VIP film crew access, you can still have the Hall of Mirrors (almost) all to yourself: Just visit midweek, during the last hour of the day.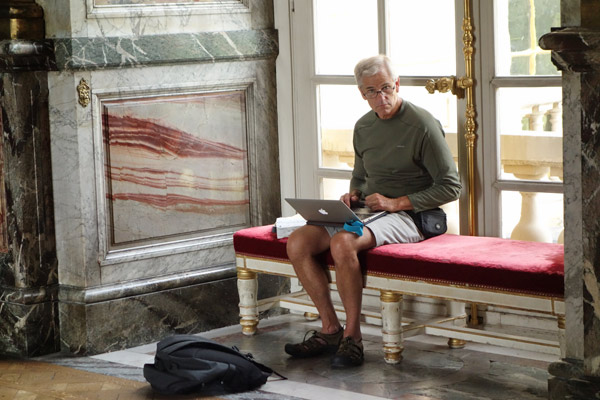 I am so proud of our France guidebook. Being in France, I'm meeting happy travelers with the book everywhere I go. And it's the labor of love of my co-author, Steve Smith. Steve joined us as part of our TV crew. He's our fixer (he arranged the permissions for our big camera), our guide, our driver, and my on-camera sidekick as we produce these France shows. And, an expert at multitasking, whenever there's down time on the TV production end, Steve is busy updating the details of our guidebook. While we worked for five hours in an empty Palace of Versailles, Steve was on call, online, on the phone, and on his laptop.