Vox Media staffers reached a tentative agreement with their company over a union contract on Friday after 29 straight hours of negotiation and a newsroom-wide walkout the day before.
The union bargaining committee said it will share details of the agreement soon.
"Our unit still needs to ratify our contract, but we are proud of what we have won in this agreement and can't wait to share the details," the statement said.
Vox Media recognized the company's union in early 2018, but negotiations between management and staffers stalled for 14 months. Fittingly, the negotiations were capped off by one of digital media's longest final bargaining sessions.
Vox's union is represented by the Writers Guild of America, East, which also represents HuffPost's union. Unlike many other shops that have unionized under that guild, Vox Media is made up of six separate digital properties: The Verge, Vox, SB Nation, Eater, Polygon and Curbed. That complex structure and company leaders' hostility toward higher wages contributed to the long endeavor.
In a company email obtained by Bloomberg on Thursday, Vox Media CEO Jim Bankoff expressed frustration with the salary demands.
"While paying people a lot more than market wages sounds great on the surface, it's not realistic or smart," he said. Meanwhile, staffers have been sending him tweets describing what they experienced earning salaries as low as $30,000 a year at the company.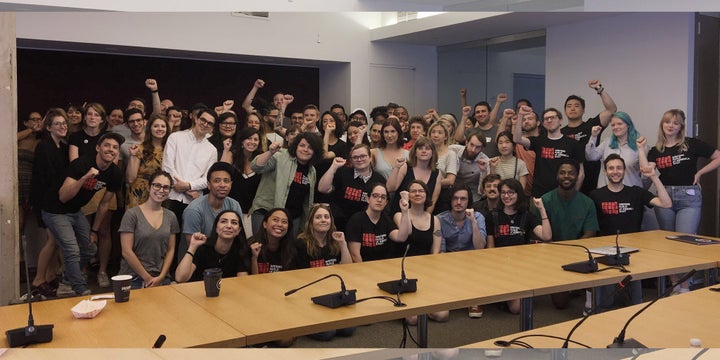 Lowell Peterson, the executive director of the WGAE, hinted at some of the contract details in a statement congratulating the staff.
"These incredible folks have achieved an industry-standard collective bargaining agreement, which includes important gains in every area people care about - diversity and job security and pay rates and transparency and so many more," he said. "We are so proud these employees, and these union professionals, are part of the WGAE."
The development at Vox Media comes the same day Fast Company ratified its own contract with the WGAE. As part of their agreement, staffers established a salary minimum of $50,000, 401(k) matching, regular bonuses and a range of other new workplace policies.
Support HuffPost
The Stakes Have Never Been Higher
Popular in the Community