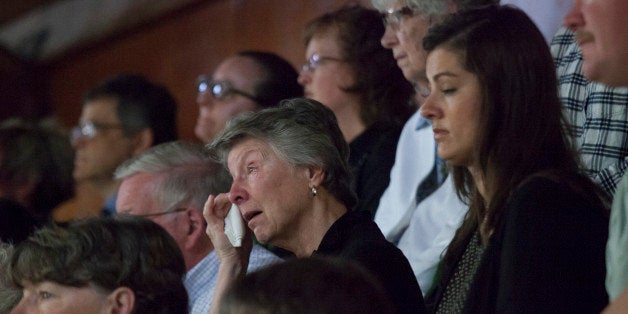 DARRINGTON, Wash., April 5 (Reuters) - Mourners gathered on Saturday to remember victims killed in Washington state's mudslide, the first of a series of memorial services for the more than two dozen dead, even as the search continues for more victims.
A funeral for school custodian Summer Raffo, 36, was taking place in Arlington, a town only a few miles from the site where a torrent of mud swept her car off Highway 530 on March 22. Her brother later pulled her body from the vehicle.
Another service was held in nearby Darrington for retired librarian Linda McPherson, 69, who was found dead in the debris of her home. Her husband survived when the mudslide engulfed the dwelling along with about three dozen other properties on the outskirts of the community of Oso, which lies in the foothills of the Cascade Mountains northeast of Seattle.
"She was a sweet, mellow, gentle woman," said Peter Selvig, who served on the Darrington School Board with McPherson.
In all, three individual memorial services were being held on Saturday, and a service for four victims was scheduled for Sunday.
So far, 30 people have been confirmed dead by the Snohomish County Medical Examiner's office, and recovery crews were still searching for another 13 people still unaccounted for, according to county officials.
The medical examiner, Jane Jorgensen, told Reuters via email that her staff was working over the weekend at the site of the slide and in the office identifying more victims, but will not provide any official updates until Monday.
Roughly 450 people from 117 different organizations were helping the search efforts, officials said.
A community candlelight vigil was planned Saturday in Darrington and more than 300 people were expected to attend, said Michael Duncan, the pastor of Mountain View Baptist Church who was organizing the event.
"This is an opportunity to begin the healing process," Duncan said.
Over the next few days, funerals are planned for 5-year-old Kaylee Spillers, whose father and two siblings are among the dead and missing, and Alan Bejvl, 21, whose fiance, Delaney Webb, was also killed in the slide.
Recovery efforts have been hampered by rain creating treacherous conditions and raising the risk of further slides and flash floods. More rain and runoffs of melting mountain snow are forecast.
A team of volunteer veterinarians was rotating shifts on Saturday to tend to rescue dogs that have been deployed to help in the search for more victims.
The Washington State Department of Agriculture said it is deploying its "Reserve Veterinary Corps" for the first time. The group of 135 animal health specialists will treat dogs for minor cuts, hyperthermia and damaged pads, as well as decontaminate them after exposure to hazardous material and other pollutants in the debris field.
County officials are also organizing a "reunification" location and process so that survivors will be able to go to retrieve personal property recovered from the disaster site.
(Reporting by Jonathan Kaminsky in Darrington, Washington and Carey Gillam; Writing by Eric M. Johnson in Seattle and Carey Gillam; Editing by Gunna Dickson and Dan Grebler)
Calling all HuffPost superfans!
Sign up for membership to become a founding member and help shape HuffPost's next chapter
BEFORE YOU GO
PHOTO GALLERY
Washington State Mudslide