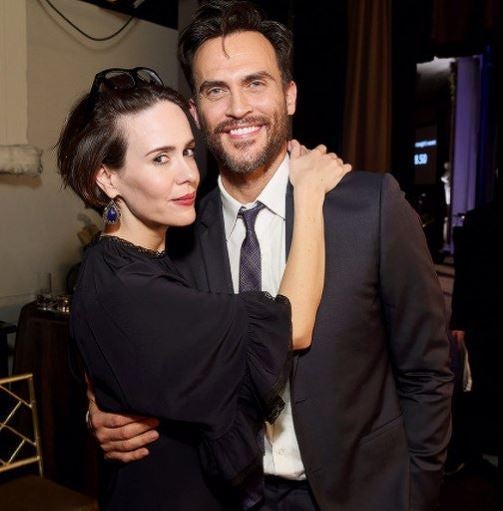 Emmy Award-winning star Sarah Paulson (The People v. O.J. Simpson), Julie Bowen (Modern Family), Camille Grammer (Real Housewives of Beverly Hills), Jason George (Grey's Anatomy), Our Lady J (Transparent), Ross Mathews (Hollywood Today Live), blogger Perez Hilton, and Brenda Strong (Supergirl) posed for the cameras on the red carpet.
Although she did not put in any time on the red carpet, reality star Kim Kardashian made quite the impact in white as she presented Keeping Up with the Kardashians executive producer Jonathan Murray and his longtime partner Harvey Reese with an award for their LGBTQ advocacy work. She revealed that going forward the trophy would be called the Murray-Reese Family Impact Award. Murray and Reese are celebrating their 25th year together and their 18th year as parents to their son Dylan.
Upon accepting the award, Murray thanked Kardashian for her work in the trans community.
"When her step parent [Caitlyn Jenner] made the courageous choice to transition to the person she always knew she was, it was Kim who helped the rest of her family understand and accept Caitlyn's transition," Murray said in his acceptance speech.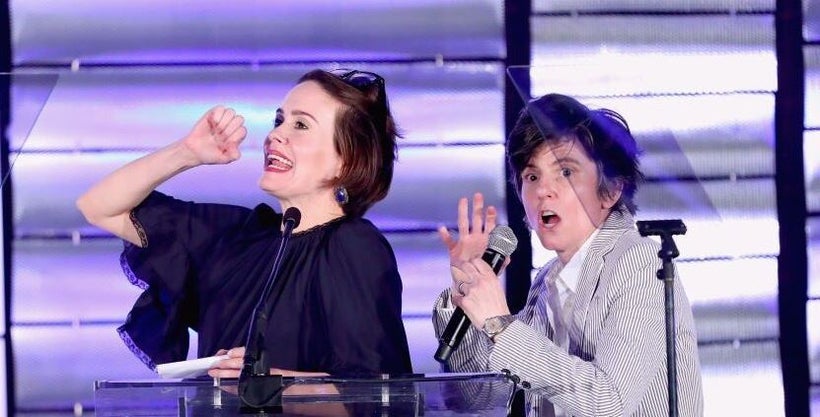 Paulson playfully humored emcee Tig Notaro throughout the evening as the two bantered onstage – and off – prompting Notaro to share with the crowd, "I'm not for everyone."
It was a more solemn message Paulson delivered on the red carpet pre-show, though.
"It's hard to hold on to all the positive things that come your way when you're in the middle of a very bleak moment in time," Paulson told Variety. "I think things have tipped a little bit with the new administration where they think fear is currency, almost - but you just need to find members of your tribe or family for support."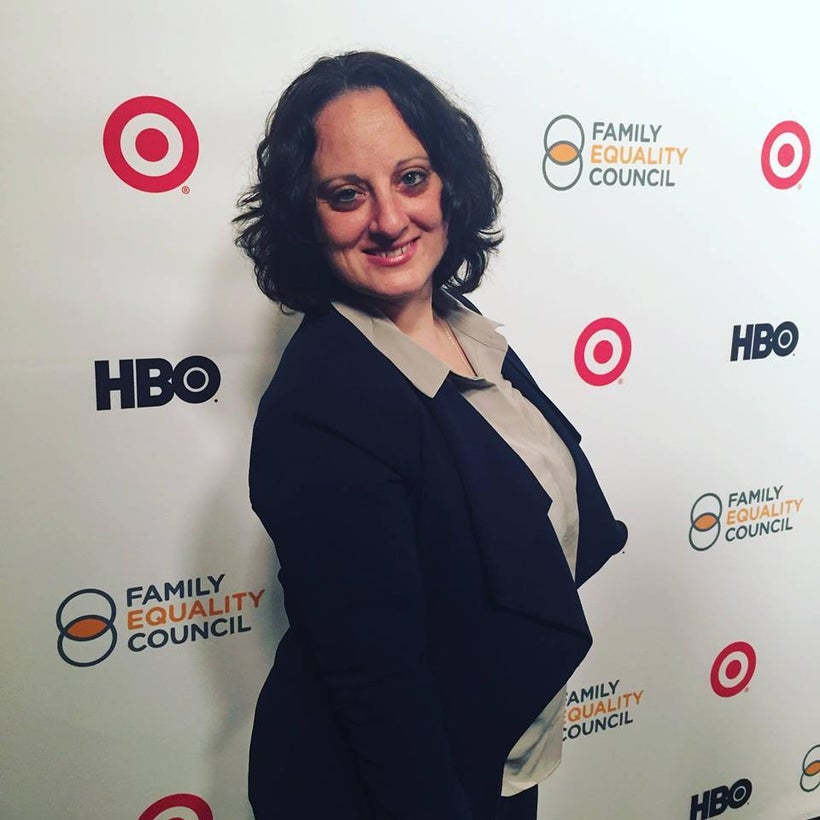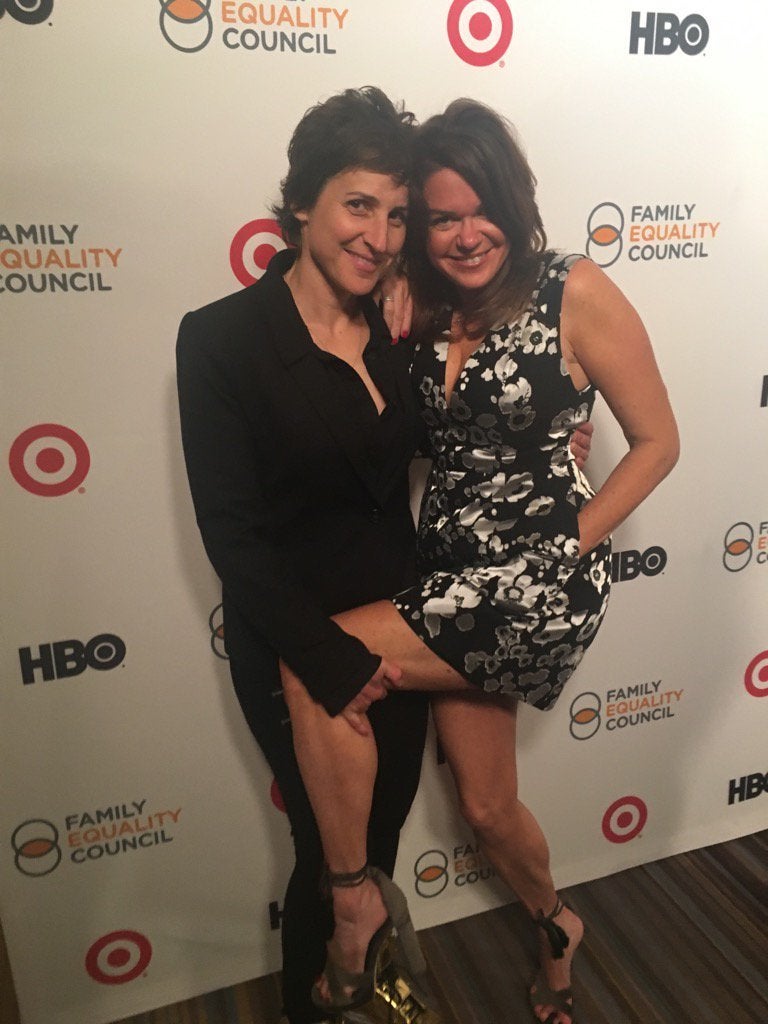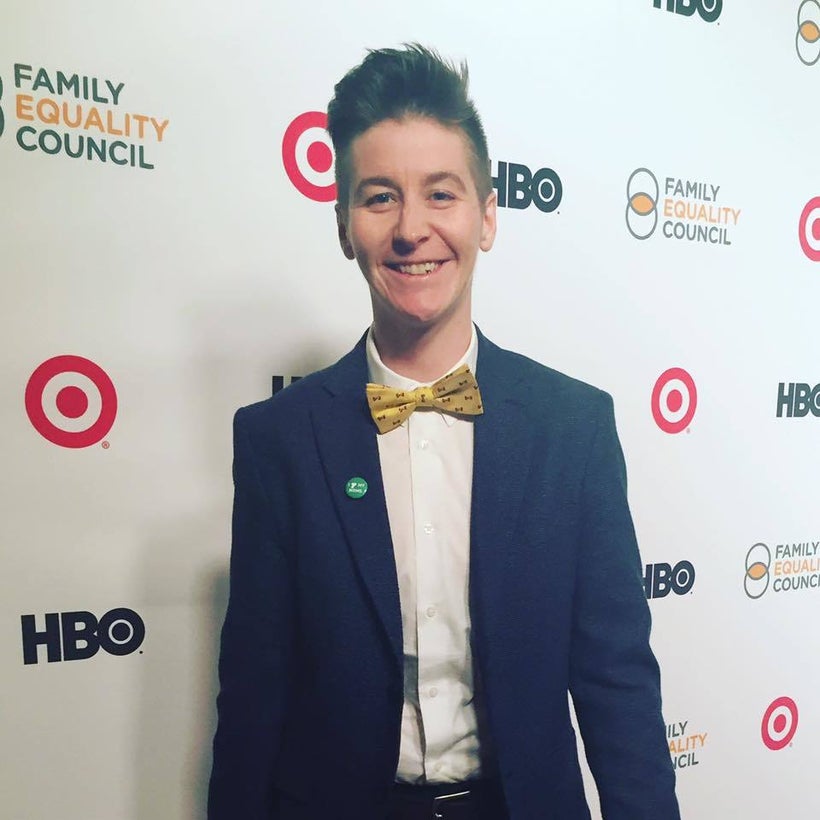 Bowen said she hoped her show, Modern Family, would be back up and running soon and cited contract negotiations, budgets and scheduling as points of contention, however, she was optimistic for a happy ending. She gave credit to Transparent for tackling the tough issues of the day, something she knows a little about, in fact.
"Our show broke the mold and now there are other shows, like Transparent, doing the same," she said.
Bowen presented an award to Transparent writer Our Lady J on behalf of show creator Jill Soloway. In addition to accepting the honor, Our Lady J was an event showstopper when she pounded the keys in a moving tribute to modern day love and family.
"Call me an eternal optimist, but I do believe things are getting better," she told The Seattle Lesbian.
"I am honored to receive a 2017 Family Equality Impact Award on behalf of Transparent," said Soloway in a statement. "I created the show hoping it would make the world a safer place for my own trans parent and all queer families alike. In these uncertain times, the work Family Equality Council does to protect the rights of LGBTQ families is needed more than ever."
Mathews presented an award to Target for their continued commitment to bringing visibility to LGBTQ families. Jackson and Arden performed live during the three-hour fundraising dinner as well.
"We're incredibly honored to receive a 2017 Impact Award in celebration of our ongoing commitment to diversity and inclusion," said Caroline Wanga, Chief Diversity Officer for Target. "Family Equality Council has been a long-standing and valued partner and advisor for Target and we're humbled by this recognition."
Past honorees at the LA Impact Awards include Greg Berlanti, Sara Gilbert and Linda Perry, Modern Family, Glee, NBC, Honey Maid, former football player Chris Kluwe, actor/screenwriter/director Peter Paige and producer Bradley Bredeweg, Houston Mayor Annise Parker, and ex-Cub Scout leader Jennifer Tyrrell. Past special guests include Sandra Bernhard, Darren Criss, Melissa Etheridge, Adam Lambert, and Sharon Osborne.
Calling all HuffPost superfans!
Sign up for membership to become a founding member and help shape HuffPost's next chapter
This post was published on the now-closed HuffPost Contributor platform. Contributors control their own work and posted freely to our site. If you need to flag this entry as abusive,
send us an email
.