By Debra Witt for Bridal Guide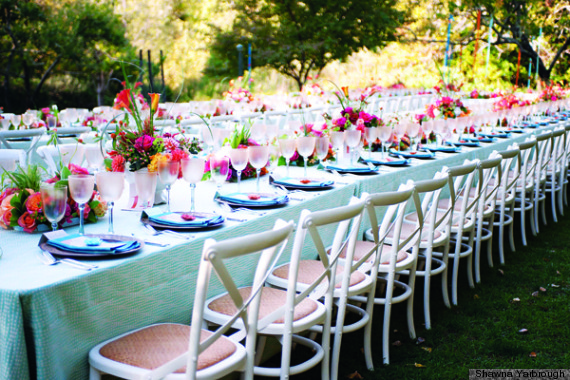 Brides are planners. They craft color schemes, decode guest lists, crunch numbers and plot for weeks to pull off the ceremony and party of a lifetime. And almost universally they succeed. Still, no matter how many times a bride crossed her T's and dotted her I's, inevitably, there are details she wishes she'd handled differently: missed photo opportunities, vendor mix-ups, decorating delays. To help you avoid these snafus, recent brides have shared their big-day regrets. We then asked wedding pros to examine what went wrong so you don't wind up repeating their mistakes.
I'd lock in a venue before the other details — like my dress!
"You'd think in the city of New York finding a venue would be easy," says Danielle Fernandez, "But we didn't nail down the space until September and our wedding was in December. Meantime, I'd found my dress in June, and had moved ahead with many other details. I'm just lucky the dress I picked worked for a wedding in a modern space: the Trump SoHo Hotel."
While brides no longer have to adhere to strict dress rules (who says a sequined ball gown won't work for a backyard affair?), finding and securing the right location should be a top priority, says Alison Laesser-Keck, owner of Viva La Diva Events in Detroit. Because the reception dominates most couples' budgets, it's smart to get started pronto. "There's a domino effect to wedding planning decisions," explains Laesser-Keck. "Each choice is tied to the next one — and if one decision is off in some way it can really throw things out of kilter in a major way."
Having endured too many viewings of hours-long wedding videos, Christine Fennessy didn't once consider hiring a videographer to capture her lakeside nuptials. But a year later, she confesses, she'd love to be able to hit play and revisit the day she was married on the shores of Owasco Lake in Auburn, NY. "I never thought I would say that, but I know I would cry every time I watched it."
Christine's not alone in this regard — it was the most repeated "regret" among brides we interviewed. Michelle Engvall, owner of Married + More, A Wedding Planning Boutique in Seattle, says having a videographer "is money well spent, and it doesn't have to break the bank." She suggests looking for a professional who offers a "highlights" video package. "These are typically 5 to 10 minutes long, and tell the story of the day from start to finish in a condensed version."
I'd enlist someone to field my calls the entire day
On the morning of her August wedding in Annville, PA, Lauren Strafford-Shiner woke up excited and relaxed. That soon changed when her phone started to ring. "At first it was family members calling with good wishes," she recalls. "But then some of the vendors started calling with minor questions or updates." Lauren wasn't fazed until her florist phoned to say she was having trouble getting into the church. "That one did get me flustered." Then it was Lauren's turn to pick up the phone — to find out why the limo hadn't arrived to take her to the church. "Someone did finally suggest that I ask one of my bridesmaids to field the calls, but I wish I'd asked someone to do this sooner," she says.
Engvall says she encourages her brides to keep cell phones out of sight the entire day. For brides who haven't opted for a wedding coordinator, she suggests giving a family member or member of the wedding party a list of all the vendors, with phone numbers and e-mail addresses, as well as a timeline for the day. Inform all of your vendors whom you've designated as your point person for the day, she adds.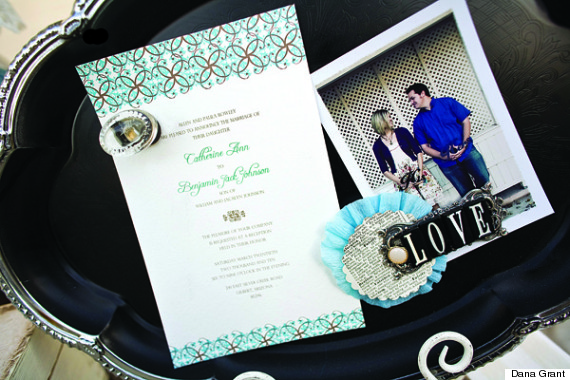 I'd get personal recommendations before hiring a vendor
Diann Giannosa took her time before making even one call to prospective vendors. "I read articles and web reviews, and really did my homework," says the New Yorker who planned an intimate wedding in a lush SoHo courtyard. When it came time to choose a non-denominational minister to officiate, she found someone whose sample texts were impressive. "We met in person and really seemed to click," she says. About two months before the wedding, however, the officiant bristled after receiving an e-mail from Giannosa outlining a few details. "He called me in attack mode and I knew I couldn't have him marry us." She scrambled and found a replacement, but wishes she'd had personal recommendations from friends.
"Definitely check references," says Engvall, "but it's nice to also seek referrals from your friends, your planner or other vendors so you have some first-hand accounts of their reputation and service." It's also a good idea to ask everyone their preferred method of communication. (Find out what to do when you and a vendor aren't getting along.)
The country club that Emily Dean chose for her reception was perfect. Even better, the club had an on-site event planner. "The planner was one reason we booked that venue," says Dean, who lives in Philadelphia. "But she quit her job two months before our wedding." A new planner came on board but she was "totally overwhelmed," as the club had started a big construction project. Dean found herself stepping in to press the management to clean up areas she'd been promised for the reception. "I still get peeved when I see the machines and mess in the background of our photos," she says.
On-site planners do shoulder a lot of the reception details, streamlining the process for many couples, but keep in mind that you're signing a contract with the venue and not the planner, says Engvall. To give you more peace of mind, make sure you're meeting with the person who'll be on duty the day of your reception, pose a few "what-if " scenarios (including any future on-site renovations) and make sure you're comfortable with their answers. And definitely read the fine print in all of your contracts before signing.
Having worked in the catering business, Sarah Kilpatrick had a firm grasp of what's needed to pull off a smooth reception for 350 guests. She carried this organizational style over to other aspects of her wedding, which took place in Wheeling, WV, working closely with several vendors. Two things she did decide to DIY though, were creating the ceremony programs and crafting ribbon wands. "The final week before our wedding was pretty stress free, thanks to my many check-off lists," says Kilpatrick. "But knowing that I had to get so many wands made and also put together the programs is something I wish I'd gotten out of the way sooner."
DIY-ing favors or other decor elements can help save money, says Laesser-Keck. But adjust your timeline so that everything's ready to go a couple of weeks in advance. "And definitely enlist the help of close friends and family members. Handmade touches are wonderful, but be realistic about what you can pull off," she says. "You want those days leading up to your wedding to be easy."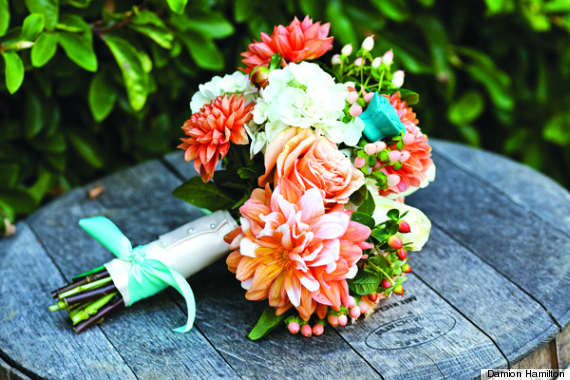 "It's a little thing that still drives me crazy: I never reapplied lipstick after the ceremony!" says Madeleine Chenot Pennington, who hosted a vintage-Hollywood bash in Waco, TX. "Now, when I look back at pictures, my unglossed lips are all I see."
Bare lips, shiny foreheads, smeared mascara — makeup mishaps are all too common, says Laesser-Keck. "The day is just going to fly by and it's natural for brides to forget about this detail." She suggests handing your maid of honor a small pouch that contains your lipstick and some blotting papers, a stain removing wipe, and a dryer sheet to handle static. "Ask her to remind you after the ceremony and once during the reception to do a quick retouch."
I'd give the photographer more direction
A pale pucker isn't the only thing Chenot Pennington would re-do. She also wishes she'd prepared a shot list for her photographer. "I absolutely loved my photographer, but so many pictures from the ceremony were taken from a balcony when I was hoping for more close-up shots,"
"A photographer doesn't know what a bride wants unless the bride tells her," says wedding photographer Laura Yang. That's where a detailed shot list comes in. Keep in mind that lighting and setting also play a role. "If a bride loves the sun-splashed, airy images she saw on her photographer's site she can't plan her own wedding inside a dark hotel ballroom and expect her photographer to produce the same look," Yang says.
I'd start my honeymoon two days later
In the interest of saving time, Kilpatrick and her new husband hired a limo to gather them from their reception at 3 a.m. for an early morning flight to Jamaica. "Big mistake," she says. "It felt like we missed an entire day because we were so exhausted."
Besides needing some rest, Engvall says it's worth delaying your travels for a day or two to have some quiet time to unwind and spend more time with parents or other close family members. "Most couples appreciate not having to think about packing for a big vacation while they're also worrying about everything that needs to get done for the wedding."
"There's always going to be one thing that's not completely perfect," says Viva La Diva's Laesser-Keck. "But that doesn't mean that the decision you made was bad. So rather than get stuck on that one thing, just let it go and remember how amazing the day was. You'll look back and you won't have any regrets."
Clarification: Bridal Guide has revised its original post to remove a reference to the average cost for a short wedding video because prices vary greatly depending on the type of video and the local market.
Support HuffPost
A No-B.S. Guide To Life
Related
Before You Go

Biggest Wedding Disasters!
Popular in the Community