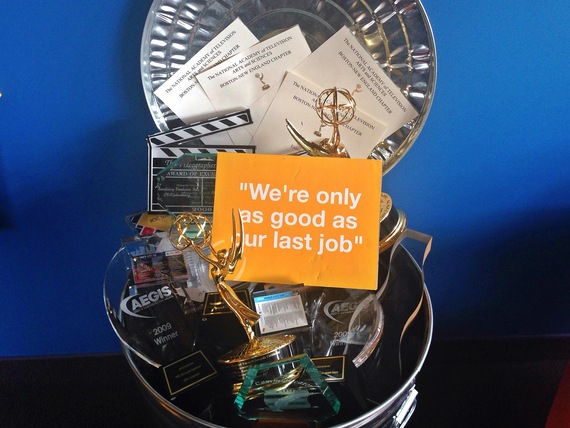 There is a galvanized steel garbage can in my office - the kind you used to see in front of every inner-city house on trash collection day. There is a sign on the lid that reads, "We're only as good as our last job." Inside are awards I've won as a marketer and brand storyteller.
Displaying the awards in a garbage can is not meant to disrespect the hard work of our award winning team, the wisdom of the judges who presented them, and certainly not the faith of our courageous client partners we earned them for. The garbage can serves as a reminder to all who enter my office to stay humble and hungry.
At (add)ventures, the expectation is to earn our good reputation every day. Unfortunately many in our industry do not share our "only as good as our last job" philosophy.
Walk into most ad agencies and the first thing you will see is a prominent trophy case. When you look inside and read the years some of those awards were won, they reflect work largely irrelevant today.
Why? The world changes every day. We are living in an overstressed, multitasking and digital world that's moving at a faster pace than ever before, where brand perceptions can change even faster. So when old school ad agencies give their clients work worthy of a different era, that only means expensive, stale and ineffectual campaigns today.
In the fall we lost the Rhode Island Tourism pitch to a New York City firm that created the iconic "I Love New York" campaign, an all-time Hall of Famer. It was perfect then and perfect now because it is authentic.
The irony was that Rhode Island leaders - in spite of the insanely talented creative community here - believed an out-of-state firm would be most effective to attract visitors here. Yet "I Love New York" worked because it was conceived by New Yorkers, produced by New Yorkers and featured New Yorkers. No wonder it was celebrated by New Yorkers who in turn helped inspire the rest of the nation and world to join in on the fun.
So if Rhode Island wanted that kind of impact, state leaders should have selected a campaign crafted by Rhode Islanders featuring the authentic Rhode Island. After all, Rhode Islanders are the creators and maintainers of our glorious beaches, restaurants, arts and more.
Instead, Rhode Island got stuck with a completely unauthentic and unrealistic "Cooler & Warmer" campaign. Most Rhode Islanders do not consider our home to be either, let alone both. The campaign was launched with a baffling logo, a video that tried to pass off footage of Iceland as Rhode Island and a grossly incompetent website with numerous factual errors.
All this has made Rhode Island, or is it Rhode Iceland, look ridiculous internationally. That certainly won't help attract business or tourists.
We proposed an authentic campaign that would remind cynical Rhode Islanders of what we take for granted here. "Live What We Love" was an authentic campaign that would instill pride in our state and inspire Rhode Islanders to help recruit their personal and professional networks here. It would resonate with tourists and business owners who would crave to come and "Live What We Love."
We have client partners who have let us earn their business for more than 15 years running. I wouldn't trade an ounce of that loyalty for another Emmy or prestigious award. They will always get our best because we are "only good as our last job."​
Calling all HuffPost superfans!
Sign up for membership to become a founding member and help shape HuffPost's next chapter