A planned protest by the Westboro Baptist Church was overshadowed Saturday when thousands of supporters gathered at the funeral of a fallen soldier to block the radical church's effort.
Thousands of people in red shirts formed a "human wall" around the Columbia, Mo. church where 21-year-old Army Specialist Sterling Wyatt's funeral was held. Wyatt was killed in Afghanistan earlier this month.
Westboro Baptist Church, an independent Kansas-based church known for its extreme ideology and widely condemned demonstrations, had indicated plans to picket the funeral. When Tori Smith, an acquaintance of Wyatt's, got wind of the protest plans, she decided to organize a small group of supporters to counteract the church's negative actions. Word of Smith's plans spread quickly, drawing thousands to the church on Saturday morning.
According to KBIA, the "red wall" was highly effective in fending off the small group from Westboro, who reportedly left the church area early in the afternoon.
The Columbia Daily Tribune relayed details on the outpouring of support:
Several times, Wyatt's parents, Randy and Sherry, and brother Chandler, came out of the church before the 1 p.m. service to greet and hug attendees.

"Thank you so much," Sherry Wyatt said on one occasion, holding a bouquet of red roses.

"The outpouring of love has been overwhelming," said Judy Baker, a close family friend. "It's so great to live in a community that is willing to honor the fallen. … This is what Americans are made of, and to see it on display is an experience I'll never forget."

Baker said her son summed it up when he said Columbia typically feels like a small city, "but today it feels like a town with everybody coming together," she said.
Westboro Baptist Church frequently pickets military funerals around the country, based on the group's belief that deaths in Iraq and Afghanistan are God's punishment for the United States' tolerance of homosexuality. Last year, the group announced plans to "quadruple" their protest efforts following a Supreme Court decision that ruled such demonstrations are protected by the First Amendment.
Earlier this month, a counter-demonstration similar to the one at Wyatt's funeral proved equally effective. Students at Texas A&M University dressed in maroon t-shirts and formed a circle the funeral service for a fallen soldier. Westboro protesters never arrived at the event, according to reports.
Below, a closer look at Texas A&M's "maroon wall" demonstration: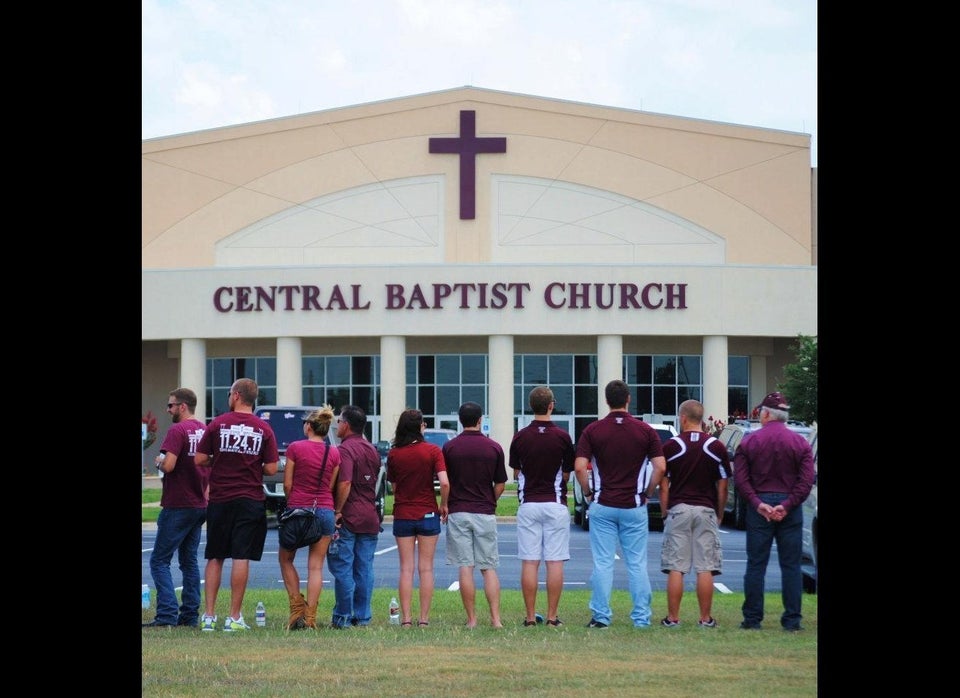 Texas A&M Maroon Wall
Popular in the Community