Written and directed by Ryan McClary for the Garage Theatre, "Wet Hot American Summer...the play?" at first seems slapdash, listing, and awkward. Then it feels jejune, hormonal, and uberconfessional. All this makes sense, given that it's a behind scenes look at a play that kids stage in a summer camp. Still, it works at first like weak beer. It's enough to get you boisterous and loud ("I want you inside me"). But not enough to reveal anything especially significant. Once you orient yourself, though, it becomes, not just rollicking and entertaining but profound.
Concept-wise, it's intelligent and daring. Intelligent because of the metanarrative (a play about a play) that informs the whole thing. Bold because it shows how two negatives make a positive. It uses source material that was a box office flop and a critical disaster. It presents a spoof of "Wet Hot American Summer", a gloriously dismal film written by Michael Showalter and David Wain. It also riffs on a radio show of the same name, written by Ben Acker and Ben Blacker. The film, despite its 31% favorable rating on Rotten Tomatoes, has achieved a cult following. (Its script is one thing; its startling showcase for embryonic stars is quite another).
Does it try to improve upon the original? Not even remotely. It's more of a lateral homage. It runs parallel to, without going much off the tracks of, the movie and radio show. It puts them both in a whole other context. It's a story that comments on itself as it alludes to the film's awful reception. It somehow just stumbles along in its adolescent and adult angst.
Amidst the chaos and buffoonery, there is structure. There are two clear-cut sections. The first part presents a behind the scenes look at a play put on by kids in a summer camp. It's not just a matter of the kids flubbing their lines or otherwise getting distracted. It's also a matter of the counselors melting down when their personal lives go awry. If the imbroglios and peccadillos aren't enough, the cast realizes, just before show time, that the otherwise incapacitated playwright hasn't finished writing the play. The second part is the play itself.
The performances are solid. In fact, credit must extend to a cast that could be enact sincere haplessness to such good effect. Jacob Buras' drug-addled narrator Ken Marino was fantastic. The rest of the cast was also good. To be honest, it was hard at first to keep track of what actor was playing which character was playing which character. So,let me say bravo, kudos, and well done to: Matthew Anderson (Actor One - Coop/Andy). Caitlin Singer (Actor Two- Katie/Lindsay). Anthony Galleran (Actor Three - Ben/Aaron). Alli Miller (Actor Four - Susie/Gail). Lola Binkerd (Actor Five - Beth/Abby). Thomas Amerman (Actor Six - Henry/Gene). Gregory Cesena (Actor Seven - McKinley/Victor). And Karli Royer (Actor Eight - Everyone/everything - presumably a refrigerator - else). Maribella Magana) is hilarious as the dipsomaniac playwright, Acker McClackery. And Jonelle Holden is great as the more-than-flighty director. Their roles, though, could have been judiciously edited without a loss of narrative.
Sure, we're interested in the loss of one's virginity. The navigation of the Scylla and Charybdis of adult and adolescent love. The staging of a school kid play. And, oh yeah, the threat of space debris that will blast the camp to smithereens.
Really though, we marvel at how the production shows you that no truer words can be uttered than "the show must go on." You can read the production, not as a love letter to live theatre but more of a kid's letter home. There are warts and blemishes, sure. But there's also the miracle when, as the actors come out of character and bow to the audience at the end (in this case, it's the actors as characters coming out of character, but nevermind), you wonder jeez, how did they manage to pull that off?
Performances are 8pm, Thursday - Saturday. The show runs until Saturday, March 21. Tickets are $15 - $20. The Theatre is located at 251 E. 7th Street, Long Beach, CA 90802. For more information, call (866) 811-4111 or visit thegaragetheatre.org.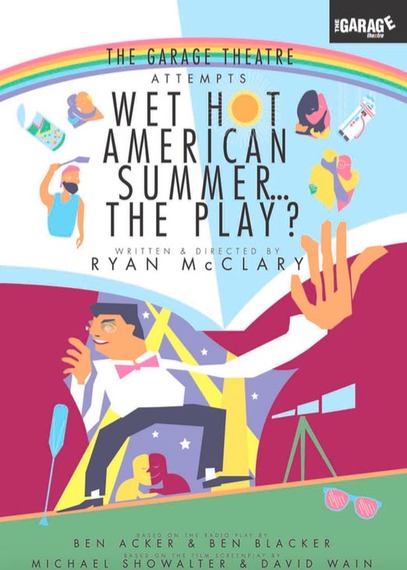 REAL LIFE. REAL NEWS. REAL VOICES.
Help us tell more of the stories that matter from voices that too often remain unheard.