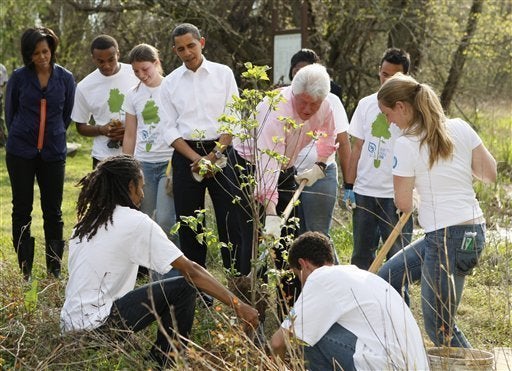 Today, President Obama made a major step to expand funding and opportunities for public service by signing the Edward M. Kennedy Serve America Act -- and he did it at my school, The SEED Public Charter School of Washington, DC!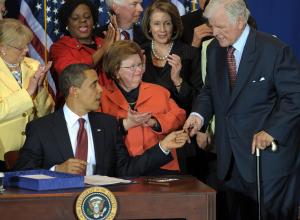 When the most elaborate security detail on earth, escorting the President and First Lady, the Vice-President, Bill Clinton, and a host of other VIPs, visits your 320-student school, it's quite a spectacle.
On Friday of last week and through the weekend, teams of Men in Black scoured the campus, working it through with their vast, unknowable calculations. Yesterday, a team of gardeners materialized and, despite the steady rain, transformed the already-pretty grounds into a floral delight. Teams of laborers swiftly shuttled large staging items out of a giant truck and into the gym, which had been off-limits to civilians for three days at this point.
This morning, teachers had to arrive early and park off-site to concede our parking lot to the motorcade and media. A quiet giddiness stirred in the grown-ups, who had to keep the official details under wraps from the students until lunchtime. When the news was finally broken to the kids about the epochal event, the scene was a mixture of jubilation and befuddlement.
But when the POTUS and FLOTUS, flanked by Bill Clinton and Joe and Jill Biden arrived and circulated the cafeteria to shake hands -- and in Michelle's case, hug -- so many students and teachers, spirits truly soared. Inspiration matters, and this president lifted up many students today in Southeast.
I got to attend the bill signing in the gloriously decorated gym, where Senator Kennedy introduced the president, who called on all Americans to serve their communities and their country. Looking on were Usher, Colin Powell, Michael Bloomberg, Secretary Sebelius, Nancy Pelosi, Harry Reid, Orrin Hatch, and Caroline Kennedy. Not shabby company for a Tuesday at school! Usher was particularly generous after the signing in chatting with the students.
President Obama had kind words for my school, citing the impressive statistic that in 4 of the past 5 years, every member of SEED's graduating class was accepted to college. He also mentioned the dynamic head of school Charles Adams, and ingenious founders Eric Adler and Raj Vinnakota, by name.
Indeed, The SEED School of Washington, DC is unique. It's a public boarding school encompassing, in which students -- selected by lottery -- live on campus twenty-four hours a day, five days a week. It's coed and serves inner-city students in grades 7 through 12, and a 6th grade will be phased in starting next year.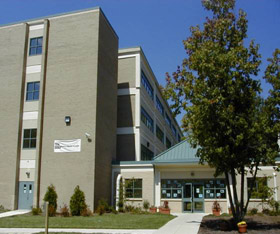 Class sizes are small; my 11th- and 12th-grade English classes run from seven students to thirteen. (Last year at the Bronx's DeWitt Clinton High School, I had thirty-three per class.) The school, located in Southeast DC, is by no means immune to the challenges of any inner-city school (students in crisis, students with below-grade-level skills, personnel attrition, to name a few), but with supportive leadership, small classes, and solid funding, it's making exciting and positive steps. A SEED School of Maryland opened in Baltimore this year, and plans for creating SEED schools in Milwaukee, Newark, and Cincinnati are underway.
The Edward M. Kennedy Serve America Act will recruit more quality teachers to schools like SEED, more health-care workers in low-income areas, and more supporters for veterans, just as a start. As the president said, the dividends of this investment will be manifest in dollars and in healing and stimulating the spirits of goodwill, innovation, and community across our country.
When I graduated from NYU in 2003, I joined Americorps as a member of the New York City Teaching Fellows. That experience of becoming a teacher in the Bronx, which I documented in The Great Expectations School, was life-changing. President Obama's action today at the SEED School will open the door for more Americans to act on their desire to contribute and to serve.
An old man walking along a beach at dawn saw a young man pick up a starfish and throwing them out to sea. "Why are you doing that?" the old man inquired. The young man explained that the starfish had been stranded on the beach by a receding tide, and would soon die in the daytime sun. "But the beach goes on for miles," the old man said. "And there are so many. How can your effort make any difference?" The young man looked at the starfish in his hand, and without hesitating, threw it to safety in the sea. He looked up at the old man, smiled, and said: "It will make a difference to that one."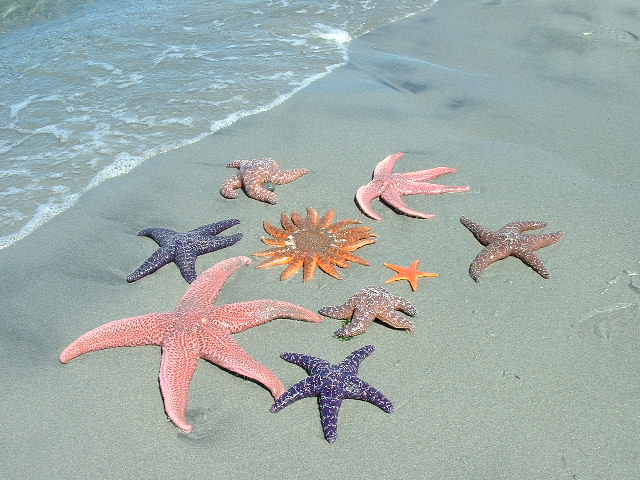 REAL LIFE. REAL NEWS. REAL VOICES.
Help us tell more of the stories that matter from voices that too often remain unheard.