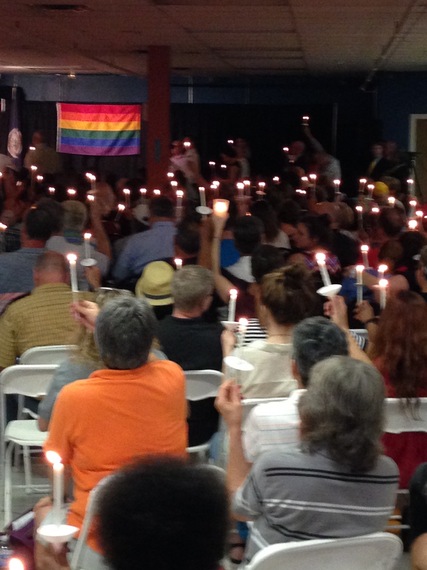 My mind is dribbling half thought out sentences written down on the pages of my spiral notebook, the kind that leaves tiny pieces of paper on your lap when you rip out the pages. I have crossed out a dozen sentences because I can't begin to process the events that are still unfolding in Orlando. There is so much noise, that my voice is lost somewhere in the mix. The only time I can hear myself is when I'm talking to friends. Then I hear words like "so sad, awful, homophobe, terrorist." When I listen to the news I hear debates about the motive for the attack. Was he a homophobe, an Islamic Fundamentalist with easy access to assault weapons or both?
As I desperately try to make sense of this, I guess the easiest thing to say is that this terrorist was all of the above. But I think when we say that; we miss the thrust of what just happened. If we really want to make sense of this, then we need to look at what happened through the lens of the victims of this attack. They were all young people, mostly 20s, some in their 30s, and Latino. If we are to believe what we hear from people representing that community, some of the victims were not publicly out to their families and friends. It was said that for some of these young people, this is the first time their families are learning that their sons, daughters are gay. The "stigma of being gay still exists in our culture," said one of the community representatives. How even more sad this event becomes when you realize that some of these young people were never able to share their loved ones with their families or to show affection to each other in front of others. Never allowed to be themselves. Much like the AIDS victims of my generation, these young people lived in the shadows because we have not yet come far enough in our acceptance of just about anyone who is different. Now they are dead.
Also, watching the news unfold with us are all those much younger people who identify as members under the LGBTQ umbrella. Too young to go to the bars, they watch and listen. Just this one time maybe we need to step outside our petty selves and realize that this isn't about us or an agenda. In fact, as I re-read this essay, the title is all-wrong. It should read, "What Orlando Means to the People Who Matter." This tragedy in Orlando is about young people, specifically LGBTQ young people, because in addition to the victim's families and friends, they are the ones most affected by this tragedy.
What messages do we want to send to them? Will they be safe if they are true to themselves? Why after all these years, do queer young people still have to struggle for acceptance? Let's start with that and go from there. Then maybe we can talk about how to put the world back to where it makes some kind of sense.
REAL LIFE. REAL NEWS. REAL VOICES.
Help us tell more of the stories that matter from voices that too often remain unheard.