Imagine you're in a room in which the level of creativity and passion cannot be measured. In which positive influences from many corners of our economy, that too often go unnoticed, are on full display. In which authentic conversations propel audience members and guest speakers alike to contribute to a powerful discourse. Where no one would have thought beforehand that in one single room magical exchanges take place.

I had the privilege of attending the Wealth & Giving Forum's 2014 symposium this past October and it turned out to be both an uplifting and emotional experience for me. I shared my personal journey as a social entrepreneur, surrounded by highly regarded individuals who have made such meaningful contributions to various communities locally and beyond: on hand were William Louis-Dreyfus, Silda Wall Spitzer, Ron Baron, Christina Lewis Halpern and Natalia Oberti Noguera, to name a few.
At first, I thought I was simply there as a dreamer -- someone still in the early stages of my career, striving towards success and trying to make the best of my potential. I thought I was there solely to learn from the remarks of great and more seasoned individuals. Little did I know, I was also in attendance to provide insight or better yet, knowledge. It was at the Wealth & Giving Forum's symposium, that I realized more than ever, that I have much relevance and add value.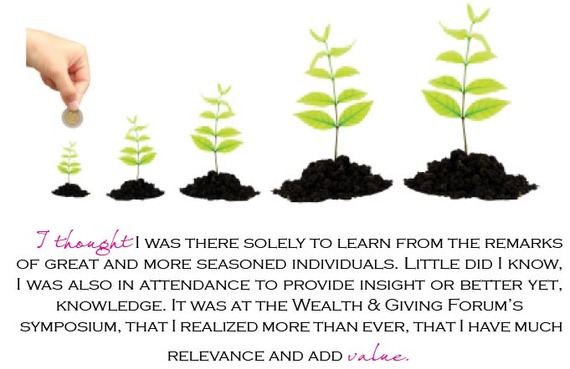 In the course of the day, I was able to meet Ron Baron, an exceptional man and CEO of Baron Capital Group management firm, whom Forbes magazine reports is worth $2.1 billion. One of Mr. Baron's key messages to me, and everyone in the room, was how much he counts on and invests in individuals, more so than a brand, a company or a product. He made it clear just how rigorously diligent he is about getting to know the individuals running a company before making an investment. That diligence includes questions about the person's personal history, family and values.
During the Q&A session, I asked Mr. Baron if he had ever invested in a Benefit Corporation, a new legal form of incorporation pioneered and championed by B-Labs. He responded with a question of his own: "What is a Benefit Corporation?" I proceeded to share with him the basic elements of Benefit Corporations and realized I, a young social entrepreneur, was having an exchange with a seasoned and respected Wall Street investor and philanthropist. It stuck me that we too often forgot just how powerful dialogue can be as a form of learning. From a simple question, a dialogue unfolded in which I was able to share a piece of knowledge with Mr. Baron and everyone in the room. What one learns through curiosity and exchange benefits not just the curious, but others around you. The forum provides a special space where mutual respect is the unspoken mode, questions were unfiltered, exchange is encouraged and new insights emerge. The unspoken motto is: "We all add value to one another" no matter our place or stage in life.
As someone still in the formative stages of my endeavors, The Wealth & Giving Forum gave me more courage to be curious, to learn through dialogue and to spread love as much as I can. It taught me that when you express your passions, it is an act of growth and kindness -- and that asking a question is a form of giving. A question posed is an opportunity for everyone to ponder the reply for themselves and with respect to their own journey. Lastly, I was reminded at the forum to not judge groups and to avoid preconceived notions about, for example, "the wealthy." Too often we assume that the wealthy are all-knowing and more aware than the rest of us. What Mr. Baron taught me is that sometimes folks attain wealth because they are curious and ask the right questions before making an important decision. And they are not always born into wealth. Many members of the Baron family struggled mightily during the Depression.
Mr. Baron also shared an inspiring story about his giving, pre-billionaire days. When he was a college student in Washington, D.C. his parents, who were comfortable but of modest means, gave him $50 to buy a dressy blazer. However, Mr. Baron was troubled by the challenges the young state of Israel was facing soon after a war broke out with the country's Arab neighbors. Mr. Baron decided to forego the blazer and gave the money instead to an organization collecting money for people under duress in Israel. As Mr. Baron noted, that gift was meaningful because "I felt it, knowing that was a lot of money for me and my parents."
In the end, the forum is a place where the sharing of knowledge is the gift, one that makes the participants on hand wealthier in ways much more of consequence than more money in the bank. It was a real honor for me to share a stage with such genuinely good people.
Damali Elliott -- Petals-N-Belles Founder | Chief Dream Builder
REAL LIFE. REAL NEWS. REAL VOICES.
Help us tell more of the stories that matter from voices that too often remain unheard.