When I found out I had been invited to the annual Met Ball, I was, well quite frankly, a little shocked. You have to understand, the annual Costume Institute Met Ball is the event of the year for all fashion insiders. Now don't get me wrong, I can hold my own in a fashion crowd, it is my business after all, but let's face it, I'm an All-American girl who loves sports and may be considered the furthest thing from "uber-chic fashion muse". Anyway, the second you would mention the event to someone, they would immediately gasp and start to ask if they could hide under my potentially enormous ball gown just so they could get a glimpse of the ultra exclusive inside. Well, this led me to my first dilemma: I had to be prepared for the question, "Who are you wearing?" And I mean, really well prepared; this is the Met Ball after all.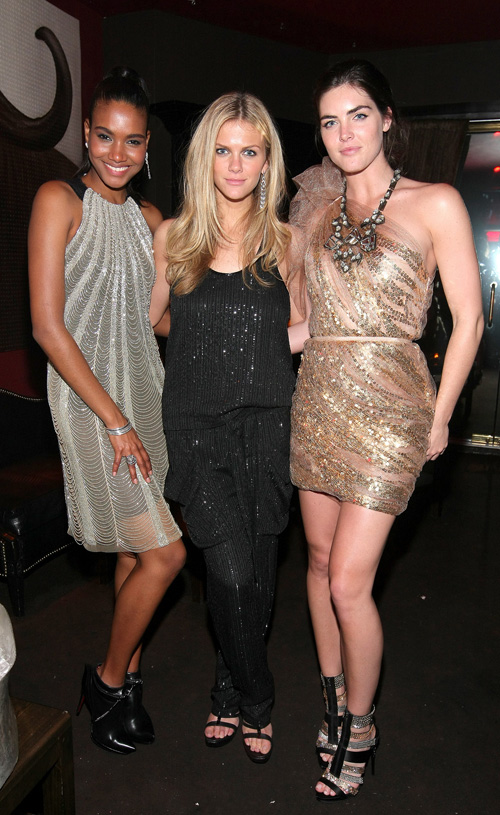 Lancome face Arlenis Sosa, me and Estee Lauder model Hilary Rhoda at the Modelinia party for OrphanAid and Valextra
Now, this question had my agents buzzing: "Let's do anti-glam...let's go with super cool...just make sure boobs aren't hanging out!" At this point, I finally said "Guys, let's just throw on a dress and have a good time, I think I may have something in my closet." This of course was met with gasps of horror from my fashion loving modeling agents. If I remember correctly, someone patted my hand and said "Now Brooklyn, we will take care of this, don't you worry." Well, they called Vogue and somehow Derek Lam and I were paired up together. This was pretty exciting for me because as he is a fresh American designer whose style actually suits me really well, and I know he was excited to work with me as well (always a nice ego boost.) which led to fitting time!
I went in to meet Derek about a week before the big day and we went through every conceivable type of dress: short, long, yellow, blue, you name it. Finally I stumbled into this embellished pant/tank combo... a jumpsuit, if you will, that really just looked comfortable and cool. I tried it on and it was a perfect fit. I had found my outfit. I excitedly called my agency "I found it! It's black and sequined, it has pants," at which the conversation came to a screeching halt and on the other end of the phone I hear "Pants?? You're wearing pants to the Met Ball?!," and almost inaudibly, whispers in the background "she's wearing pants, yes pants." After some internal discussion and circulating a photo of the outfit amongst my agency, everyone approved.
Then it was time for the jewelry. My agent was thinking about jewelry designers and thought "Hey, you're an All-American girl, showing up on the arm of a hot American fashion designer; let's get you dripping in Tiffany diamonds." Well who was I to argue? Later that day, I walked into the Fifth Avenue store and was told "Walk around the floors, pick whatever you want, we'll deliver it to you." Really? This is my job?? Did I hit the Life Jackpot or what? After a quick decision on my bling, I was all set to go.
As the day of the Met arrived, all of the sudden the nerves came. I started questioning everything I was wearing (Pants, really?!) and the importance of the whole event hit me all at once. I just had to tell myself "You were invited, people want you there. Worst case scenario, you'll get to people watch and wander the Metropolitan Museum at night."
I have to admit, my ensemble was worth way more than I was comfortable with (at one point one of my bracelets just fell off and thank goodness Derek was there to scoop it up and put it right back into place... thank you insurance). I went to the Carlyle to meet Derek and the rest of our table. Liya Kebede was also dressed by Derek so we were all sharing a table at the event. Liya is one of the "new generation" supermodels. She's an Ethiopian stunner who is remarkably graceful and will be best known for her incredible humanitarian efforts. It really was humbling to be surrounded by these people. Everyone joined in on a champagne toast to celebrate the night and get rid of the jitters (I stuck with water) and we were on our way to walk red carpet.
Derek and I took a long look at the notorious red carpet, a grand staircase into the Metropolitan's main lobby where flashbulbs popped from all angles. I really do think it is designed to make us all more vulnerable and capture that humiliating trip-over-your-gown-up-the-stairs shot. I immediately wished I had joined in on the champagne toast earlier. We stepped out of the car, Derek grabbed my arm and said "Don't worry just stick with me, I've done this a few times." Did I mention I love Derek Lam? He was my savior that night. As designer and model-muse, we walked up the carpet together and it couldn't have been better. It was actually fun! We then were led to the receiving line where Marc Jacobs, Kate Moss, and Justin Timberlake and the legendary Anna Wintour awaited us (in case you've been living under a rock for the past two decades, Anna is the editor-in-chief of American Vogue; I'm not comparing her to God by any means, but she is the omniscient one when it comes to fashion). She welcomed each person and complimented me on my outfit (thank you Derek) and much to my surprise, congratulated me on my recent marriage. My head was spinning with everything that had happened so far.
The festivities were well on their way and this was my time to take everything in. We walked through the exhibit, which particularly struck a chord with me since I'm a model. The exhibit covered the evolution of models and fashion from the 1930's to present day. There were vintage Vogue covers, old Sports Illustrated Swimsuit covers, clothing worn by all the top models, and iconic photographs captured by the great fashion photographers. Richard Avedon, Helmut Newton, Steven Meisel...the list goes on. One of my favorite elements in the exhibit was the music dedicated to the individual decades complete with light shows and songs specific to that time. Booming over the speakers was everything from The Who's "My Generation" to Nirvana's "Smells like Teen Spirit". I couldn't help but sing along and be impressed by the amount of thought and detail put into each aspect of this presentation. After the exhibit, it was onto cocktails. This is when it started to get interesting...
Everyone you can possibly imagine was at the event. Elizabeth Hurley was practically sweeping the floor with her amazingly long train, her husband following behind making sure no one stepped on the couture creation. All the supermodels past and present were in attendance - Iman, Shalom Harlow, Amber Valetta, Kate Moss, Gisele, the list could go on for days. Designers, photographers, musicians. It was truly amazing. Not only that, but everyone was decked out in their finest. The great thing about the Met Ball is that even if you don't like someone's fashion choice, they still deserve applause for really going for it and taking a chance with their fashion choices (ahem, Madonna). Everyone was just glittering and it was sight to see.
Last but not least, the dinner and performance. The whole room was buzzing with anticipation of who the performer would be. Some thought Justin Timberlake since he was a host, others thought Rihanna. Well, I must say, the introduction of the performer blew me away more than anything else. The head of the Metropolitan Museum finished his welcome speech and said "Now to bring out a man who needs no introduction, Bono" I think I lost my breath for a second. He came out and spoke about fashion muses, how models spark creativity in both music and design, and even managed to throw in a few jokes. It was amazing. It only gets better as he then introduces Kanye West. Never have I seen lanky supermodels grinding down with the conservative Upper East Siders... quite a sight to see. Kanye started on his second to last song and all the sudden, from back stage, we hear a familiar female voice...and on walks Rihanna! The crowd went wild. Really, the whole room was alive for this special performance. As much as we enjoyed it, I can only imagine it from their perspective since it was undoubtedly the most beautiful crowd they've ever played for. It was memorable for everyone in attendance.
It's hard to top that kind of an evening, but I was on my way. I was co-hosting an after party with Modelinia that benefited OrphanAid Africa at 1OAK. I was joined by the beautiful Margherita Missoni, Arlenis Sosa, Joy Bryant, Hilary Rhoda and Rachel Roy as my co-hosts and a bevy of model guests including Coco Rocha, Isabeli Fontana, Ali Stephens and Chanel Iman. After my model-muse duties were over at 2 in the morning, I was off to bed to get enough rest so I could be alive and rested on my shoot the next day. 9:00 AM call time... ahhh, back to reality.