If you are familiar with air travel in the United States since 2001, you know you will go through airport security screening by the United States Transportation Security Administration (TSA). Your flight day check list probably goes something like this:
Make sure you bring a government issued photo I.D.
Wear socks with no holes.
Wear slip on shoes.
Don't wear pants that require a belt.
Try to remember what 3-1-1 means.
Use a briefcase that will allow you to swiftly remove your computer to put in its own plastic bin.
Wear an easily removed jacket or sweater and be OK with everyone else in the security line seeing what you have (or don't have) on under it
Make your peace with going through a scanner (that may, or may not, cause cancer) that makes you appear naked to someone viewing your image in another room
As you approach the security line, you will be slightly ashamed for praying you don't get stuck behind any of the following:
Families with two baby strollers, two squirming toddlers and diaper bags bulging with liquids.
Someone who is staring at the prohibited items list as though they are seeing it for the first time and who is moving their lips while reading it.
The Ding-a-ling who forgot he had a loaded Glock 33 semi-automatic pistol in his carry on suitcase.
The first time I saw "TSA PRECHK" printed on my boarding pass, I was positive I was being singled out for a strip search and special enhanced interrogation. When I approached the first TSA agent, I asked what this cryptic message meant. She motioned me over to a screening station apart from the one to which my husband was directed. (Uh oh. First enhanced interrogation technique: separation from loved ones).
As I approached the belt for the items to be x-rayed, I reflexively started to kick off my shoes, but the smiling ("smiling" is not a typo) TSA agent told me I didn't have to take off my shoes nor remove my jacket. I didn't have to display my quart size, clear plastic 3-1-1 liquids bag nor remove my computer from my carry on. I just put it on the belt and walked through the magnetometer. I was through the TSA security check in about 30 seconds. Of course, I had to wait for my husband who finally emerged some time later, wondering what had become of me. For our next four flights, we both had the blessed "TSA PRECHK" on our boarding passes and had the "almost like flying in the good old days" treatment.
So, What is TSA PreCheck?
PreCheck is a TSA initiative to provide expedited security screening to "low risk passengers", currently available at 118 U.S. airports. Passengers on the following participating airlines are currently eligible for PreCheck if they meet the other criteria: Air Canada, Alaska Airlines, American Airlines, Delta Air Lines, Hawaiian Airlines, JetBlue Airways, Southwest Airlines, Sun Country Airlines, United Airlines and Virgin America.
According to the TSA website, those eligible for TSA PreCheck eligibility include:
U.S. citizens of frequent flyer programs who meet TSA-mandated criteria and who have been invited by a participating airline.
U.S. citizens with a Known Traveler Number (KTN).
U.S. citizens, U.S. nationals, and lawful permanent residents who are members of the TSA Precheck application program.
U.S. citizens who are members of a U.S. Customs and Border Protection (CBP) trusted traveler program, such as Global Entry, NEXUS and SENTRI.
Canadian citizens who are members of NEXUS.
Foreign citizens of select countries who are members of Global Entry (see Global Entry eligibility) and not registered as a U.S. lawful permanent resident.
Members of the U.S. Armed Forces, including those serving in the U.S. Coast Guard, Reserves, and National Guard.
Department of Defense and U.S. Coast Guard civilian employees.
Certain other passengers who don't meet these criteria may be sent to the PreCheck expedited screening line based on "observation" by "trained" personnel that they appear low risk (supposedly based on observation of behavior, not "profiling"). (Hint: Don't appear anxious in the security line. I'm not sure how they differentiate fear of flying from fear of having one's bomb detected).
There is some static from people who paid $85 to be qualified for PreCheck. They are understandably annoyed that their "expedited" TSA security line is being lengthened by people (such as me) who didn't pay the $85 application fee and didn't go through the hassle of the application process, but are being sprinkled with TSA pixie dust anyway.
TSA was supposedly going to be limiting PreChk to those who applied and were approved; however, I had "TSA PRECHK" on all my boarding passes as recently as this month without going through the official vetting process.
Now for the bad news. TSA is now considerably understaffed, so many security checkpoints don't have any PreCheck lines available. Those with "TSA PreChk" on their boarding pass will get a sticker that only entitles them to wait in the regular, snaking, slow moving line without removing their shoes. Even the regular lines are staffed by insufficient personnel. There is an increasing incidence of people missing flights because of long lines at TSA checkpoints. Flights are also delayed because some of those people already checked in baggage which must be removed before the flight can leave if they don't board the plane.
If you really, really need to get somewhere, get to the airport three hours before your scheduled flight.
(A version of this article first appeared on Boomeresque.)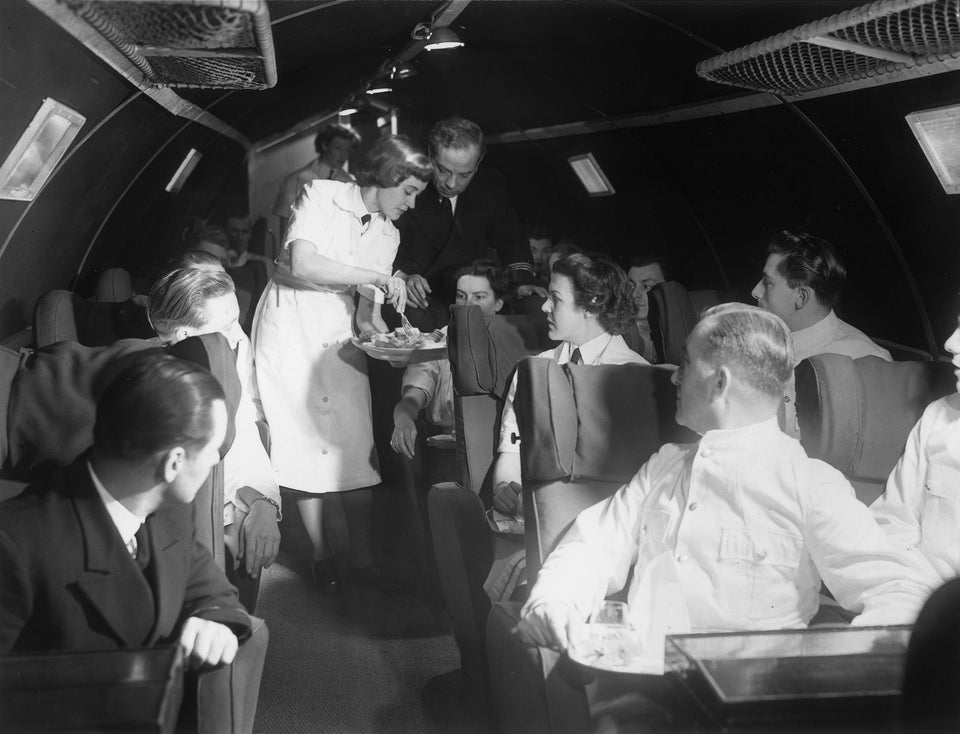 Vintage Air Travel Photos
Related