For those not used to Turkey's political bickering had a small taste of it in the nation's capital this week, as apologists of the Turkish government attempted to censor critics in a meeting that gathered to discuss the predators of media freedom, highlighting the risks of bringing up topics critical of the government.
A Turkish journalist narrating the ordeal she has been going through in Turkey, a notorious country for its brutal treatment of outspoken journalists, had been pelted with hollow accusations by government apologists for simply laying out the situation of the media in her country.
Sevgi Akarçeşme, who was among four panelists to discuss the press freedom before nearly 100 participants at the National Press Club, had been designated as a particular target to be hit. Deluged by activists, journalists, academics as well as pro-government Turks in D.C., the panel discussion on Turkey's media freedom included verbal squabbles and sometimes ugly bickering among the participants.
Even before the panel discussion, the NPC was accused of "working for Israel" by hosting an event to discuss the press freedom in Turkey. Moderator John Donnelly even had to make a disclaimer at the outset of the event, stating that the National Press Club only grants a platform for panelists to speak out and takes no sides.
Akarçeşme, who is writing weekly columns for Turkey's best-selling daily Zaman and reporting for its sister print outlet Today's Zaman, was on the spotlight throughout the panel discussion as pro-government participants charged her for most of the country's woes. The debate in Washington, D.C. illustrated a mini version of events Turkey is experiencing every day as detention of journalists have become routine and media crackdown in the Muslim world's most modern country has seen a new nadir last month with the arrest of Turkey's two leading media executives, Ekrem Dumanlı and Hidayet Karaca.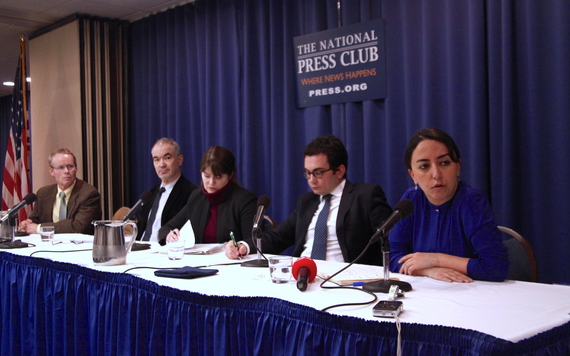 Photo: Ihsan Denli (Cihan)
The tensions in the room had sharply escalated when Taraf and Today's Zaman columnist Emre Uslu, a journalist who reported first the killing of 34 Kurdish civilians by Turkish fighter jets in Roboski years ago, complained about how he continues to receive death threats and intimidation even in the U.S. As he spoke, pro-government participants in the room started whining, forcing the moderator to censor the journalist, who is slapped with more than a dozen criminal complaints, mostly from the incumbent president, Recep Tayyip Erdoğan.
"Turkish president is the biggest media boss in the country," Akarçeşme stressed, noting that he is forcing businessmen to create a "pool fund" to build a media sympathetic to the government. She said the nature of the regime in Turkey could be characterized as an "arbitrocracy" and that harassment of journalists in her country has reached a climax these days. She said she learned few days ago that the country's docile prime minister, Ahmet Davutoğlu, is pressing charges against her over her tweets critical of the government. "This has already become a routine," she added.
The Zaman journalist was flanked by an academic, press advocacy representative and a Washington-based Turkish journalist, who all complained about the deteriorating media freedom in Turkey.
While Akarçeşme explained the immense risks the journalists are taking to hold the authorities accountable in Turkey, threats, insults and accusations against her flooded real time on Twitter. "We will show you what the abritrocacy is," a pro-government user on Twitter threatened the journalist.
Delphine Halgand, US director of the Reporters Without Borders, noted that the media crackdown in Turkey has intensified since the corruption scandal broke out last year, although most of the jailed journalists were released, yet pending trial.
Kemal Kirişçi from Brookings and Tolga Tanış of Hürriyet had walked somewhat a fine line in criticizing the media freedoms in Turkey and instead put the blame on premature political culture in Turkey that didn't tolerate opposing views. When a Turkish participant complained about "insults" on the media, she asked if it is possible to restrict social and traditional media. "This is what I'm talking about," Tanış remarked, pointing her as an evidence of how people are troubled by what others say.
Sevgi Akarçeşme confirmed that cartoons depicting Prophet Muhammad are offensive, but urged critics to respect others' opinion who may not hold sacred what it is "dear to us."
The heated exchange of words among the participants is a clear indication that the Turkish society is deeply divided along political fault lines and a civilian discussion of pressing issues is almost impossible. The cleavage in the society was exacerbated after summer protests in 2013 linked to Gezi Park, when the bellicose president decided to undertake a confrontational role to rally his electorate and consolidate his base.
Debating the political culture in Turkey with respect to media freedom is fundamental to understanding the crux of the problem, but immediate responsibility for this crackdown lies with the government, which has been ruling the nation for nearly 13 years.
Erdoğan's conservative electorate is particularly easy to manipulate. Whipping up jingoism with his divisive rhetoric, the president's unceasing propaganda has taken a toll on the society as well. Except dwindling number of independent members of the judiciary, prosecutors and judges are largely pushed to make decisions that would "please" the authorities and at least 20 articles in the Turkish Penal Code make it easy for judges to issue verdicts that restrict freedom of the media.
15 years ago, the mainstream media in Turkey had worked under the shadow of the ruthless military and hostile judiciary. Little has improved since 1990s, and this time the tyrannical elected government is unchecked to a degree that there is no formidable power that could hold the authorities accountable. Not only does it suffocate critical journalists, but also creates a friendly media targeting anyone at odds with the government. When Erdoğan sneezes, Turkey's pro-government media runs for a handkerchief.
REAL LIFE. REAL NEWS. REAL VOICES.
Help us tell more of the stories that matter from voices that too often remain unheard.