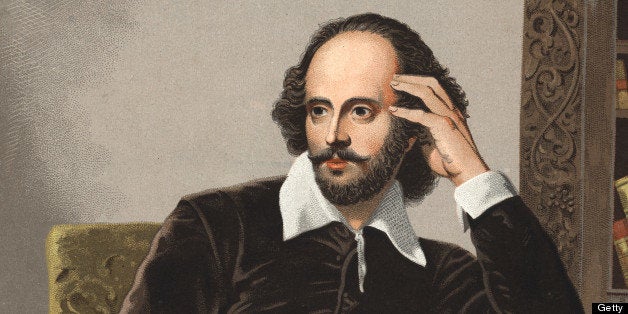 Think you've cornered the market on attracting the wrong type of men? No, no that sort of dating self-sabotage has been going on for hundreds of years at least. I discovered some of thsee Elizabethan Bad Boys while researching my novel Elizabeth the First Wife, a rom-com with a Shakespeare twist. Some of the Bad Boys of the Bard may seem very familiar if you're these types of girl:

1. Are you an Urban Go-Getter? You work hard, you play hard but, lately, you've been finding that old reliable boyfriend a little soft. You don't have a lot of time between your high-pressured job, your parcours workouts and "The Bachelorette." You're just looking for someone you can squeeze in every so often.
You need a guy who: Puts the Booty in Booty Call.
Meet: Bertram, the cad of All's Well that Ends Well. He's rich, he's hot, he's totally above you, Plus, he's married. But that doesn't stop him from stepping out on his wife, so if you can put up with his attitude, give him a call. Like Tiger Woods before rehab.

2. Are you a Navel-Gazing Brooklyn Boho? If only you had a hit TV show and wardrobe of unflattering Peter Pan collared-dresses like Lena Dunham! But you're so close to full-fledged self-absorption with your Chinese character tats and low-paying job in publishing.
You need a guy who: Makes you feel worse about your body than you already do, but will also be the heart-breaking subject of your best-selling memoir later on.
Meet: Prince Hal. Before he became the honorable Henry V, Prince Hal was a spoiled rich kid who partied hard and loved a good prank, like a Kennedy! He's just the kind of guy who might take an interest in the intellectual girl in the corner, if only to win a bet with his drinking buddies. And you can bet he'll never call back! But think of the advance on your book: Prince Hal & Me:The (Dis)Courtesy of Kings.

3. Are you a Suburban Sorority Sister? Five years from now, you'll be walking down the aisle in a big white dress with 10 bridesmaids and a wicked hangover in your hometown church. Until then, you're going have some fun, fun, fun, especially on football weekends!
You need a guy who: You can't take home to Daddy.
Meet: Falstaff. Yes, that Falstaff, the pleasure seeker, the lover of wine, women and song. He's way too old for you, it will never last and plus, he's a liar, a thief and a cheat, but he epitomizes the lovable rogue. Think Vince Vaughn circa 2005. See? Kind of appealing, right?

4. Are you a Bookworm Betty? You were honored to be voted Most Likely to become a Librarian and your membership in the Jane Austen Society means the world to you. It's just you haven't have a real date since Prom, except if you count that hook up at the Renaissance Fair three years ago.
You need a guy: With a large... vocabulary. That's right, a large vocabulary.
Meet: Mercutio. Romeo's homey. Funny, scene-stealer, life of the party. And, believe me, he gets invited to all the best parties. Possible drugs issues, maybe bi-polar but always a good time. Today's version: L'il Wayne

5. Are you a Recently Divorced Rebounder? It's been years, years since you've been out on a real date. And if one more person suggests online dating, you're going to beat them over the head with your gold Michael Kors tote that says, "Look at me!" No, really, look at me. I'm a mess.
You need a guy who: Makes you forget you said the words, "Sure, we can use a mediator. That sounds civil."
Meet: Shylock. He's not much to look at and lately, even his friends have turned away, but the Merchant of Venice has a lot to offer: You're May; he's December. You're broke; he's loaded. You lost the house; he's got a place in Italy. Perfect for you, especially if you're the type who's psyched Rupert Murdoch is back on the market.

6. Are you a Pretty Penny Preppy? If you could only find a decent partner, for tennis and bridge, that is. (Yes, bridge is back with a vengeance.) But while you were off at law school and the America's Cup, all the good ones got snapped up by your roommates from Trinity. Darn it. Guess you'll have to wait for the first round of divorces in a few years.
You need a guy who: Has enough pedigree to fool your father, the Commodore, and enough game to play mixed doubles with your mom, the club champion.
Meet: Hotspur, from Henry IV, Part 1. A man's man to a fault. A tempestuous nobleman who, in the great WASP tradition, prefers sport over sex. Unfortunately, because his sport is war, he's not reliable for the long haul, way too much fighting to do. But he'll be an excellent escort for a few years until Prescott is free again. Think Prince Harry, Vegas and all.

7. Are you a Hipster Hattie? You know that you rock your retro shorts, tube socks and over-sized glasses, but lately, the only looks you've been getting are from other Hipster Hatties. Not that you didn't try that in college, but you're over it. You want a real man with the same waist size as you. Jeans sharing!
You Need a Guy who: Understands that Vampire Weekend is a band, not a lifestyle.
Meet: Hamlet. Get in line, ladies, for the original Emo guy, the Prince of Denmark himself. Unlike today's pale, thin young men, Hamlet is not the slightest bit sensitive to your needs. He's got no interest in helping you start your Etsy page or your Naturopathic Shave Ice cart. He's all about the Hamlet. And, for a while, so are you.
REAL LIFE. REAL NEWS. REAL VOICES.
Help us tell more of the stories that matter from voices that too often remain unheard.