Three white extremists were arrested and charged with attempted homicide after they got into an argument and fired on a group of people protesting white nationalist Richard Spencer's speech in Gainesville, Florida, police said Friday.
Shortly after Spencer's speech Thursday at the University of Florida ― which was met by thousands protesting him and his racist message ― a silver Jeep carrying three white men, two of whom have connections to extremist groups, pulled up to a bus stop and started to argue with protesters who had gathered there, according to the Gainesville Police Department.
The three men, Tyler Tenbrink, 28, William Fears, 30, and Colton Fears, 28, quickly began threatening the protesters, making Nazi salutes and shouting chants about Adolf Hitler. One of the protesters responded by using a baton to hit the rear window of their vehicle. The vehicle pulled away momentarily, and then quickly stopped. Tenbrink, a convicted felon from Richmond, Texas, jumped out of the car and produced a handgun. Then the Fears brothers, both of Pasadena, Texas, encouraged Tenbrink to shoot the protesters, shouting, "I'm going to fucking kill you," "kill them" and "shoot them," according to the Alachua County Sheriff's Office arrest report. 
Tenbrink fired off a single round, which missed the protesters and instead struck a building directly behind them, police said.
All three men then jumped back into the vehicle and fled, but one of the protesters noted the license plate number and reported it immediately to the police. Just a few hours later, an off-duty Alachua County sheriff's deputy, who was on his way home after working the Spencer event, began searching for the vehicle and ultimately found it. Local authorities arrested the men about 20 miles north of Gainesville. 

All three men are currently being held in Alachua County Jail. The Fears brothers are held under a $1 million bond and Tenbrink under a $3 million bond. Tenbrink admitted to the police that he was the shooter, according to his arrest report, and faces additional charges for possession of a firearm by a felon.
William Fears is an "active white supremacist" with ties to several white supremacist groups, including Vanguard America, Patriot Front and others, according to the Anti-Defamation League. The ADL says Tenbrink too is a white supremacist who attended events organized by Vanguard America and the white supremacist website Daily Stormer. Colton Fears is the "least active of the three" in white extremist groups, the ADL said, but recently participated in the Charlottesville, Virginia, torch march and Unite the Right rally that sparked protests leaving one dead and 19 others injured. 
The three men had been spotted by HuffPost at the protests surrounding the Spencer event. HuffPost photographed the Fears brothers and Tenbrink on the University of Florida campus on Thursday: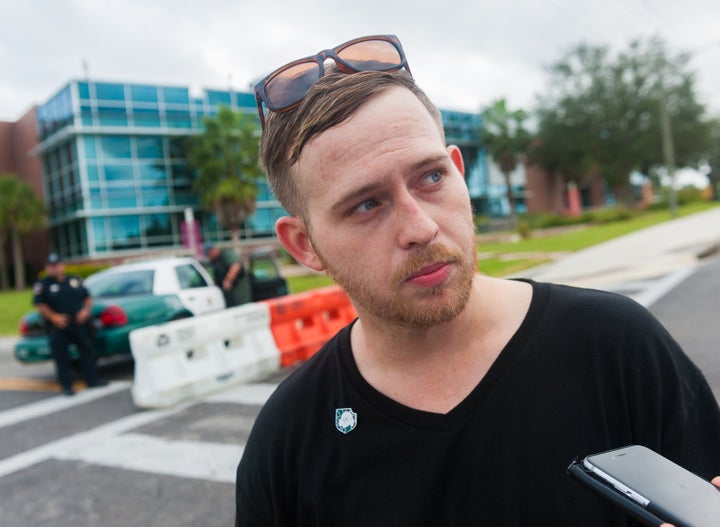 In an interview with HuffPost, Colton Fears said the pin on his shirt is "basically just like an SS thing. To get into that, it would literally take, it would be a whole topic of WWII ... and it's my heritage, I'm German."
William Fears was heard shouting "White lives matter" during protests on Thursday.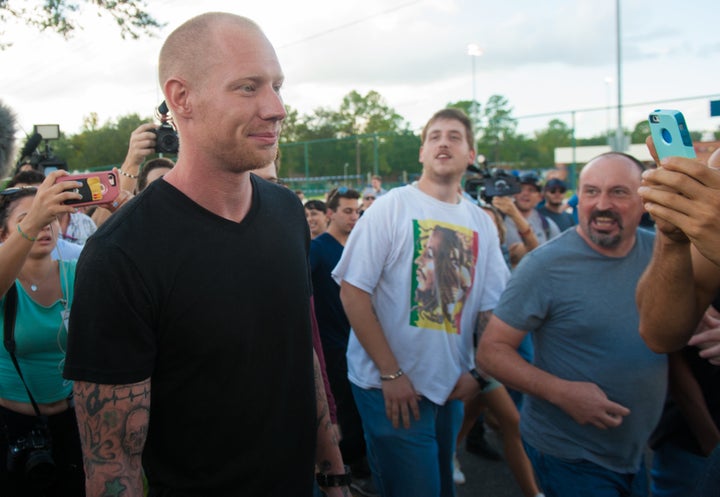 REAL LIFE. REAL NEWS. REAL VOICES.
Help us tell more of the stories that matter from voices that too often remain unheard.
BEFORE YOU GO
PHOTO GALLERY
University Of Florida Protests Richard Spencer