The natives were restless Thursday night at Audubon Elementary School in Chicago's Roscoe Village neighborhood. Hundreds of them -- Chicago Public Schools parents, teachers and principals -- sat shoulder-to-shoulder on folding chairs in a crowded third-floor gymnasium for a town hall meeting to discuss the financial mess that is CPS.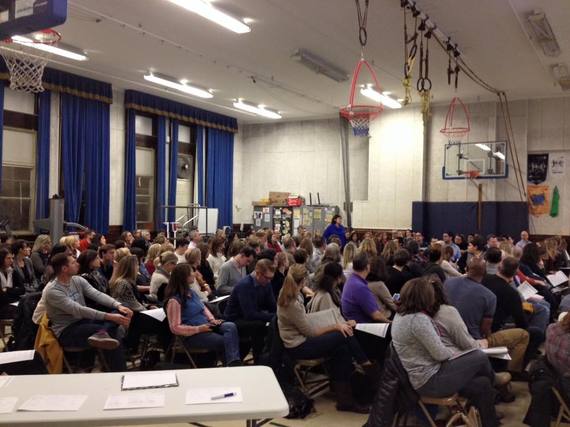 State Representative Ann M. Williams (D-Chicago) kicked off the meeting by explaining how CPS schools are funded and why CPS is, once again, on the brink of financial disaster.
The crowd listened politely to her balanced presentation, but when she opened the floor for public participation, a tone of frustration and anger underscored nearly every question and comment from the audience. That's what happens when taxpayers believe their top elected and appointed officials are failing to look out for school-age children.
To be sure, it wasn't Williams at whom audience members shot their venom. The prime targets were the usual suspects: Governor Bruce Rauner, Speaker Michael Madigan, Mayor Rahm Emanuel, and CPS CEO Forrest Claypool, none of whom was present that night.
CPS parents know that when looming budget cuts decimate their kids' classrooms next month, it will be business as usual at the tony private schools that educate the children of Emanuel and Claypool. They know, too, that Rauner's public approach to today's CPS differs greatly from his behind-the-scenes dealings with Arne Duncan back in 2008, when Rauner pulled strings to ensure that his suburban daughter was educated by the unionized faculty at Walter Payton College Prep.
But it's not just parents who are aggravated with failed leadership in Chicago and Springfield. Teachers and principals also see the writing on the wall. CPS teachers look around and find themselves navigating the Scylla and Charybdis of Rauner and Emanuel, both hell-bent (one openly, the other less so) on gutting their union. And highly-regarded principals continue to flee CPS for more stable districts -- districts that do not operate, as Audubon parent Melissa Richardson said, in "constant crisis" mode.
A number of parents at the Audubon meeting sounded ready to follow the lead of those fleeing principals and get the hell out of Chicago. They know, perhaps from their own childhoods and perhaps from what their suburban friends and relatives tell them, that it shouldn't be so tough -- even in an oligarchy -- to provide their kids with a decent public school education.
Calling all HuffPost superfans!
Sign up for membership to become a founding member and help shape HuffPost's next chapter