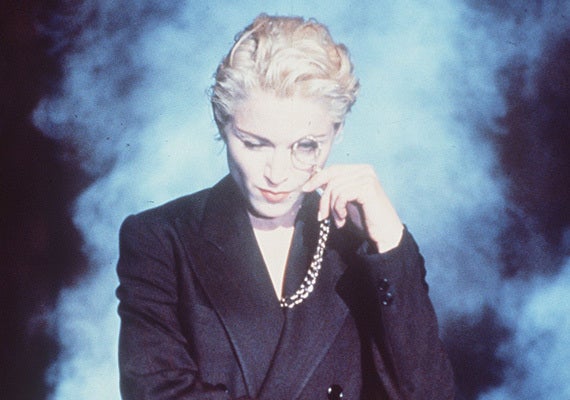 28 years ago this week, Madonna released what is not only her best album to date, but also what could be the most important release ever by a female artist. That's not to say that Like a Prayer is the best album ever by a female artist, but it's pretty close. After six years of being considered pop fluff and a disco dolly, Madonna was finally taken seriously by most music critics in 1989. Still, Like a Prayer deserved even more than bewildering critical acclaim.
If Madonna and misogyny weren't practically synonyms, Like a Prayer would have not only won several Grammys in 1990 (it didn't even earn any major nominations), but it would be widely praised for its songwriting and production 28 years later. If a man delivered the same type of vocals Madonna did on Like a Prayer, critics would note that his voice isn't technically perfect, but distinct, melodic, and full of emotion. When it comes to Madonna, who certainly could never hit the notes of Aretha Franklin or Whitney Houston, it's just easier for people to say that she "can't sing."
For people (especially millennials) to understand how important Like a Prayer is to culture and music, they have to comprehend the repressive environment Madonna's album arrived to in March of 1989. The late 1980s was ruled by the religious right, who believed AIDS was a curse God gave to the gay community. Women who were outspoken or wore revealing clothes were referred to as sluts, whores, bit**es, etc. Police brutality among African Americans was still widely accepted without much of a backlash. And interracial dating was still considered a taboo.
With all of this in mind, let's analyze why Like a Prayer is such a milestone of an album.
The "Like a Prayer" Video
The "Like a Prayer" video has provocative imagery that caused the religious right to wet its pants. However, none of the imagery, which is used for pure symbolism, is blasphemous. Most importantly, "Like a Prayer" is a video that shows the viewer racism, sexism, and police brutality. It urges them to think and overcome it — this is something that wasn't considered "cool" in 1989. The idea of a "Black Jesus" was also considered blasphemous to some, especially the religious right.
The aftermath of "Like a Prayer" was groundbreaking in that Madonna beat the religious right at their own attempted game of censorship. Their efforts caused Pepsi to drop Madonna as a spokesperson, but they completely failed at hurting Madonna's success or censoring the video. The "Like a Prayer" single and video hit No. 1 and remain widely loved classics almost 30 years later. Madonna paved the way for other artists to not only challenge the religious right, but win.
Even if you aren't convinced that the "Like a Prayer" video is an artistic masterpiece, the song "Like a Prayer" has stood on its own. Not only has Rolling Stone and Billboard praised it as one of the best pop songs of all time, but the song has become a spiritual classic, even for those who aren't fans of Madonna.
"Like a Prayer" became the highlight of Live 8 in 2005, and it was also one of the highlights of the 2010 Hope for Haiti concert. It was also prominently featured in Madonna's 2012 Super Bowl Halftime show. Any live performance of the song is sure to whip the audience into a frenzy.
This decade, "Express Yourself" is mostly known as the song that inspired (maybe a little too much) Lady Gaga's self-empowerment LGBT anthem "Born This Way." However, as Gay Times Magazine notes, "Express Yourself" has become an empowering anthem for the LGBT community as well. However, in the late 1980s, the song was mostly known as a female empowerment anthem. "Don't go for second best baby" became a catch phrase for strong women who were sick of being treated like second class citizens from men and other women who still subscribed to the patriarchy.
The pamphlet on AIDS Madonna included with each copy of Like a Prayer alone proves that the notion of Madonna being a bad role model and having a bad influence on Generation X (especially women and teenagers) just isn't true. Madonna educated many about AIDS and safe sex at a time when schools, the media, and religious institutions stayed away from the topic. A move like this in 1989 could have hurt a showbiz career, but Madonna survived and thrived by doing the right thing and, possibly, helping to save lives at the same time.
A Rolling Stone review by J.D. Considine from April of 1989 correctly noted that Like a Prayer was "as close to art as pop music gets." The album touched on topics such as childhood innocence, childhood loss, child abuse, spousal abuse, women's rights, and spirituality. It mixed all of these themes together to not only make the listener think and dance, but ask questions as well — some of which were risky to ask in 1989. Like a Prayer proved that an artist can mix style and substance in order to break societal and musical barriers. 28 years later, many pop artists, including Madonna herself, are trying to hit all the correct spots Like a Prayer hit, but they just don't have the same effect.