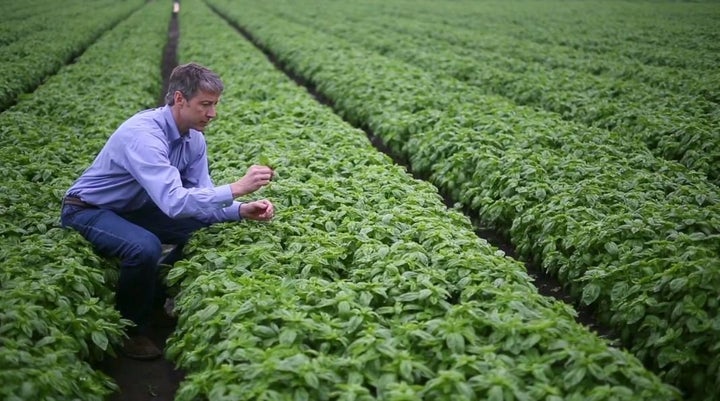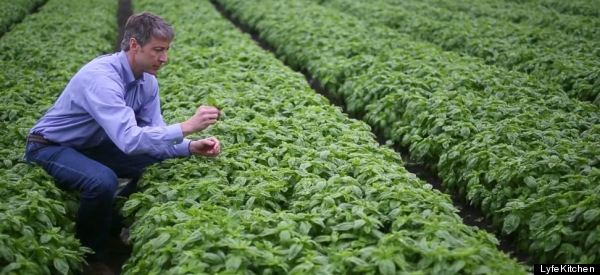 At LYFE Kitchen, it's my mission to make innovative retail products, which taste delicious and are built on great ingredients. I've taken a unique approach to product development for LYFE Kitchen retail by focusing on using herbs and spices to develop a range of meals that taste wonderful without relying on sodium to build flavor.
I've had the opportunity to work with herb farmers and ingredient suppliers that have access to amazing ingredients. When I'm in the kitchen experimenting with ways to create new and delicious flavor profiles, I rely on getting those flavors from herbs, spices, and vinegars. They amplify taste and can add color and texture to a meal, all with less sodium.
Fresh herbs are great for garnishes and they provide bold flavor. They have great aromatic
qualities and work very well for roasting and sautéing or for chopping and mixing into foods,
such as mashed potatoes.
Experiment. Let your taste buds be your guide. Here are some of my tips:
1. Use fresh ingredients. Buy fresh herbs and store them in the fridge in a plastic bag with a slightly damp paper towel wrapped around the stems. Parsley, cilantro and basil stay nice and fresh using this technique.
2. Dried herbs are best when infused the oil or water to season the cooking liquid. Just crush the herbs with your fingers or sauté them a bit to wake them up. Crushing a bunch of them in a mortar and pestle also works very well.
3. Ginger, chilies and garlic are versatile ingredients that can easily be used fresh on a regular basis. Fresh grated ginger adds a spicy zing to a variety of dishes. It's widely used in Asian cuisines, and it's a popular flavoring for stir-fries. To use, first peel off the thin outer skin, then slice, mince or grate the ginger as called for by the recipe.
4. Don't be afraid to experiment with heat. Chili peppers are featured in many different cuisines with varying tastes and effects. Popular pepper varieties include banana, poblano, jalapeño, serrano and cayenne. Pepper hotness can vary widely within a variety. For most recipes, hot peppers need to have their seeds and ribs.
After a year of working in the test kitchen developing products for LYFE Kitchen, I've found a
tremendous amount of readily available, high-quality herbs and spices that I've relied on to create the distinct recipes used for our ready-to-eat meals. These are some of the primary spices that we like to use in our test kitchen:
As with all dried herbs, seeds and spices, they should be stored in a cool dark place for no more that six months to maintain their best qualities.
Dried Bay Leaves - Add them whole to soups and rice pilaf - an excellent aromatic, just don't
forget to pull them out before service
Peppercorns - choose whole and then grind it fresh when you need it. Experiment with white
and black. I like to use white when I want a little more heat and spice, a little goes a long way.
Cayenne pepper - just a small pinch will spice up and dish. a great way to jazz up a tomato sauce
without adding salt
Cinnamon - commonly used in sweet dishes, but I like to use in savory dishes. Great when used
when preparing curried vegetable.
Cloves - again, commonly used with sweet dishes, I like to use when making polenta, add rich
earthy flavor
Cumin - ground cumin adds a complex peppery flavor to many Southwestern style dishes - a
dominant flavor in our Chicken Chile Verde entrée.
Dry Mustard - is simply ground mustard seeds. Is excellent to spice up homemade salad
dressing. Just whisk a small amount into a few tablespoons of vinegar to dissolve and then wisk
in good quality oil. A simple way to spice up a salad with out relying on additional salt.
Nutmeg - best to choose whole nutmegs and grate it fresh when needed for maximum flavor
Dried Oregano - this is a great staple dried herb that is commonly used with tomato sauce, but I
like to add to steamed or sautéed vegetables for a delicious earthy/herb flavor.
Smoked and Sweet Paprika - Paprika is made by grinding dry, sweet red pepper pods into a fine
powder. The flavor can range for mild to hot and the pods are also commonly smoked prior to
grinding. They can be used in many savory dishes such as braised chicken with mushrooms. It is
also a common garnish sprinkled on Hummus.
Here is an easy to prepare recipe for a versatile sauce that can be used with many dishes such as roasted or grilled vegetables, poached salmon or even scrambled eggs whites.
Yogurt Dill Sauce - approx. 2 Cups
2 cups - Plain Greek Yogurt
2 Tbl - Fresh Dill, chopped fine
EAT GOOD | FEEL GOOD | DO GOOD
1 Tsp -Fresh Garlic, minced fine
Pinch - Ground White Pepper
Place yogurt in small mixing bowl and then add the remaining ingredients. Using a wire whisk,
thoroughly blend together. Adjust consistency as needed with a few drops of water. Adjust seasoning to
taste.
Serve with grilled or roasted vegetable, poached or smoked salmon. Delicious with sliced tomatoes and scrambled eggs whites.
Be Creative and Happy Cooking!