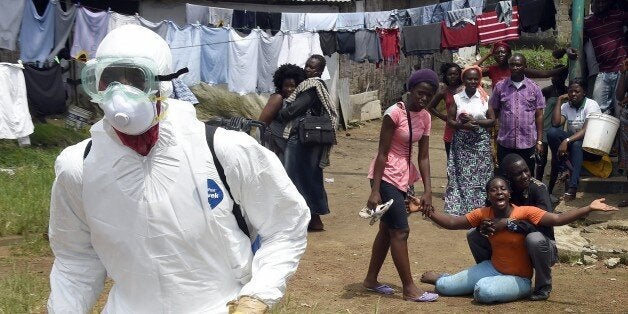 To be at the United Nations on Sept. 25, for the Secretary-General's High-Level meeting on the Response to the Ebola Virus Disease Outbreak, was to experience a range of emotions. Horror at the scale and nature of the disease; sympathy with those who are having to cope with it - to handle, as President Johnson Sirleaf of Liberia, said "the fear and anger when we are told that we must back away from a bleeding and vomiting mother or child; that our dead, loved ones must be taken away by strangers." Relief, certainly, as representatives of nations from Cuba to Timor-Leste lined up to offer help in the form of personnel, money, or supplies. But also a deep sense of outrage, that in the face of mounting evidence for months that the Ebola outbreak was an emergency of the first order, it had taken so long for a coordinated international response to take shape. I'll admit to a personal interest in the Ebola outbreak. I've been to Liberia three times in the past few years, and have seen all the signs of a society slowly pulling itself up from almost unimaginable misery after years of civil war. I've watched Liberians use smart outside aid and combine it with their own generosity and ingenuity to save lives. I've met former child soldiers -- of both sexes -- who are running an agricultural training scheme, and HIV-positive mothers now on life-saving anti-retroviral drugs, who glow with the joy of having given birth to healthy, HIV-negative babies. I know Redemption and John F. Kennedy hospitals in Monrovia, places whose dedicated staff have been struggling for months with a disease whose scale and virulence has stretched their capacity beyond any imaginable limit. I find it unbearably sad to think that after all that Liberians have gone through, Ebola might set them back years. And not just Liberians, either. "We were rebuilding our infrastructure, increasing our growth rates, enhancing our peace and strengthening our democracy," lamented President Ernest Bai Koroma of Sierra Leone at the U.N. special session. And then came Ebola. So what has to be done if west Africa is not to slip back, if leaders like Koroma and Johnson Sirleaf -- and countless of their citizens -- are not to see all their hopes for a democratic transformation dashed? Two things. First, we need to ensure that the pathetic response of the international community to the outbreak this spring and summer, with everyone standing around politely going "After you!" "No, after you!" as if they had just stepped out of an episode of Downton Abbey, is never repeated. Even now, after weeks of pledges, there is still a need to ensure that supplies and skilled personnel reach the areas most affected with greater urgency. President Obama -- visibly angry, I thought -- was right when he told the U.N. special session: "Do not stand by, thinking that somehow, because of what we've done, that it's taken care of. It's not." Koroma has called for a rapid global response infrastructure to be established so that when transnational emergencies like this happen again (and they will) it is clear what is supposed to happen and who is meant to be in charge. Second -- and this can't be said too loud or too long -- investment in public health is essential. Not just for the obvious reason -- it saves lives -- but because sound public health systems are a foundational good: they provide the essential undergirding for the prospect of a better future, for happy families, for economic growth. But poor, post-conflict states cannot provide all the investment to secure those outcomes themselves. That is why outside assistance on public health continues to be so vital. In the development business, we like to say that there is no silver bullet that delivers more prosperous and healthy societies, and that is correct: education matters, and access to energy, and good nutrition, and peace and security. But making sure that children don't die from drinking dirty water; that diseases that have vanished from the rich world don't claim equally valuable lives in the poor one; that Liberians don't have to back away from a bleeding and vomiting mother or child - there is not much in life that is more important than that. The real tragedy of this achingly sad tale is that it has taken Ebola to remind us of that fundamental truth.
This post is part of a special series produced by The Huffington Post in recognition of the threats posed by Ebola, particularly to West Africa. To see all the posts in the series, read here.
Calling all HuffPost superfans!
Sign up for membership to become a founding member and help shape HuffPost's next chapter