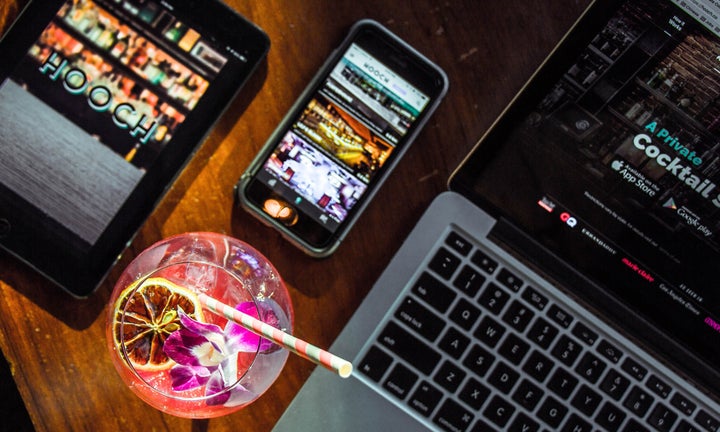 Paramount Pictures, Hooch App Partner for a Suburbicon Surprise
When two organizations that are top in their genre connect in an organic way, the results can not only be astounding, but brilliant. Thus is the case when a Paramount employee recommended the hot and trending Hooch mobile app to a Paramount executive. At that linear moment a star was born and because both of these organizations pride themselves in being different a celestial miracle was made.
Hooch has become the top name when it comes to drink apps and they deserve the credit for creating a members only app that is designed around appealing to young professionals and most of all, "quality." Selected in 2015 by Time Out as one of the top five drinking apps in NYC, it has risen to become the preferred drink app in the U.S.
The Hooch app fuses an enticement to get a more personalized view of the type of drinks that an individual wants with the over five hundred carefully selected bars and hospitality groups around the country whose criteria includes the ability to create impeccable cocktails. Hooch combines the attitude of private membership that occurred during prohibition; a time when only a few could have access to a drink and a password was required to enter with today's technology.
Lin Dai, CEO of New York based Hooch describes the attitude of their app best:
"Hooch offers a real-life experience driven by the digital experience."
Dai continued to explain that most apps are virtual and they aren't very personal. The goal of Hooch is to get people intrigued, draw them into the real world and offer an incentive to try new things. The app is $9.99 per month, but there is a nice twist. Each day that you make use of the app, you get one drink free.
Members may be drawn by the initial concept of the free drink but once they begin making use of the features that are customized for the unique taste of the member, it quickly becomes a love affair with the app itself.
Sometimes the stars just align
While Hooch has an incredible marketing department, their innovation in the corporate world is driven by Steve Isaacson, Director of Business Development. He was quite pleased when Paramount reached out to talk to him about their app, and this is where the story gets really interesting. For something like this to happen it usually takes a lot of coordinated effort. This type of conversation can be a cascade of cat-and-mouse pursuit games.
As Steve and Paramount chatted about the features and trending popularity of the Hooch app they realized in an almost "lightbulb over the head moment" that there were grounds to work together. Paramount's executives explained that there was an incredible opportunity in their soon to be released movie, Suburbicon, starring Matt Damon, Julianne Moore, and Oscar Isaac; directed by George Clooney and written by the Coen Brothers, Clooney and Grant Heslov. The hysterical dark comedy set in the 1950s flips the era upside down, turning the perfect suburban environment so that the rug is pulled out from under you with unexpected and less-than-virtuous twists.
Isaacson and his team wanted to tap into that time period's palate, when specialized cocktails were part of everyday life but include the noir hints of the movie. In a moment of genius, they realized that they had the answer.
The martini was a trending drink during prohibition and it never lost its flair. While it does reflect a certain level of class and style that can be associated with such images as James Bond, it has maintained its integrity throughout the years. It was with this drink that Steve and his team brainstormed. Instead of the traditional martini with an olive, they were going to add a touch of "red" with a cherry to represent the darker yet tasty side of the film.
It didn't take a lot of conversation with Paramount for everyone to recognize the completely out-of-the-box appeal of the new drink and the partnership between Paramount and Hooch was born. Very few times in life do we see the creation of something that feels so perfectly right and occurs like it was meant to be.
Hooch makes it distinctly yours
One of the things that the Hooch brand takes great pride in is their ability to transform their mobile app into a completely personal experience. Through the use of analytics, they will hone down your preferences based on your drinks of choice and introduce you to new and exciting options to pique your interest. Hooch is designed to entice your inner explorer and give you the opportunity to launch your own style. Hooch is an app that becomes distinctly and totally yours, and they emphasize this attitude by offering members the ability to rate both a drink and environment, as well as give feedback. Everything they do complements their brand vision and to launch the new Suburbicon Martini they worked with Paramount so that each Hooch member will be offered a chance to taste the new creation.
The company has attracted celebrity investors Shaun White, Russell Simmons, Tyson Ritter, and Maxwell along with newcomer Rosario Dawson, and star chef Rocco Dispirito. How did the company land so many enthusiastic celebrity investors? Lin Dai explained that drinking is inherently a social behavior; in the digital age where humans are increasing isolated by technology that caters to convenience we crave real, in-person connections more than ever. He only works with investors who are as passionate about the mission of connecting people as he is, and celebrities are some of the most passionate people who can identify with that vision.
The movie, the drink, the party
Marketing is an incredible journey to bring forward a fusion of visual and audio to introduce the consumer to something that they will want. In the case of this unusual marketing step, it also included the concept of deliciously devilish taste.
With the movie Suburbicon scheduled to open in theatres October 27, 2017, Paramount and Hooch have coordinated the launch of the Suburbicon Martini for free via their app in the over five hundred bars across the country beginning October 16th, running through the movie grand opening and ending Oct. 29th.
This tantalizing taste will be complemented on October 24, 2017 for the movie screening. On this day there will be two gala party events planned for member attendance in both New York and Los Angeles where Suburbicon Martinis will be free flowing thanks to their Hooch host.
If you want to take advantage of this rare moment in time, download the Hooch app and be sure to set your schedule to see the Suburbicon movie.
Popular in the Community