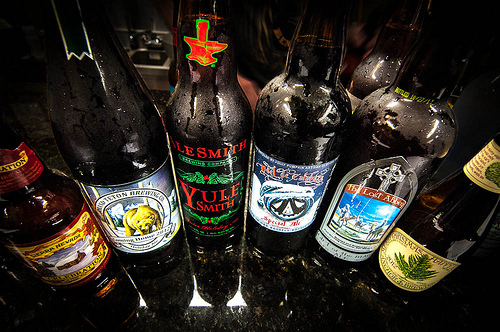 As the weather gets cold, the shelves start to fill with this season's winter beer selections. But what exactly is winter beer? Since there is no official winter style of beer, I sought out some opinions from the craft beer industry.
"A Winter Beer should be strong to warm the soul from the cold outside and be spiced to help celebrate the season." - Brenden Dobel, Head Brewer, Thirsty Bear Brewing
"A beer that gives you that little extra push during the cold winter months. It should warm you up and keep life a little spicier than usual with a strong malt backbone and high octane influence." - Mark Goodwin, Brewer, McMenamins Old Church & Pub
"A good winter warmer should smell like winter. Like snow, spice, and booze. There's something so seasonally evocative about a winter warmer. It's the Instant Beer Drink of Winter. It's the beverage of slow down, savor, and (perhaps ironically) chill." - Sean Lilly Wilson, Founder and Chief Executive Optimist, Fullsteam Brewery
The consensus is that a winter beer helps warm you in the colder months. Sometimes it is spiced, sometimes not, but it is usually much stronger in alcohol than average. Some breweries have a consistent recipes, while other change their recipes from year to year.
Although a winter beer can be of any style, most are strong, malty, boozy, and dark, sometimes including spices. Winter beers are usually dark brown or black. The aroma usually lacks hops and instead focuses on the malt or spices. If hops are present, they smell peppery and piney. Spice aroma range among ingredients such as gingerbread, spruce, or mulling spices. The malt aroma might express dried fruit, raisins, molasses, caramel, nuts, coffee, chocolate, or toffee. The flavor will tend to be sweet, malty, and, if it has any bitterness, it will usually be spicy. Some good examples include Anchor Christmas Ale (also known as Our Special Ale), Bison Brewery's Gingerbread Ale, The Bruery 12 Days of Christmas Series (including 2 Turtle Doves), Sierra Nevada Celebration, Anderson Valley Brewing Company Winter Solstice, and Deschutes Jubelale.
Despite the common attributes of winter beer, a few breweries ignore convention and make winter beers that are more like IPAs, loaded with hops. Good examples are AleSmith's YuleSmith (which is also the name of their summer seasonal beer) and Rogue's Yellow Snow.
Other breweries offer a winter beer made with winter fruits, such as Almanac Beer's Winter Wit, made with local oranges, or Fullsteam's First Frost, made with local persimmons.
Several Belgian breweries have seasonal beers that follow along a similar pattern: stronger, darker, and more spices, but that remain very Belgian. For instance, Brasserie d'Achouffe has a winter seasonal called N'Ice Chouffe made with thyme and curaçao with an ABV of 10%. On the other hand, Brasserie Dupont does not spice their much sought-after Avec les Bons Voeux, but it is a much stronger saison-like beer at 9.5% ABV.
What does history tell us about winter beer? In the 16th and 17th centuries, there were a couple varieties of hot mulled holiday beers: posset and lambswool. Posset was hot ale (or wine) made with milk, sugar, ginger, and other spices like nutmeg or candied anise. Lambswool was hot ale made with roasted apples, nutmeg, ginger, and honey. As hot ale became less popular, there was still a desire for stronger and sweeter beers for the winter months, like Bass No. 1, which in around 1909 was advertised as "THE winter drink." In 1975, Anchor Brewing first brewed one of the most influential US winter beers, called "Christmas Ale," which uses a different recipe every year, with a different tree featured on the label.
Winter beer is strong, seasonal, and most of all, traditional. The tradition may be historical and stylistic, or the tradition may be one created by the brewery. Whatever the case, some of the most interesting seasonal beers arrive in the winter, so warm up with a cold one!
Special thanks to The Jug Shop in San Francisco for letting me take a few photos during their busy Winter beer tasting.
David Jensen is based out of San Francisco and is the primary writer and photographer for Beer 47, a blog focused on craft beer, beer events, cooking with beer, and homebrewing. In addition to the blog, you can frequently find David on Twitter as @beer47, tweeting interesting news and sparking up conversations about craft beer while sipping his favorite Double IPA. By day David is a software engineer for a small Internet company.