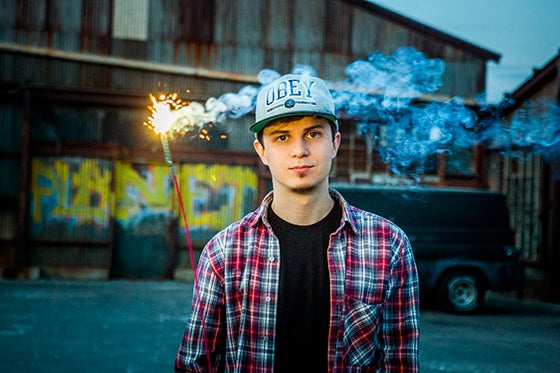 The Van's Warped Tour has always been a place to see a vast mixture of bands that represent the youthful exuberance in all of realms of rock music, from indie pop bands all the way to metalcore outfits, as well as established bands who brought the star power to the festival. As the years have gone by, not only has the Warped Tour grown, you have seen the bands grow too, for example with Hatebreed, who was on the bill in 1998 and now back here in 2017.
As much as the Warped Tour has been ahead of the curve within the ranks of rock music, the traveling festival has been a showcase for the left of center types from the hip-hop world. It was at the 1999 Warped Tour that we saw the beginning stages of who would become one of hip-hop's biggest stars in Eminem. Since then, hip-hop has had its niche at the Warped Tour. With performances from Jurassic 5, Machine Gun Kelly, G-Eazy, Yelawolf, Shwayze, Public Enemy, Talib Kweli, Atmosphere, N.E.R.D, MC Chris, T. Mills, Kool Keith, Esham, and D-12, among others, Warped shows that hip-hop has as much in common as any other genre of music that was bread from a youth culture that continues to grow.
This year, Warped Tour includes hip-hop acts Futuristic, Watsky, Sammy Adams, and Feeki, and here's a breakdown of who they are and where you might have heard them before.
Born in Illinois then moving to Arizona in his teens, the now North Hollywood-based Futuristic has had the itch for hip-hop stardom since he was a kid. As an independent artist, Futuristic holds his creative freedom dearly in the palms of his hands releasing his own music since his first album Dream Big in 2012 and would eventually hit the charts in 2015 with The Rise. Since then, his collaborative album Coast 2 Coast with Devvon Terrell and his latest album As Seen on the Internet continued to chart for the burgeoning rapper. Futuristic has been endlessly touring for the past three years and there looks to be no end in sight for him.
Haling from San Francisco and now based in Los Angeles, George Watsky is a writer/lyricist dipping around the hip-hop and poetry worlds. While Watsky was featured on Russell Simmons Presents Def Poetry, beforehand, George won the Youth Speaks Grand Slam Finals and the Brave New Voices National Poetry Slam. In 2007, under his rap name Watsky, he released an album with his band titled Invisible Inc, and would continue to release a slew of full-length album, mixtapes, live albums, and EPs since then, including 2016's x Infinity. Mixing a sense of humor with the serious, Watsky has become quite the popular entity in the world of alternative hip-hop.
In the post-MySpace world, music artists have to use the current platforms to make a name for themselves, and the Bostonian named Sammy Adams went from making music in his dorm room to racking up millions of listens on YouTube and even a RCA Records deal. Since then, Sammy Adams has parted way from RCA and rejoined 1st Round Records, the label he previously recorded a slew of singles and EPs with for the release of his debut full-length album The Long Way. For Sammy Adams, staying independent is the right road to be on for now.
For more information on Sammy Adams, follow him on Instagram at @sammyadams.
This guy is from Reno, rocks a mullet, and he raps. Only craziness can ensure when around Feeki, born Alex Ficco. With over 132,000 likes on Facebook, Feeki is becoming a force to reckon with and his dedication is helping him live out his dream of becoming a star. Reno is not exactly a hotbed for hip-hop, but Feeki is proof if you work hard enough, you can get known for your talents.
For more information on Feeki, follow him on Instagram at @yoitsfeeki.
The Van's Warped Tour starts on June 16th in Seattle, Washington and goes all summer until August 6th in Pomona, California. For all the dates, tickets, and line-up information, visit vanswarpedtour.com.
This post was published on the now-closed HuffPost Contributor platform. Contributors control their own work and posted freely to our site. If you need to flag this entry as abusive,
send us an email
.