Following Thursday's WNBA game between the New York Liberty and the Indiana Fever, players from both teams refused to answer questions related to basketball. Instead, they only wanted to talk about social issues outside of the sport.
Under league rules, the teams failed to comply with the uniform guidelines by wearing the shirts. As such, the WNBA handed each team a $5,000 fine and each player who took part in the protest a $500 fine.
Following the team's 82-70 loss to the Fever, members of the Liberty assembled behind forward Swin Cash and guard Tanisha Wright to respond to the fines. After Cash briefly addressed the day's game, Wright informed reporters that the team would only take follow-up questions concerning their recent protests. The message was clear: The players would not be silenced.
"We want to be able to use our platforms. We want to be able to use our voices. We don't want to let anybody silence us and what we want to talk about." Wright told reporters. "It's unfortunate that the WNBA has fined us and not supported its players."
Liberty center Tina Charles made a additional, albeit quieter statement directly after the game when she wore her warmup jersey inside out as she accepted the Player of the Month Award. Later, she tweeted, "I refuse to be silent."
Briann January, the player representative for the Indiana Fever, also spoke on behalf of her team on Thursday, saying it's upsetting that a league that is made up of predominately African-Americans won't side with players on an issue that directly affects African-Americans.
"What's most upsetting is the way it was handled," January said to ESPN. "You have a league that is 90 ― if not above 90 ― percent African-American and you have an issue that is directly affecting them and the people they know and you have a league that isn't willing to side with them."
Since the WNBA handed down fines to the three teams, other professional athletes have started to speak out in support of the players' protests, including the New York Knicks' Carmelo Anthony.
"I don't see no reason to fine them. If anything you should want to support them," Anthony told ESPN Thursday. "I don't know details, but don't see a reason to fine them."
The NBA did not fine any teams or players when many of them wore "I Can't Breathe" warmup shirts during the 2014-2015 season in protest of the death of Eric Garner.
Support HuffPost
The Stakes Have Never Been Higher
Related
Before You Go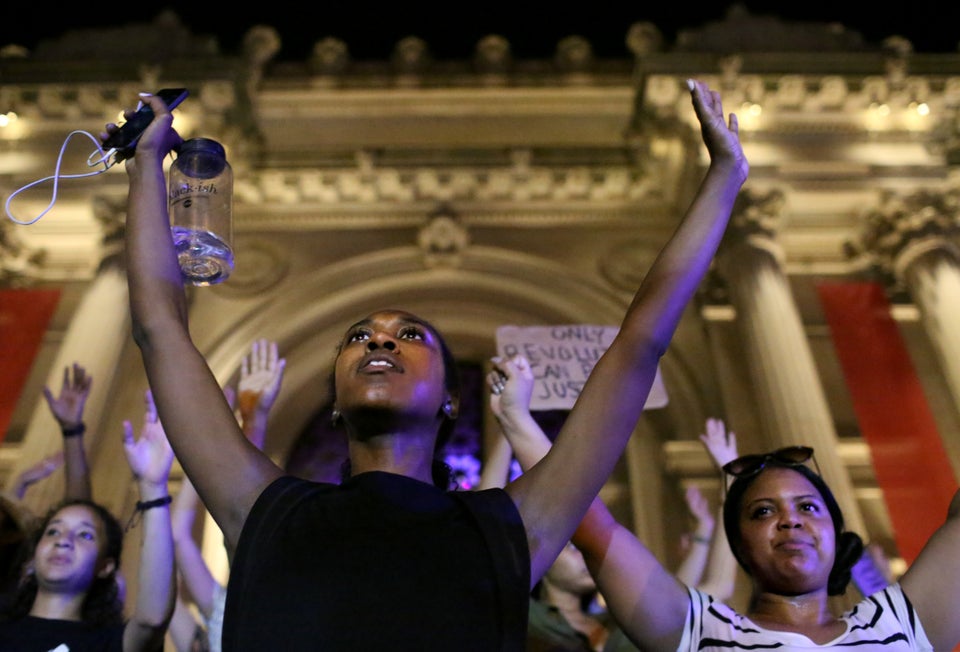 Peaceful Protests Over Alton Sterling and Philando Castile Shootings
Popular in the Community