ST. PAUL, Minn. ― Amid protests and national outrage over the brutal police slaying of Philando Castile, Minnesota Gov. Mark Dayton (D) said Thursday he believed racism played a major role in the killing.
"Would this have happened if ... the driver and those passengers in the car were white?" Dayton asked. "I don't think it would've."
A police officer shot Castile, 32, at point-blank range Wednesday during a traffic stop in the St. Paul suburb of Falcon Heights. Castile's girlfriend, Diamond Reynolds, recorded the aftermath in a graphic video she posted to Facebook. The video shows his final moments as she sits in the car next to him, with her young daughter in the back seat.
The Justice Department announced Wednesday it will monitor an ongoing state investigation into Castile's death. A DOJ spokesperson said the department is also prepared, if necessary, to conduct a separate investigation and consider the matter under federal law.
Thursday evening, protesters converged on the Minnesota governor's mansion, just miles from where Castile was killed, to demand justice for his death.
Devina Moore said she saw the video of Castile's death and thought of his mother. "I can't imagine getting that phone call," she told The Huffington Post, looking at her young son. "That's what brought me out."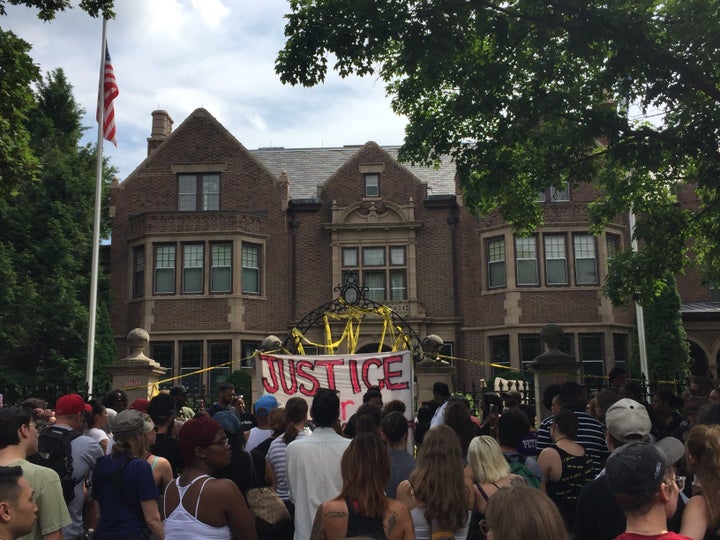 Black Lives Matter protesters also braved the rain in Seattle, held rallies in Chicago, Charlotte and Baton Rouge and shut down Times Square in New York City.
In Washington, D.C., more than 20 House Democrats, including Rep. John Lewis, joined a crowd of at least 300 gathered outside the Capitol to demand justice.
Reynolds said she and Castile had been pulled over "for a busted tail light." She said he let the police officer know he had a gun in the car as he was reaching for his driver's license, and the officer shot him four or five times "for no reason."
Reynolds accused the officers at the scene of not providing first aid to Castile after he was shot. They did attend to the officer who shot Castile, who was upset following the shooting, she said.
"They pulled him over to the side," she said. "And they began to calm him down and tell him that it was OK and that he was going to get through this ― as they put me in the back of the police car."
The news of Castile's death sparked outrage across a nation already reeling from a string of high-profile police killings of black men, the most recent of which occurred less than 48 hours before in Louisiana. Alton Sterling, 37, was shot dead by a police officer early Tuesday morning outside of a convenience store in Baton Rouge.
Politicians, celebrities and Americans of all stripes have reacted to the deaths with anger and sadness.
In remarks on Thursday, President Barack Obama called for a greater sense of urgency around police reform.
"We have seen tragedies like this too many times," Obama said. "All of us as Americans should be troubled by these shootings because these are not isolated incidents, they're symptomatic of a broader set of racial disparities that exist in our criminal justice system."
"There is no contradiction between us supporting law enforcement… and also saying that there are problems across our criminal justice system," he added. There are biases, some conscious, some unconscious, that have to be rooted out."
Philando's mother, Valerie, 60, told CNN Thursday her son knew to "comply" if he was instructed to do so by law enforcement, which makes his death at the hands of the police that much more difficult to comprehend.
"They took a very good person," she said. "Everybody that knows my son knows that he is a laid-back, quiet individual, that works hard every day, pays taxes ... that's it. He's not a gang-banger, he's not a thug, he's very respectable and I know he didn't antagonize that officer in any way."
"He worked an honest job five days a week," she said.
Castile, right, and mother Valerie, left.
That sentiment was echoed by St. Paul Public Schools, where Castile had worked in the nutrition services department since 2002. The school system issued a heartfelt statement Thursday, and described a kind man with a ready smile who will be deeply missed.
"Kids loved him. He was smart, over-qualified. He was quiet, respectful, and kind," said an unidentified coworker. "I knew him as warm and funny; he called me his 'wing man.' He wore a shirt and tie to his supervisor interview and said his goal was to one day 'sit on the other side of this table.'"
He'd been promoted to a supervisory role two years ago, the school district said.
St. Anthony interim police chief Jon Mangseth acknowledged during a Thursday press conference that the shooting had occurred, but offered few details. He confirmed that officers recovered a handgun from the scene, and that the officer responsible for the shooting has been placed on paid administrative leave pending an investigation.
Before You Go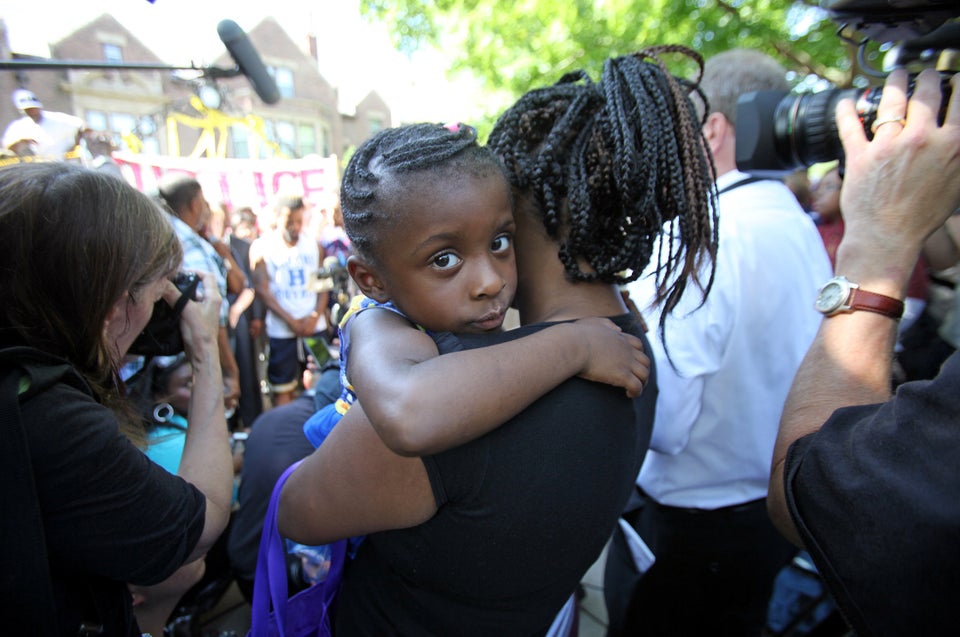 St. Paul Protesters Show Support For Philando Castile
Popular in the Community