Back in the 15th century when Hieronymus Bosch created "The Garden of Earthly Delights," he created one of the most dizzying, delightful and horrifying hot messes of all time. Just when you start to get comfy with the idea of an evil man-bird sitting atop a toilet throne and chomping on a pair of legs, British artist Wolfe von Lenkiewicz comes in and adds the cast of Pokemon to the strange dinner party.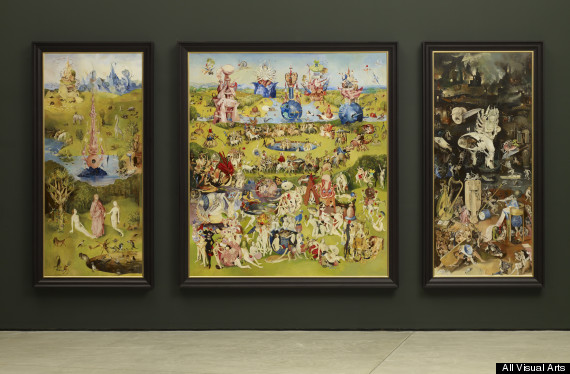 Bosch's iconic oil on oak triptych depicts first the Garden of Eden, then the salacious mingling of the sacred and profane, and finally the punishment for the sinful urges, a glimpse into the depths of hell. Yet a verbal description does virtually nothing to communicate the bizarre sensation of the ancient visual overload, an overripe orgy of engorged fruits, entwined limbs and hybrid beasts.
As art historian Erwin Panofsky wrote, "In spite of all the ingenious, erudite and in part extremely useful research... I cannot help feeling that the real secret of his magnificent nightmares and daydreams has still to be disclosed." The category jamming and surreal meanderings continue to puzzle historians to this day. Hundreds of years later the piece makes itself impossible to decode or understand, making it a sensory delight in itself.
At first glance, Lenkiewicz's garden appears to be an imitation of the original. Yet as you look closer, uninvited images from mythology, history and pop culture swarm the scene. An image infestation inaugurates a mass democratization of images, where Pikachu is as holy as the Hindu Goddess Kali. Art history is not exempt from Lenkiewicz's jumbled encyclopedia of images. While artists like Salvador Dali, Joan Miro and Francis Bacon were all inspired by Bosch's surreal playground, Lenkiewicz reincorporates their Bosch interpretations back into his own Bosch adaptation. Lenkiewicz inaugurates a lawless plain where any image, no matter how religious, low-brow or illicit is fair game. We reckon it to a visual Reddit.
Lenkiewicz mirrors the style of Renaissance old masters, with a devoted craftsmanship that makes every jeweled speck of paint precious, almost sacred. Using crystal clear poppy oil and "the finest of pigments," according to the gallery Lenkiewicz treats every speck of his canvas and inspiration with the utmost fascination and respect, in turn folding his artistic labor into the piece's message. Lenkiewicz's technical skills are dangerous when mixed taste for anarchy, creating absurd and obscene visions so convincing you could swear they were ripped from a history book.
The artist slash rogue historian has long explored his fascination with religion, history, mythology, and science— he previously used Darwin as a model to create a disturbing re-ordering of species. But we are particularly enamored with his new entanglement with Bosch, who already was a strange fruit. We can't help feeling like Bosch and Lenkiewicz are a match made in heaven... or hell.
Wolfe von Lenkiewicz's 'Hieronymous Bosch' will show from September 7 until October 4, 2012 at All Visual Arts in London.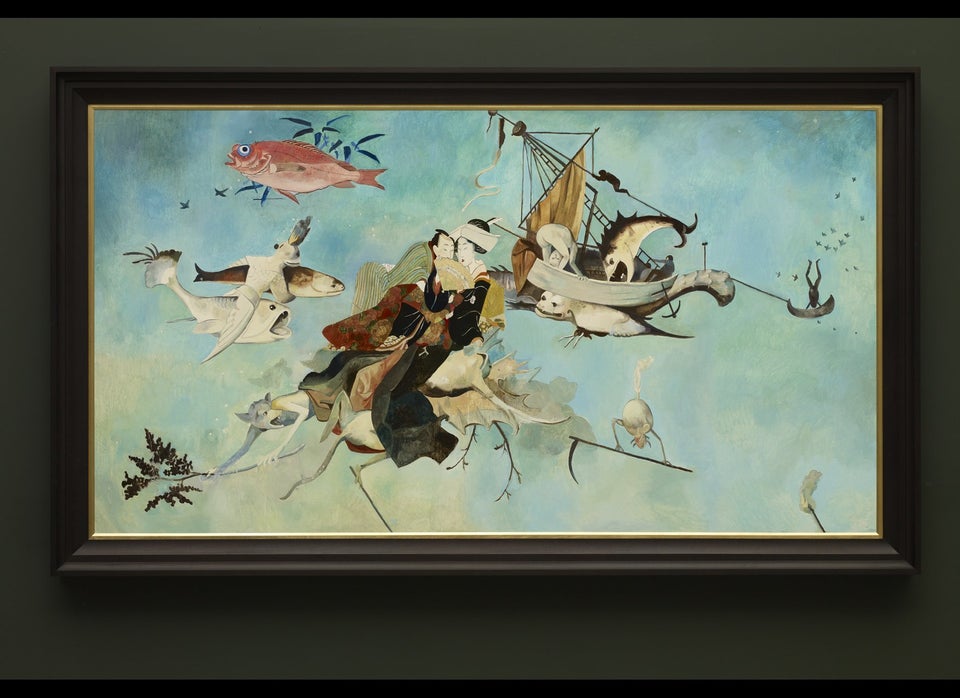 Wolfe von Lenkiewicz: Hieronymous Bosch
Popular in the Community