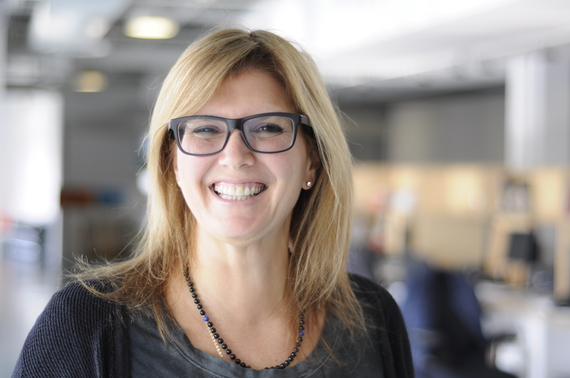 Kristi Bridges is a speaker, consultant, strategist and storyteller with a passion for consumers. As President and Chief Creative Officer at The Sawtooth Group, she has worked for over 20 years to create innovative, relevant strategies to bring brands and their consumers closer together.
She has a deep understanding of food trends, families and the healthy food space. Her experience marketing brands like McCormick, Beechnut, Hershey, Skippy and Blue Buffalo have given her powerful insights into the changing family dynamic and how important a role food (and pet food, too) plays.
Kristi came to Sawtooth in 1997 after a career at DDB Needham, where she worked on Volkswagen, Amtrak, Hershey, Bermuda Tourism and Clairol. She sits on the board of directors of two community driven non-profits, The Dwelling Place of New York and Lunch Break in Red Bank, New Jersey. She recently launched a women's mentoring program at Lunch Break to inspire women to set and reach goals. She's inspired the people who work at Sawtooth to care as well, as they handle all communications for both organizations, pro bono.
How has your life experience made you the leader you are today?
I had a very interesting childhood. My parents always struggled and never quite seemed in control of our finances. There was constant worry over bills getting paid and utilities getting shut off. Those kinds of things motivated me to want to be proactive in getting control of my life and my career.
I made a decision to be a copywriter when I was 11 and was inspired by my first creative director Carol Anne Fine.
I started working at an advertising agency as a secretary in the creative department when I was 16 and never left. I learned every aspect of the business. I was lucky to have great mentors over and over early in my career. They really made me believe that I could do anything. And I was determined to pass that on to others.
How has your previous employment experience aided your tenure at The Sawtooth Group?
I was lucky to start my career at Doyle Dane Bernbach (one of the most famous Mad Men agencies in New York) for some pretty brilliant, but tough creative directors. They gave me very thick skin. So I'm pretty tenacious. And they taught me to be relentless in the quest for great ideas.
I also learned an incredible lesson that I try to pass on as often as possible. When you are feeling incredibly frustrated and are just about to give up, don't. That really just means you are about to have a breakthrough idea.
What have the highlights and challenges been during your tenure at The Sawtooth Group?
I was given great opportunities at Sawtooth from day one because it was a small agency. That was exciting, but also challenging because sometimes I had to jump right into the fire. And when I first became Creative Director, I often felt like I was in a little over my head.
Creating our new brand-building tool I-Factor is absolutely one of my greatest accomplishments at Sawtooth and in my career. We knew that brands were struggling to tell their stories in a way that made sense to consumers in the complex media landscape. Being irresistible requires a deeper and different kind of understanding than traditional research was able to provide.
I-Factor gives us a deep understanding of a consumer's relationship with a brand and not only lets us help brands figure out what to say, but where to say it.
What advice can you offer to women who want a career in your industry?
Own your power. You can be tough and also tap into your intuition. You don't have to choose one or the other. But get used to being called a bitch behind your back and sometimes to your face. When men make tough decisions, they are smart and ruthless businessmen. When women make them, they are bitches. That is something that I hope to see change.
What is the most important lesson you've learned in your career to date?
Never Ever Give Up.
How do you maintain a work/life balance?
I'm not sure I actually do right now. This business is hard and you've got to be thinking about it a lot of the time. But luckily I love it, so it doesn't feel like work.
What do you think is the biggest issue for women in the workplace?
It's still hard to be tough as a woman. Men definitely don't love it and sadly, a lot of women don't either. But I think it is changing...very very slowly. Its hard to get comfortable being tough and making decisions that seem cold.
Another issue is work life balance. This industry is pretty tough on moms. We have to get to a place where we are more supportive and understanding of their needs. Agencies must learn that millennial expect understanding, support and flexibility.
How has mentorship made a difference in your professional and personal life?
Mentorship has changed my life completely. I have many mentors, some I know personally, and others I follow by attending seminars or reading their books. All have influenced me, helped me to believe in myself and kept me going when I wanted to give up.
I am actually a certified results coach, and a mentor to a lot of people inside and outside of the agency world. I started a mentorship program for adult women (the most ignored in my opinion) in need at a local community organization, called Lunch Break. They feed thousands of people a month, and provide people in the community the resources to get back on their feet. Not only is this incredibly rewarding, it keeps me grounded in what's really important and is a constant reminder of how lucky I am.
Which other female leaders do you admire and why? Sheryl Sandberg of Facebook and Christine Day, CEO of Luvo, are two of my favorites, partly because they are fearless. I love that Christine started a brand in a very tough, competitive category because she believed so deeply that consumers needed it. I am also currently in love with this writer/success coach that I recently discovered, Jen Sincero. She's awesome and her book, You are a Badass, is an absolute must read.
What do you want The Sawtooth Group to accomplish in the next year?
I'm a real foodie and I love to eat and cook. I think we as marketers have a responsibility to inspire and help consumers understand the food choices they have so that they can make informed decisions, and become more health conscious. I want Sawtooth to work with more brands that believe in that. So we're spending a lot of time and resources doing outreach to the companies I admire most.
I also want Sawtooth to be known as the ad agency that changed how marketers talk to consumers. So to that end, we're really trying to get the word out on I-Factor. It's a game changer and brands need to know about it.
REAL LIFE. REAL NEWS. REAL VOICES.
Help us tell more of the stories that matter from voices that too often remain unheard.