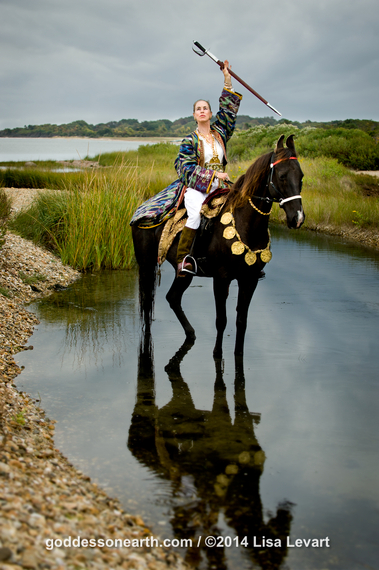 My personal relationship with power is fraught with anxiety, self-doubt and fear of conflict. As a woman, I doubt I am alone in this, yet as I struggle with this confounding reality, I wonder what my ideal relationship to power should be?
As an artist with ancient mythology embedded in my DNA, I have examined this issue before. I have photographed prominent feminist leaders such as Gloria Feldt, (who portrayed the strong-willed Lilith, Adam's first wife), and Starhawk (who portrayed Maeve, the Celtic Goddess of Sovereignty). Both women advocate re-envisioning women's connection to power.
Other ancient myths reflect our contemporary relationships to power as well. Durga is a fearless Hindu Goddess who symbolizes power in all its forms. Durga -- whose name means "invincible" -- is a ferocious protectress against injustice and all human suffering. Traditionally she is depicted astride a tiger or lion: symbols of her unlimited power. Often illustrated with eight arms, her capacity for action speaks for itself. Durga also has three eyes: her left eye represents the desire to act, her central eye the capacity to follow through with one's desires, and her right eye, action itself.
DURGA'S LEFT EYE REPRESENTS A STRONG FEELING OF WANTING, OR THE DESIRE TO ACT.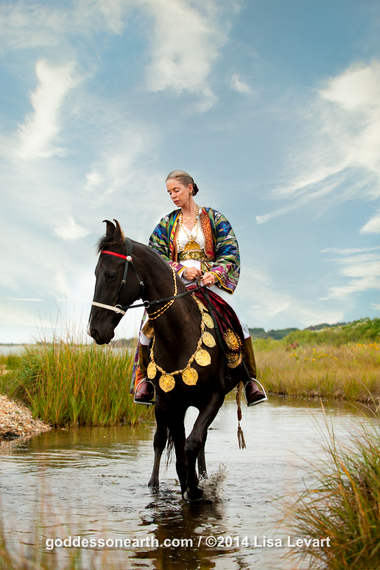 I was introduced to Francesca Kelly this past summer on Martha's Vineyard, and returned to photograph her several weeks later. Francesca is a pioneer rescuer of the Marwari, a rare and indigenous Indian horse breed. After a twenty year battle with the Indian Government to lift the export ban of the Marwari, Francesca and her partner Raghuvendra Singh Dundlod have helped resurrect this threatened breed.
DURGA'S CENTER EYE REPRESENTS THE CAPACITY TO FOLLOW THROUGH WITH ONE'S DESIRES.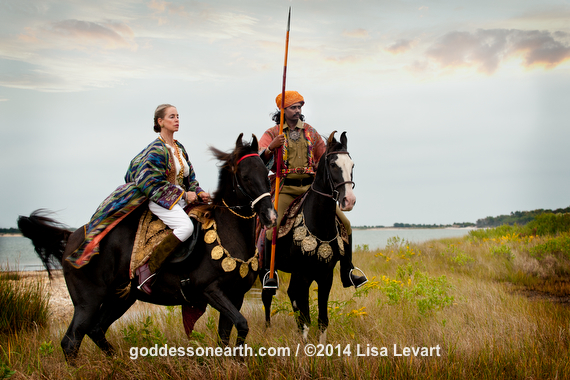 Francesca quickly identified with Sherawali, the warrior incarnation of Durga, and chose to portray her for the Goddess on Earth series. Surrounded by marshes on Chappaquidick Island, we created a commanding image of Sherawali. To accompany her portrait, Francesca wrote:
"It has been my privilege to be a key protagonist in the renaissance of the Marwari. The confidence to actualize ideals, to remain unimpeachable, to incorporate if you will, at the best of times, the qualities of Sherawali, is a battle and sacrifice all must experience."
DURGA'S THIRD EYE IS ACTION ITSELF.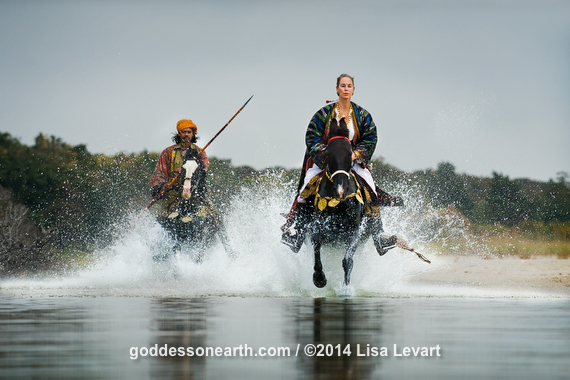 Francesca's embodiment of Sherawali in the photographs we created portray the symbolic trinity of Durga's spiritual stages of power.
Far from being archaic, ancient symbolism continues to influence the necessary re-envisioning of feminine power. Durga demonstrates how modern women can use power in its multiple, generous forms as the manifestation of reflection, intent, and capability. Sherawali and Francesca are role models for contemporary women warriors (my conflicted self included) who are looking to add layers of empowerment to their lives. With mythical and ancient symbolism to guide me, I will continue to nurture my passions, practice and embrace tools for empowerment, and take action to achieve my desires.
(Francesca Kelly is seen with Sushil Kumar, a horse trainer and tent-pegger from Dundlod, India.)
Calling all HuffPost superfans!
Sign up for membership to become a founding member and help shape HuffPost's next chapter