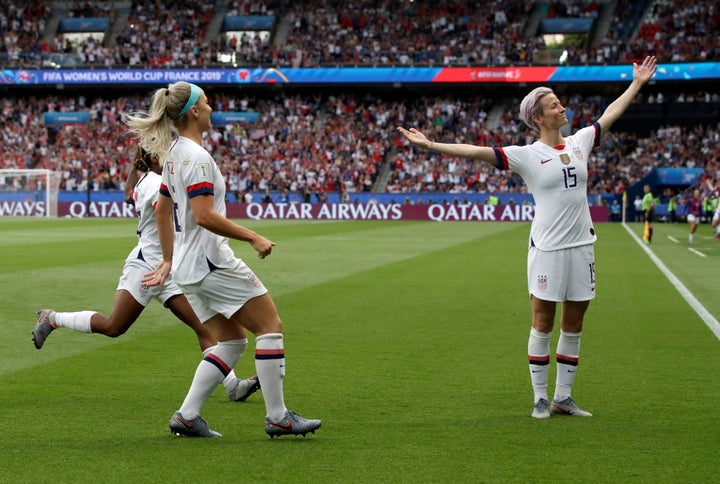 WASHINGTON ― As the U.S. women's national soccer team heads to the FIFA Women's World Cup final on Sunday, with a shot at winning the entire tournament for the fourth time, dozens of members of Congress are demanding answers from the U.S. Soccer Federation on why it is still paying female players so much less than male players.
"The USWNT is the most successful team in women's soccer history, winning World Cup titles in 1991, 1999 and 2015; winning four Olympic gold medals; and holding the No. 1 ranking entering the 2019 FIFA Women's World Cup," reads a Wednesday letter to U.S. Soccer President Carlos Cordeiro. "However, despite doing the same job as the U.S. Men's National Team, USWNT players are receiving inferior wages, working conditions, and investment from U.S. Soccer."
More than 50 lawmakers signed the letter, led by Rep. Jackie Speier (D-Calif.) and other leaders of the House Democratic Women's Caucus. They have lots of questions for Cordeiro, including how he plans to address institutionalized gender discrimination within U.S. Soccer and a request for details on what the organization is doing to market and promote the U.S. women's team.
Here's a copy of the letter:
Female soccer players' base salary is roughly $30,000 less than their male counterparts at U.S. Soccer. They also earn a much smaller bonus in the World Cup ($15,000) than male players do ($55,000). And here's a stark comparison: U.S. Soccer awarded the men's team a $5.4 million bonus after it lost in the round of 16 at the 2014 World Cup. It awarded the women's team $1.7 million when it won the entire 2015 tournament.
"What more will it take for our players to receive the recognition and compensation they deserve?" asked Rep. Kathy Castor (D-Fla.), who wrote her own letter to Cordeiro this week in addition to signing Speier's letter.
Castor is a co-chair of the Congressional Soccer Caucus and has previously urged U.S. Soccer to press FIFA for more investments in girls' and women's soccer globally.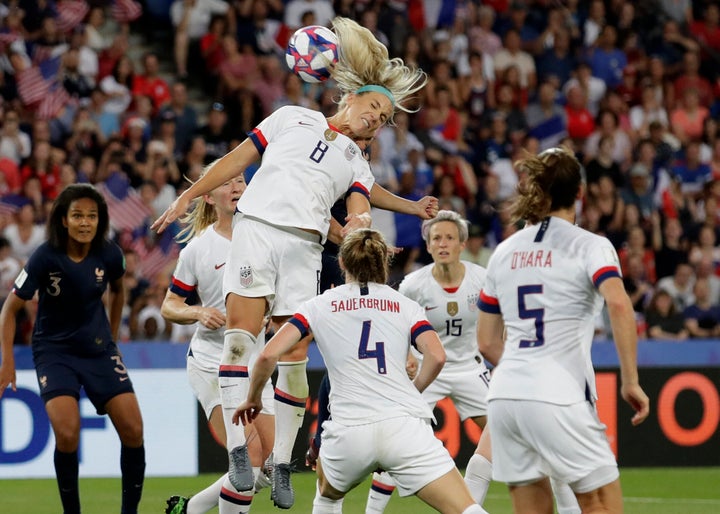 Senate Minority Leader Chuck Schumer (D-N.Y.) has also been publicly calling out U.S. Soccer for unequal pay.
"Discrimination staring us all in the face," Schumer said on the Senate floor last month. "These women, who inspire our country with their poise, tenacity, skill and excellence every time they take the field deserve to be fairly compensated."
A U.S. Soccer spokesperson did not respond to a request for comment.
U.S. Soccer has used several arguments to defend its pay structure, like the fact that FIFA offers more prize money for men's competitions than for women's, which is true and mostly outside U.S. Soccer's control. But there are factors within U.S. Soccer's control: The revenues are there. It's sitting on a budget surplus of $150 million. It could use at least some of that to pay female players more and grow the business. It is choosing not to.
The U.S. women's team has been fighting for equal pay and more investment for years. In 2016, five prominent members of the team filed a complaint with the Equal Employment Opportunity Commission alleging that U.S. Soccer was paying them considerably less due to sexism. They signed a new collective bargaining agreement in 2017 that got them some additional pay but still didn't put them on par with the men.
So in March 2019, on International Women's Day, 28 members of the team filed a lawsuit accusing U.S. Soccer of "institutionalized gender discrimination," a violation of both the Equal Pay Act and the Civil Rights Act.
Both sides have tentatively agreed to begin the mediation process after the Women's World Cup ends, per The Wall Street Journal.
Support HuffPost
The Stakes Have Never Been Higher
Popular in the Community