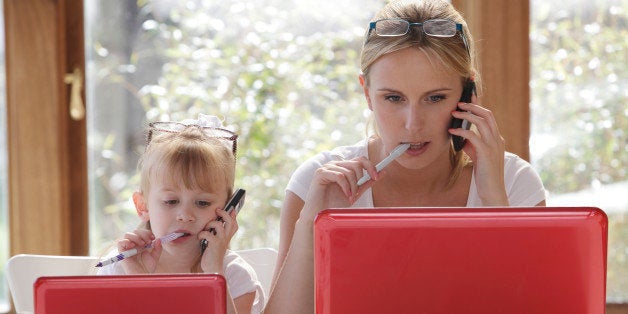 Just when you thought being a man couldn't get any better comes a new study from the business schools at Yale, University of Texas-Austin and Harvard that will give women around the country a reason for penis envy. The study finds that men are requesting and taking more flextime than women!

Flextime was invented by, for and because of women. We are still the only gender that can have babies, and flexing our way back from maternity leave is one of the great solutions to help women stay in the workforce. We do most of the pick up and drop off from child care, so flexing our work start and stop times is remarkably helpful. Co-parenting is still a goal but not a reality in the majority of American households, so working from home one day a week gives moms one less commute per week -- and thus, more time for everything else. And taking time off for a school play or orthodontist appointment is just another prized piece of the flex puzzle. Flexing our careers to meet the nonlinear line of women's lives will be the ultimate solution for work life integration.
The need for flex among working mothers is exceedingly strong, but the study, cited in a USA TODAY article, found that flex is more likely to be granted to men in both high-status and low-status jobs than to women at their same levels. Researcher Victoria Brescoll reports she was taken aback by how frequently executive women in the survey were stonewalled on flextime requests.

We are in the middle of a Work Flexibility Revolution. On one hand, the Working Mother 100 Best Companies stand tall as champions of family-friendly policies anchored in flexible work arrangements. Companies like IBM, General Mills, Deloitte and Lego are devoted to understanding and implementing solutions to support working moms and dads so they can achieve success in their careers while building a strong family at home.
And then there are companies who have their backs up about the flex issue and instead practice what I call "flexism."

I believe we have reached the point of no return on flex. Being a mom who thrives on career advancement is the new normal. Working moms are now, according to the Pew Report, 40 percent of all breadwinners. Working mothers are neither expendable nor optional; we are intrinsic to our nation's business success.

Enlightened companies that are running towards flex, not away from it, are going to win. As an advocate who has fought for flex for all employees no matter what level, job type, reason or gender, I hope this study causes executives and managers, CEOs and HR professionals to re-examine how flex is requested and granted at their companies.
Flex has long been an accepted benefit for men; they just didn't call it that. Take the flex master himself, Mad Men's Don Draper. In that bygone era, he runs an ad agency and flexes his schedule to make time for his multiple affairs (never his family!). He never asks for flextime; he just takes it, handing his hat to his assistant as he strolls in to work. As it pertains to gender, this new study finds that maybe this era of flex for men isn't so bygone. If men at the top are flexing for soccer games while working mothers are held to a 9-to-5 regime, is that really what we want in 2013?
Calling all HuffPost superfans!
Sign up for membership to become a founding member and help shape HuffPost's next chapter