Whether it's 5 o'clock somewhere, or you're looking to de-stress and let your hair down, these are the best apps to help you plan and execute fun and possibly wild, spontaneous outings.
There's always something to celebrate! Use the YPlan app to find a curated list of events that are happening in town. The events can range from beer tours, to VIP table service at the hottest night clubs, to exclusive plays. The app boasts that it's "tonight's going out app," so why not give it a try?
Tableist is a new app that facilitates instant access to the most exclusive nightclubs and lounges. You can get table service, pay for everything in advance, split the bill with friends, and earn a 24/7 personal concierge service. Use the app to book your table and plan a better night out.
This app is essential to finding the best bars in London. BarChick helps you find the closest bar to you and all of the important information you'd need to know about the bar: when it's open, when it's closed, and drink recommendations. Oh, and did we mention that it features deals and discounts? If you want to follow a budget but still have a night of debauchery, this is the app for you.
Citymapper is no average travel app service. Not only does it provide directions and possible travel routes, but it also tells you the amount of time your transit would take, how many calories you would burn in the process, a time and price estimate for the cab fare, quiet routes, fast routes - everything. It's proven to be accurate to the T, blowing apps like Google Maps and HopStop out of the water. Use Citymapper to find the best bike route to your local Comedy Club, or even plan a trip to ride along a bridge or river.
Are you and your coworkers into quirky activities, or just looking to find people who are into the same things you are? Check out Meetup, the world's largest network of local groups. Through Meetup, you can organize a local group or find one of the thousands already meeting up face-to-face. There's a group for just about anything you could think of, and if there isn't, then start one! It's a great way to get out and meet new people, and it could be a nice change of pace from the boring office routine.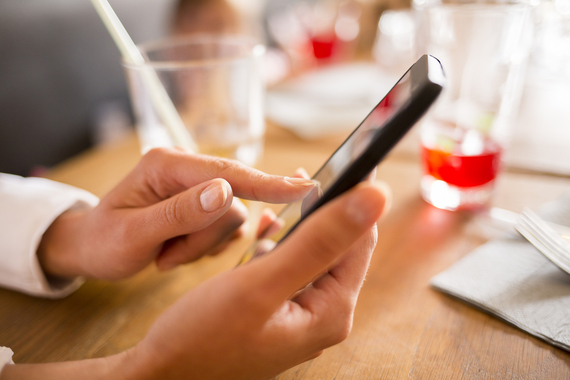 Ever spend a ton of time hiking to a popular bar, just to learn that the crowd or environment is totally not your group's scene? Then check out Scenetap, an app that let's you checkout the scene in real-time. To determine basic demographic information, age and gender, SceneTap uses anonymous facial detection technology (not to be confused with facial recognition technology) placed inside network places. With the tap of a button, view information on how many people are at a place, the male to female ratio, and the average age of everyone at the bar!
Being able to search for a venue to go based on personalized filters seems too good to be true - but the Urbandaddy app helps you do just that. You can use Urbandaddy to receive specialized recommendations to bars, restaurants, or any destination that would be most suitable for the filters you input. Looking for a place with a mechanical bull? You can filter for that. Looking for a place for a group of girls to celebrate with specialty cocktails? You can filter for that. Use the Urbandaddy app to help find yourself the perfect place for your spontaneous outing.
Sometimes you might want to bring the party to the office instead of finding a venue to accommodate your party. Boppl is an app you can use to order food and drinks from nearby locations. From booze to finger foods, with Boppl, you don't even need to leave your seat to plan an entire night of spontaneity.
After a long, hard day of work, you and your co-workers deserve a drink, and you shouldn't have to wait in line for it. With the Bar Pass app, you can pre-order and pre-pay for the food and drinks that you want, from wherever you are, and they will be ready for you once you get to the bar counter. Avoid being in crowded areas or giving up your seat at a comfortable booth by using the Bar Pass app.
The Howl app is one of the most underrated ways to get all of your friends or co-workers together for a night out. With just one tap, you can send out a Howl and let a whole pack of your friends know where the party is. The ultimate tool for a spontaneous outing, surprise your co-workers by saving them a table at a bar and sending them a Howl!
Use these apps to ensure that, while you're working hard, you're playing harder.
Calling all HuffPost superfans!
Sign up for membership to become a founding member and help shape HuffPost's next chapter