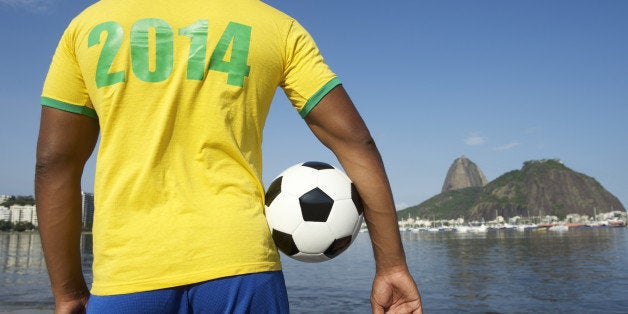 Hey World Cup fans! These games are getting exciting, aren't they? There's a sense of camaraderie in the air, reminiscent of the Olympics, bringing out the patriot in each of us. Even more exciting, are the amount of special foods and drinks found on restaurant and bar menus across the country. From soccer ball burgers, to Pele-themed drinks, and of course, Brazilian fare, the World Cup is definitely in the air. Here are just a few you'll find around the country, have you found any others?
Hans Rockenwagner -- Los Angeles, CA
Hans has created a special Brazilian World Cup Burger, which includes 100 percent grass-fed beef, lettuce, tomatoes and topped with pork belly and hearts of palm. The burger is served on a one-of-a-kind soccer ball brioche bun with a side of black beans. This special burger will be served in all three of Hans' Los Angeles-based restaurants, through Sunday, July 13th. Guests will also be able to enjoy the Brazilian World Cup Burger while watching the World Cup games on a 60-inch flat screen, specifically being brought into Café Rockenwagner for this event.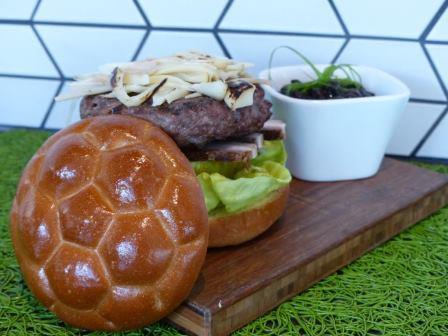 The Brazilian World Cup Burger at Hans Rockenwagner.
Credit: Marianne Broughton
Antica Pesa -- Williamsburg, NY
This Italian restaurant has created a Cachaça-based cocktail in celebration of the World Cup, called Coppa Vittoria (Victory Cup). It blends the Brazilian spirit with ingredients indigenous to different parts of the world, paying homage to the parade of nations that come together during this momentous event. It's made with Cachaça Leblon, passion fruit puree, vanilla syrup, fresh lime juice, yuzu juice, served over ice and garnished with fresh chili pepper, vanilla bark, mint and a touch of powdered sugar. Served inside a hollowed out New Zealand melon, this one-of-a-kind creation achieves an exotic visual appeal that pays tribute to the host country. It sells for $16, and is only available during the next month.
Puesto at The Headquarters -- San Diego, CA
In San Diego, Puesto has unveiled a World Cup-themed cocktail menu, with each drink representing a country. A few include the Pele Playa; a caipirinha with chili around the rim, the Messi Cola, which combines Mezcal, Fernet Branca, and cane sugar sweetened Cola, and the Buffoni, which pairs equal parts Campari, tequila, and Carpano Antica. The cocktails are $6 each, and if patrons wear the jersey of a team that is playing that day, they'll enjoy $2 tacos and $3 cerveza cans.
Warwick New York Hotel -- New York, NY
The historic midtown hotel has partners with Leblon to create five cachaça cocktails that will be served for the duration of the World Cup. Guests of the hotel's Randolph's Bar & Lounge can cheer on their home team while enjoying Brazilian-inspired drinks such as; the Bossa Nova made with Leblon Cachaça, cucumber, fresh-squeezed lemon juice and agave nectar. The Açaí Caipirinha made with Leblon Cachaça, Cedilla Açai Liqueur, fresh-squeezed lime juice, sugar and a Classic Caipirinha made with Leblon Cachaça, fresh-squeezed lime juice, and sugar. In addition to these beverage offerings ($14 each), the hotel's Executive Chef Paul Joseph will create special dishes during the semi-finals inspired by each of the top 8 countries to be served on the night of their match ups.
Boston's first and only custom craft brewery and restaurant, Hopsters, will feature World Cup-themed beer for $7 a pint. They're offering a handful of special brews inspired by the participating countries; for Germany a Hefeweizen, Belgium a Belgian White, USA a Summer Ale, England a Session English Cask Ale and for Japan, a Sorachi Ace I.P.A.
The Westin Diplomat Resort & Spa -- Hollywood, FL
Rivals Waterfront Sports Grille at The Westin Diplomat Resort & Spa is celebrating the World Cup with new featured cocktails as a result of their partnership with Veev; an organic spirit made predominately out of Acai berries from Brazil. Named after the competing teams' famed athletes, the cocktails are $10 each, and will be served in custom mason jars with the restaurant's logo and the Brazilian 2014 logo. A few options will include; Ronaldo's Sling (Portugal) made with Veev Spirit, pineapple, soda and strawberry puree, Campos' Margarita (Mexico) made with Veev Spirit, tequila, lime juice, agave and a lime wedge, and Messi's Press (Argentina) made with Veev Spirit, soda water, tonic water and raspberries.
House of Blues -- Las Vegas, NV
The venue known for its rockin' tunes is also getting into the World Cup spirit. House of Blues in Las Vegas has an 'Around the World' menu, with food items representing different teams. Representing the USA is a smoked BBQ brisket sandwich ($13.99) for Mexico, there's chicken tacos for $2 each, Germany; bratwurst and German potato salad ($11.99), for Brazil there's beef skewers with chimichurri ($14.99) and for Portugal, pork and clams ($17.99). They also have three drinks specials; the Leblon Caipirinha, Leblon Breeze and Budweiser Gold Bottles for $8 each.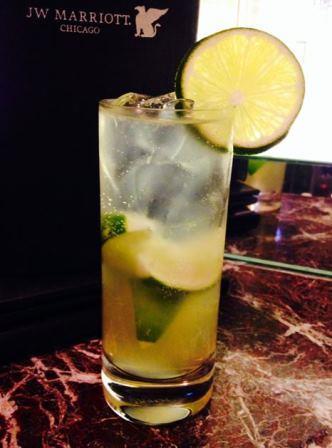 Caipirinha at JW Marriott Chicago
Credit: JW Marriott Chicago
JW Marriott Chicago -- Chicago, IL
Landmark luxury hotel, the JW Marriott Chicago will show the World Cup in their Lobby Lounge. Brazilian inspired specials include a Pão de Queijo (Brazilian Cheese Bread) $7, this gluten free dish uses parmesan and aged cheddar cheese served with a popular Brazilian dipping sauce similar to salsa called Malagueta made with roasted peppers, green onions, garlic, cilantro, red wine, vinegar and olive oil. Drink specials include The Host, a Caipirinha with Cachaca, sugar and lime or The Defenders, a Climocho made with red wine, cola, and cinnamon, both for $10 and served throughout the entire World Cup tournament.